In earlier days, meat slicers were operated by crank, but presently you get a variety of slicers that use electric motors.
Though many people still use knives to slice their meat, if you want to slice them with precision and also speed up the entire process, then an electric food or meat slicer is something you should try!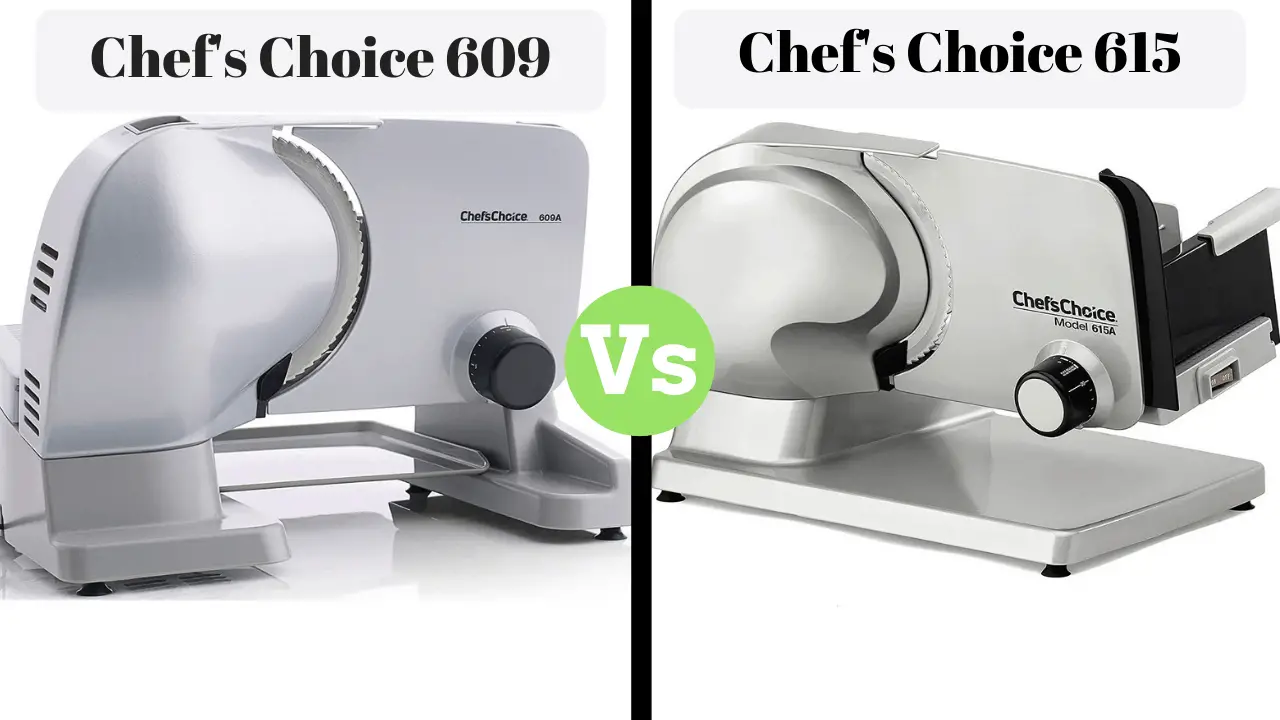 While there are a variety of meat slicer options available in the market nowadays, two of the best ones are Chef's Choice 609 Electric Meat Slicer and Chef's Choice 615 Premium Electric Meat Slicer.
EdgeCraft, the company behind the Chef's Choice brand, produces meat slicers that are among the top choices of kitchens around the world.
Choosing between their products becomes a tad bit difficult, and most people tend to get confused. So, to make things easier for you, we have here a detailed comparison between two of its best meat slicers.
Chef's Choice 609 was first launched in the market back in 2012. It is completely made of cast aluminum and stainless steel and is a versatile, rugged slicer.
The Chef's Choice 615 is a comparatively newer and upgraded version of the 609 Meat Slicer. It, too, offers versatile use and can generate a stronger torque than the 609.
Though both of them have identical heights and do mostly similar work, there are some essential differences.
Let's check them out!
Differences between Chef's Choice 609 and 615
Choosing between two good quality meat slicers is a fairly difficult job. But when they both are of the same trusted and reliable brand, the task becomes even more tricky. To choose one, it is of utmost importance that a detailed analysis of both their features is presented.
So let's take a look at the striking features that the Chef's Choice 609 and 615 have to offer!
Blade Quality and Blade Size:
The Chef's Choice 609 Meat Slicer has a 7-inch diameter blade, which allows you to cut thin slices of meat and other food materials as typical deli products. This blade is made of durable good quality stainless steel.
You can not only slice deli meat and vegetables with this, but it even allows you to slice delicate and soft products like cheese, and rock hard frozen meat perfectly.
You can choose the required thickness in which you want to slice, by using the thickness guide – you can make extra thin as well as 1-inch thick slices.
Chef's Choice 609 is also capable of working with a large quantity of food at once as the large capacity food carriage can be fully retracted.
The cantilever is an added advantage. Moreover, the carriage can be tilted to allow the sliced products to fall directly onto the plates.
The Chef's Choice 615 Food Slicer also comes with high quality and durable stainless steel, a non-serrated blade of 7-inch diameter. It is really sharp and smoothly glides across the tray.
The adjustment knob allows you to set the desired thickness, and it is very efficient.
The 615 Food Slicer has a special button that secures food carriage in a lock position to limit access to the blade when the unit is not in use. This reduces accidents caused due to the blade.
Motor:
The Chef's Choice 609 has a powerful 100 watts electric motor, which does not heat up. This lets you work with it continuously without taking pauses in between, so you can get your slicing done faster.
The motor operates noiselessly, which serves as a beneficial feature. The gears are smooth and reliable, so the user can confidently gain control over the unit.
The Chef's Choice 615 comes with an electric high-torque 120 watts motor, so you do not have to remove the blade manually. The motor of this unit also is very efficient and powerful and does not unnecessarily heat up. So you can work with it for long hours without a break.
One of the best advantages of this unit is you are saved from any sort of burning smell while slicing.
Speed of Cutting:
Both the units have incredibly reliable and powerful electric motors, which enable them to slice food materials at an astonishing speed. With their cutting speed, you will never again have to worry about the long hours of manually slicing veggies or even frozen meat.
Ease of Use:
The Chef's Choice 609 consists of many parts, namely, blade, food carriage, good deflector, food pusher, and also a thickness guide. Each of these parts has to be removed manually for cleaning purposes.
Though the process is easy, removing the blade with bare hands increases the chance of accidents. Apart from this issue, the unit is user-friendly and does not come with difficult instructions.
Taking care, cleaning, maintaining, using, and storing the Chef's Choice 615 is easier than the 609.
When you are not using the unit, a special button secures the food in a lock position to limit access to the blade. Hence it has better safety features.
Similarities between Chef's Choice 609 and 615
Both these reliable meat and food slicers have some similarities:
They are made of cast aluminum and stainless steel
The blades are 7 inches in diameter
You can adjust the thickness of the slices in both the units
Can slice other food products apart from meat
Easy cleaning procedure
Which of them gives more value for money?
Owing to the high-quality features, both the Chef's Choice 609 and 615 meat slicers are a little expensive.
Due to it being the latest version the Chef's Choice 615 is about $10 more expensive than the 609.
We suggest the 615 model is more beneficial to invest in if you are about to spend a good amount of money on meat slicers.
The Final Verdict
If you are on the lookout for a good meat slicer that offers versatile usage, the Chef's Choice 615 Premium Food Slicer should be your choice. The slight wattage difference in the motors of the 609 and the 615 allows the latter to generate a higher torque, which allows it to slice more varieties of foods, much more easily, at an even higher speed. Both about costs the same so why not go for the latest version which is the Chef's Choice 615 Premium Electric Meat Slicer.