As an Amazon Associate we earn from qualifying purchases made on MeatAnswers.com. If you make a purchase through links from this website, we may get a small share of the sale from Amazon and other similar affiliate programs. You can read our complete disclaimer information for more details.
Don't we all crave the juiciest jerky once in every while! Whether it is at home, or for camping or even a small get together among friends and family, a delicious jerky meal always does the trick to steal the show!
This article I wrote focusses primarily on meat slicers suited for making jerky cuts. If you want to read meat slicers in general then you should read this other article of mine which reviews the top 12 best meat slicers in 2022.
Cooked with the top round and bottom round lean cuts of beef, a flavorful jerky needs some thought to be put into it as a part of preparation. You can even use the sirloin tips or a flank steak but make sure the pieces you use are tender and trim out the excess fat.
Lean beef pieces with minimum fat make the best choice for beef jerky. A round steak, brisket flats, broil cuts and rump roasts are good choices for a jerky. It is no surprise that you need to do a good amount of cutting and slicing to get these pieces!
Even though one can slice at home with a sharp knife and get the best parts of the meat, it is not always easy to get rid of the fat manually or even cut up pieces that will cook well. Such fine slicing is humanly challenging, that is where a meat slicer can show up as a blessing!
In a hurry? See our top picks…
Product Name
Pick
Buy

Top

Top

Top

Top

Top

CUSIMAX Meat Slicer Electric Food Slicer
Best Electric Jerky Slicer
Check on Amazon

Top

Top

Top

Top

Weston 07-3801-W-A Manual Single-Support Jerky Slicer
Best Manual Jerky Slicer
Check on Amazon

Top

Top

Top

Top

Weston 61-0901-W Heavy Duty Meat and Food Slicer
Best Value for Money
Check on Amazon
Read ahead to analyze five of the best meat slicers for jerky we have categorized below. These are some handpicked models with a balance of cost and features to be the best for your homes!
Best Meat Slicer for Jerky in 2021
It is quite a task to find the best, when the hunt is for cutting jerky with meat slicer. To help you out here, we have designed a comprehensive review manual to help you look out for the best features that you want in your meat slicer. Check the 5 meat slicers below which would fit your requirement for slicing a jerky.
1. CUSIMAX Meat Slicer Electric Food Slicer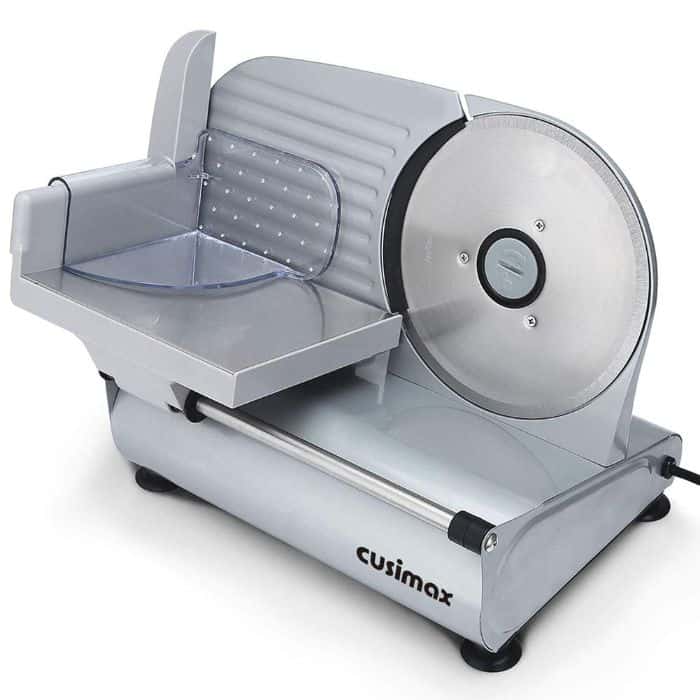 CUSIMAX Electric Meat Slicer
7.5-inch blade crafted out of Stainless Steel to cut food without it getting stuck.

Adjustable Thickness of slices from super .thin to 3/4. Ideal for cutting beef jerky and ham slices.

Dishwasher safe and removable blade makes it easy to clean and maintain.

Advanced bearing and belt drive structure requiring no lubricant.

Outstanding 30-day hassle-free policy & 18-month promise.
Powered at 200 watt, it is a premium quality meat slicer.  CUSIMAX slicer is best rated for the safety features it offers as it is no wonder that meat slicing can be a risky affair. Apart from elegantly slicing jerkys it can be used for slicing cheese, bread, fruits and vegetables to cook and  serve some delicious and appetizing dishes at your home.
It has an adjustable knob which can be used to adjust the thickness of meat slices. Select the precise thickness and slice away!
With all removable blade parts, hygiene won't be an issue with this model. You can easily remove and clean the slicer which can be reassembled pretty easily. It can be operated for limited amount of time at a go. This is a great slicer those looking to cook small batches of jerky but to sheer perfection!
Main Features:
Stainless steel silver meat slicer with dimensions 8 x 11 x 10.8 inches
It weighs 55 pounds, perfect for home kitchen counter tops
7.5-inch blade crafted out of stainless steel to cut food without it getting stuck
Dishwasher safe and removable blade makes it easy to clean and maintain
Pros
Uses advanced bearing and belt drive structure for blade processing
Very durable, easy to maintain and operate
Removable parts make the cleaning process much easier
High quality blade with precise adjustable thickness
Food pusher and other blade safety features
​Cons
Rubber feet prone to wear and dirt particles
Cannot be used for more than 10 minutes continuously
2. Weston 07-3801-W-A Manual Single-Support Jerky Slicer
Weston Manual Single-Support Jerky Slicer
32 stainless steel blades cut the meat in up to fifteen 1/4 inch Thick strips at once. Accepts bulk meat up to 5 inches wide and 1 1/4 inch Thick.

Aluminum body, Stainless Steel combs prevent jamming by meat from wrapping around the blades

C-clamps to counters up to 2 Thick

Heavy duty cast iron construction with a durable food-safe coating
If you cook jerky a lot, the Weston Jerky Slicer is made with specifically that use in mind. It is designed to obtain the crisp and thin jerky slices owing to a combination of 32 stainless steel blades working to provide the best meal prep for jerky.
With a chic and modern design it offers a sturdy clamping mechanism for ease of use. It meets all the requirements to generate the perfect jerky slices for all kinds of meat and can be used occasionally for cutting other foods as well.
Main Features:
Silver, charcoal gray meat slicer with dimensions 6 x 13 x 17.8 inches
It weighs 9.3 pounds, which is pretty light for homes or camping purposes
32 stainless steel blades for professional cutting and slicing
Can be used for cutting 1 o 5 inches thick meat, makes it pretty versatile
Two large C- clamps to clamp the slicer snugly
Pros:
Stainless steel tongs in inclusion for safe handling of meat
It is a slicer specifically designed for slicing for jerky
One of the best manual jerky slicers to prepare slices for drying, dehydrating and smoking meat
A 2 piece housing that can be disassembled
​Cons:
High price might not justify features
Issues noted with longevity of blade life
3. Weston 61-0901-W Heavy Duty Meat and Food Slicer
Weston 61-0901-W Heavy Duty Meat and Food Slicer
Adjustable thickness control for slicing from deli-thin to over ½" thick. Cut perfectly thin jerky cold cuts and evenly sliced steaks & chops with this durable machine, designed for the home kitchen

Food pusher with teeth for controlled slicing

Sturdy base and suction cup feet for stable and safe operation

Smooth gliding, large capacity, stainless steel food tray tilts out for easy cleaning

Removable 8-5/8 stainless steel blade
They say quality is unparalleled to any other feature! That is true for the Weston Food and meat slicer. If you're looking for a kitchen tool to last, then you might want to consider this one.
It not only offers a compact design and classy look but also saves power by running optimum features at the minimum wattage. With a premium quality rotary blade you can slice fruits, meats and prepare jerky in no time!
It also has a longer run time capacity as compared to other models. If you're banking on sheer quality and have a good investment to make, this can be a great meat slicer for beef jerky.
Main Features:
A heavy duty meat slicer with dimensions 12.1 x 19.4 x 14.4 inches
It weighs 39 lbs, which can fit well at homes and small kitchens
8 ⅝" rotary blade made of stainless steel for maximum precision
Removable blade and tilt out food tray, easy to clean
Powerful belt driven motor
Pros:
Professional quality rotary blade for sharp cuts
Quiet functioning meat slicer at 150 watts
Can be used to slice a variety of meats, fruits and breads
From thin to half inch thick slices can be cut
Sturdy base with suction cup
Compact design, easy storage and transportation
​Cons:
It is available on a healthy budget as compared to features in availability
There are limitations for thickness customization
Cannot be operated for more than 15 minutes at a stretch
4. Advanced Beef Jerky Slicer Kit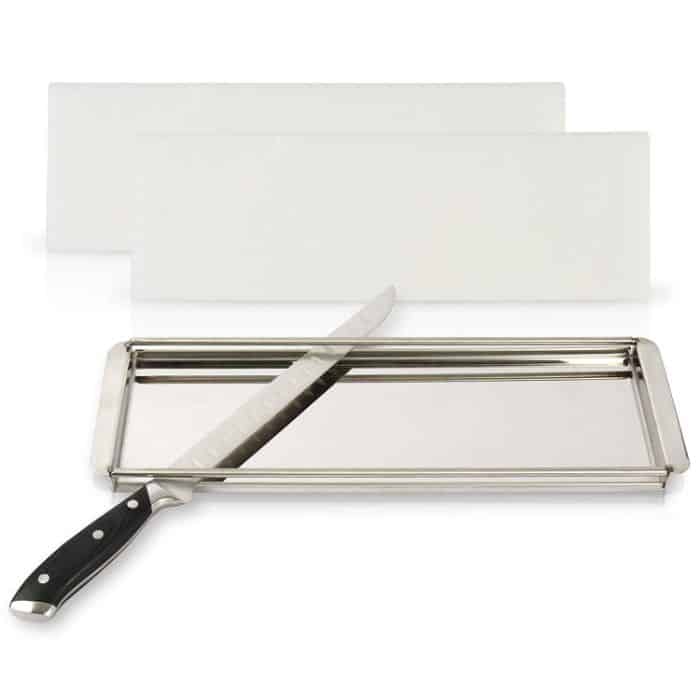 Advanced Beef Jerky Slicer Kit
Includes 2 adjustable thickness food grade Spacers, stainless steel jerky board, knife guide rails & razor-sharp premium butchers slicing knife which creates 100% uniform jerky slices that Evenly dry for safe consumption.

Contains a butcher knife guide system and an ADVANCED non-stationary blade design, so you simply glide the knife below the rails to create gorgeous uniform slices, no eyeballing required.

Adjustable for 1/8", ¼" and 3/8" thick slices. The versatile cutting board slices all types of meat: Beef, venison, elk, Buffalo or deer to make healthy homemade foods

10" Carving Knife Included which delivers beautiful slices at every turn, thats ideal for cutting your beef jerky, Thanksgiving Turkey and trimming and preparing large chunks of meat!

DISHWASHER SAFE for easy fast cleanup.

100% MONEY BACK GUARANTEE - Meticulously Inspected for craftsmanship, quality, longevity, and precision. Try it RISK FREE for 90 days.
The Advanced Beef Jerky Slicer Kit, is a dream come true for those who like to cook up juicy delicacies on the go. Not only is it precise for easy cutting and slicing but it is extremely portable and light weight for camping, or even to use in smaller kitchens.
The best thing about this slicer is that it offers a 10 inch butcher's carving knife and is really the thing for you if you want to go full-fledged professional mode. All compact in size, the features are true value for money and the accessories like jerky board and food grade spacers make this product worth your while and money.
Main Features:
Advanced jerky meat slicer with dimensions 15 x 5.2 x 0.8 inches
It weighs 2.25 pounds, which makes very light for easy portability
It is a butcher quality model with a full-fledged 10 inches carving knife included
Two levels of adjustable thickness are in provision for the slicers
Jerky board, knife guide rails and food grade spacers included
Pros:
Precision meat slicer with premium razor sharp blade.
The knife is professional quality as well as sharpen-able which is great for maintenance of slicer.
Highly portable and light weight, best suited for smaller spaces.
Provides 90 day warranty and money back guarantee.
​Cons:
Simple non aesthetic design structure.
Less flexibly of slice sizes and thickness.
5.Kitchener 9-inch Professional Electric Meat Deli Slicer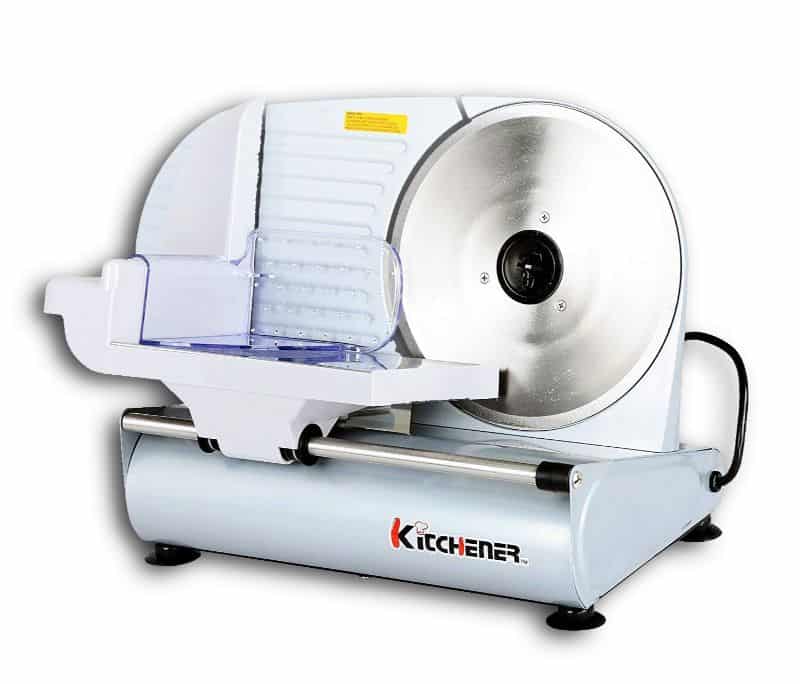 Kitchener 9-inch Professional Electric Meat Deli Slicer
Powered by 120VAC 150 Watt Current (200 Watt Max) 60Hz electric motor and 9 inch (229mm) Stainless Steel Blade

Built of premium coated steel and die-cast aluminum, safe grade food plastic and stainless steel carriage surface (protects from rust).

Adjustable Thickness Control Knob capable of slicing from delicious deli thin to 5/8 inch thickness. Ideal for slicing jerky salamis and meats.

The food pusher/deflector, thickness guide plate and stainless steel carriage food carriage, all remove easily for no hassle cleaning; NOT Dishwasher safe.
The Kitchener 9-inch Professional Meat Slicer is fitted with a premium quality German blade that can be run at different speed levels. It is definitely an asset for your kitchen as a heavy duty slicer which can help slice meat jerky, vegetables, and bread and much more in no time.
The highlight of this slicer is in terms of the versatility that it offers. Whether it is meat grinding, jerky preparation or sausage making, you can do it all.  If you're looking for a meat slicer which is more multi-purpose as well as excellent for jerky slicing, you've found your match!
Main Features:
With a belt driven blade this meat slicer has dimensions 3″ x 13.9″ x 13.5″ inches
It weighs 15 lbs, which is on the heavier side but fits perfectly for home counter tops
9-inch blade made out of stainless steel for clean cuts and slices
Operates at a variety of speeds – Forward Grind, Sausage Stuff & Reverse Mode
Good quality meat slicer for Meat Grinding and Sausage Making
Pros:
It has a 5.5 lbs per min meat processing capacity
It is designed with precision and can be used to cit salamis, meats, cheeses, breads, etc
The 9 inch German blade is of premium quality and provides professional quality slicing
It has four suction cup feet that can be great for a sturdy grip
A food pusher and thickness guide plate are in inclusion
​Cons:
There are issues reported with the thickness adjuster for slicing
It can prove to be a little heavy if you are considering a portable meat slicer for jerky
Tips for cutting jerky with a meat slicer
Never cut jerky with a slicer before? Here are some tips that can help you navigate through the process.
Make sure you cut through the grain always.
Start slicing from one end along the grain.
Grab opposite ends of the meat slice and pull it apart, this will help to cut the meat easily.
The sirloin tip and top and bottom round parts are the best for making excellent jerky, cut these parts with your meat slicer for beef jerky.
Place the food on the platform, adjust the food pusher and make sure the meat is held firmly.
Set the desired thickness of slices and slice easily with your meat slicer.
What make a Perfect Jerky Meat?
Buying meat for the best jerky can be a huge task in itself. If you're a new cook, at least for jerky, kill doesn't suffice! If the meat isn't up to the mark, then you can't cut the right slices nor would it cook to perfection like you would like. You need to put them on the best pressure cooker to cook them properly.
The first thing that you need to look out for is the texture of the meat. This can really make or break your dish. Make sure you get the softer and tender pieces of meat that can absorb the most flavors while cooking.
Now, what makes the meat soft and tender also varies from product to product. Even the cut of the meat can help make it more or less tender. Sometimes dried meat can help retain inner moisture to make it tenderer. It also depends on how you like your jerky. Some like it drier and some prefer juicer.
All these factors can be taken into account while buying your meat. If you're buying meat sticks or some kind of flavored meat for making your jerky then you should consider how soft and tender these flavors can keep the meat.
At the end of the day you can try some edgy flavors or spice up your jerky as per your taste! Get a good quality meat slicer to give you the most crisp and thin slices and cook your jerky to perfection!