As an Amazon Associate we earn from qualifying purchases made on MeatAnswers.com. If you make a purchase through links from this website, we may get a small share of the sale from Amazon and other similar affiliate programs. You can read our complete disclaimer information for more details.
Do you cut meat, or use deli meat, on a somewhat frequent basis?
I'm sure you do. Most people, especially Americans, eat meat with every single meal. Whether it's a cold cut sandwich or some pizza, there's a good chance it involves meat.
And that meat most likely needs to be sliced before use.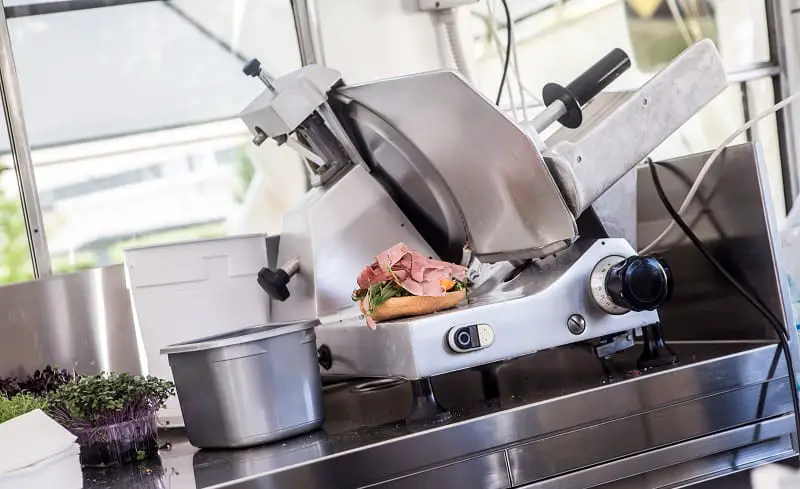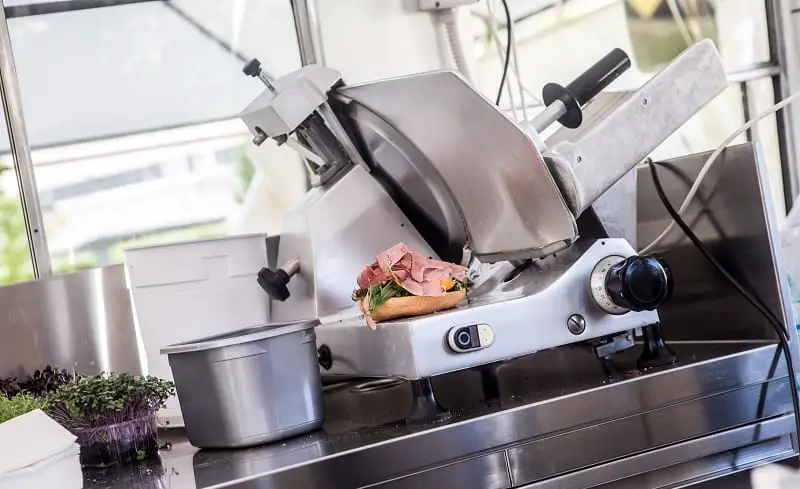 Unfortunately, most Americans simply go straight to the deli to purchase their deli meat. They don't know that it's actually much cheaper to cut the meat themselves.
That's right, you can actually cut deli meat on your own, and it will save you an insane amount of money in the long term. Even better, it's easy.
Sure, it might look like a huge, complicated machine when you're at the deli. But that's not the only type of meat slicer available. In fact, most commercial meat slicers are quite compact and relatively inexpensive.
And perhaps the best part of owning one – you can slice all kinds of food in them. Onions, carrots, bread, lettuce, cabbage, and cheese are all sliceable.
You're probably interested in cutting your own food with a commercial meat slicer, right?
This article will cover absolutely everything you need to know about owning one. I'll even offer my suggestions for the best slicer for different uses.
But first let's take a look at our top choices for the best commercial meat slicers.
---
Best Commercial Deli Meat Slicers – Reviews
Choosing the right meat slicer is difficult. This list will provide some guidance on the best meat slicers on the market.
First on the list is the BESWOOD 10" Premium Meat Slicer. It's my top choice because it has all the basics that you need at a reasonable price.
First, it's made from carbon steel, which looks great, doesn't rust, and lasts forever. Nice.
Next, it has a 10" blade. I know this isn't a huge blade, but it is a slightly bigger blade than what you normally find on a meat slicer. Plus, a bigger blade means a bigger machine that may not even fit in your workspace.
An important note about the blade, it's made in Italy, not China. This means you can be reasonably confident that it's a quality blade. Reviewers also indicate that the blade doesn't dull.
Anyway, this slicer is heavy, which is either amazing or terrible.
If you have limited counter space, then you won't like a heavy slicer because you will constantly be moving 65 pounds from your closet to the counter.
On the other hand, if you have a business or a big kitchen, then you will love a heavy slicer. The added weight makes it much less likely to slip while you're using it. And you don't have to move it every day.
Pros:
Affordable. Sure, it doesn't have all the fancy features that you might expect, but it has a very sharp blade that does an excellent job cutting meat.
The carbon steel construction looks great and will last a long time. I also like that it has zero plastic components.
Ideal for Delis, restaurants and any other commercial establishments that require heavy-duty meat slicing.
Cons:
It may be a little underpowered for cutting cheeses and other hard food.
The weight and size makes it less than ideal for small delis and cafes.
Verdict:
I like this slicer, it's great for delis and restaurants. If you have a large enough space in your deli, then this is definitely the meat slicer you should purchase. The blade being made in Italy really gives it an edge over other brands that are all made in China.
A common complaint about meat slicers is that they're loud.
I understand that complaint. These machines are loud. It has a motor that produces over 240 watts of energy and some moving parts.
Things just get loud.
Fortunately, KWS somehow solved the loudness problem with the MS-10NT. I'm not exactly sure how they did it, but this slicer is quiet.
Obviously, a quiet slicer is much better even in a commercial kitchen.
The volume isn't the only thing I like about this, though. It has a whopping 320 watts of power.
That's crazy.
For comparison, most of the meat slicers in this article have around 240 watts of power.
This makes the KWS MS-10NT great for those of you that love cutting your own cheese.
It gets better, though. The blade on this is a 10" and made from 304 stainless steel, which doesn't corrode. It does a decent job of keeping its edge, too.
This makes it great for those that don't like doing blade maintenance.
Trust me, no one likes doing blade maintenance.
It also has a Teflon coating that should prevent a lot of stickiness and general messiness. I know Teflon is controversial, but if you like it, then you'll be happy that the blade has it.
Pros:
320 watts makes it powerful enough to slice cheese.
It's much quieter than other slicers.
Cons:
It's more expensive than some of the other options, but the quietness and power make it worth the slightly extra cost.
Some reviewers have had trouble cleaning it.
Verdict:
It's quiet and powerful. That's not a combo that you find very often.
Sure, it's a little more expensive, but it's worth the extra cost. It's basically required if you plan on slicing a decent amount of cheese.
As you may have noticed by now, commercial meat slicers are big and heavy pieces of machinery. You can find that some of them weigh up to 40 pounds and take up over two feet of counter space.
That's a lot of countertop space if you operate out of a smaller deli or home.
Well, the ZENY Meat Slicer solves that problem. This slicer measures about 17 inches in length, which is admittedly still big.
But it's not nearly as big as some of the behemoths on the list.
Of course, this slicer has more than just compactness going for it. It's also fairly powerful with 240 watts of power. Not to mention it has a large 8"x7" loading tray.
Honestly, that's an impressively sized loading trade. It's the biggest tray on our list. And that point alone makes it pretty great.
Other than that, it has all the normal features that you would expect like a waterproof power switch, a blade protector, and a built-in sharpener.
The blade is also a fairly standard 10".
Pros:
It's compact, which makes it perfect for smaller delis and commercial purposes.
8"x7" loading tray is big enough for most everything that you need.
Cons:
The owner's manual is not written very well.
Quality might not be good enough for high-volume commercial use.
Verdict:
It's a good option if you live in a smaller Deli or kitchen space. The low price is also a huge benefit. However, if you need to want to use it for a large amount of slicing, then you should go with one of the other options on the list.
Another common complaint from meat slicer users is the constant maintenance involved on these machines.
Seriously, they require cleaning after every single use. The blade must be sharpened on a near-daily basis as well.
I'm glad to inform you that VIVOHOMES's meat slicer solves one aspect of the maintenance problem – cleaning.
Now, this slicer still needs to be cleaned, obviously. However, the cleaning process is somewhat simple due to the easy-to-access screws. It's also much easier to reach the hard-to-reach spots on this slicer.
One other thing. This slicer has 320W of power, which is enough to cut hard cheeses and bread.
Other than that, this is just another meat slicer. It's fairly affordable considering it has 320W of power, though.
Pros:
Easy to clean the difficult to reach places. The screws are also easy to remove.
320W of power makes it perfect for slicing cheese and bread.
Cons:
The owner's manual is poorly written, but it's a fairly simple machine to use.
Verdict:
If you need to cut cheese, then you should definitely purchase this slicer. And if you don't need to cut cheese, you still might the extra power useful. It's especially useful if you have a large amount of food to process (commercial purposes).
Overall, it's a good priced slicer that will give you a bit more variety of food that you can cut. But I would not recommend it to be used for slicing other food if you are slicing meat just to avoid cross contamination.
The sharpness of the blade might be one of the most important factors when choosing a deli meat slicer. As you may have guessed, a sharp blade makes everything so much easier.
The cuts are much cleaner, and it's faster to operate.
Honestly, there isn't any reason you would ever want a dull blade.
The blade is more than just sharp, though. It's also quite large at 12", and made of chrome-plated steel. For those that don't know, the chrome plating keeps its edge for a slightly longer amount of time.
The power is fairly typical at 250W. That's not high, but it's also not low. It's about average, and the sharper blade does make up for the average power.
Now, this slicer does have one huge drawback – it's expensive. That's expected because of the massive 12" blade.
Really, this is particular deli meat slicer would work best for commercial purposes because of it's size. Sure, a homeowner could use in their home, but more compact and affordable options exist.
Plus, a homeowner just doesn't have much need for a 12" blade.
Pros:
The blade stays sharp for a long time, which means less sharpening and cleaner cuts.
250W of power is enough for most meats and some harder cheeses.
Cons:
It's much more expensive than other options on this list. But the high-quality blade makes up for the cost.
Verdict:
It's got a sharp blade and enough power. So, if you're the type of person that hates sharpening blades, then this is definitely the meat slicer for you. Keep in mind that it's more expensive than other options, but the quality of the blade makes the additional cost worth it.
Everyone wants appliances, and they want them at affordable prices.
Unfortunately, finding quality appliances at affordable prices is rather difficult.
That's where the Super Deal Commercial Meat Slicer fits in the market. It's an affordable appliance that isn't a piece of junk. Let me explain.
Some of the meat slicers on this list cost over twice as much as the Super Deal. And sure, they have fancy features, lots of power, and give thick cuts.
But sometimes you just need to cut some meat once a week, and you don't really need all the extra features.
If that sounds like you, then the Super Deal is definitely the best choice for you. It isn't low quality – it's made from aluminum, has a stainless steel blade, a built-in blade sharpener, and even has a 250 watt motor.
Plus, it has a normal-sized (8"x7") slicing tray.
Quite frankly, it has everything that you would expect in a more expensive meat slicer.
So, what's the catch?
As far as I can tell, there really isn't a catch. Some customers have mentioned they can't figure out how to remove the blade, but that's most likely from customer incompetence than a product feature.
It also has a maximum thickness of ½" and a 10" blade, which are both fairly standard features in the industry.
Pros:
It's super affordable, and has the same quality you'd expect from a much more expensive option.
The sizing tray is large enough for most normal-sized meat and cheeses.
Cons:
It has a 10" blade, which is still bigger than many other options on our list.
Some customers have struggled to remove the blade.
Verdict:
If you're looking for an affordable commercial deli meat slicer, then this is the choice for you. It has all the features, but at half the cost of many competitors. Plus, it looks great.
Just don't expect many of the fancy, and somewhat unnecessary, features such as Teflon coating.
Do you slice a lot of meat? Do you need to slice bread, cheese, cucumbers, onions, and turkey breast?
If you do, then the KWS 420 watt meat slicer is for you. As the name implies, this slicer has a massive 420 watts of power.
That's truly massive. In fact, it's 100 watts more powerful than any other slicer on the list. And as mentioned earlier, it can cut pretty much any type of food you put in it. I don't really recommend it because it's messy, but you can even cut frozen meat with a 420 watt motor.
Now, this slicer has more than just power going for it. It has a 304 stainless steel blade that is coated with Teflon. 304 stainless steel won't oxidize, and the Teflon coating keeps it from getting covered in gunk.
Speaking of gunk, this isn't a hard slicer to clean. It's actually quite easy because the screws are all easily accessible. Just use caution when removing the blade.
The one downside with this slicer is that it's 60 pounds, which is a little too heavy to move around. It's the type of appliance that doesn't move from its spot on the counter easily.
Pros:
It has a 420 watt motor. This means it can cut basically anything that you put into it.
The blade is made from 304 stainless steel, which means it won't oxidize nearly as fast. 304 stainless steel also holds its edge better than many other types of stainless steel.
Cons:
It's really expensive. This shouldn't come as much of a surprise considering the massive motor.
It weighs 60 pounds, which isn't a negative unless you need to move this around a lot.
Verdict:
It's big, heavy, and powerful. It will slice everything that you put into it, and it's surprisingly easy to clean for its size. The Teflon coating on the blade means the blade doesn't get grimy, either.
Of course, all that power comes at a cost. However, if you need a powerful slicer, then this is definitely the choice for you.
Are you tired of getting ½" slices of meat or cheese?
It can get repetitive and boring after a long enough time. In fact, the majority of slicers have a maximum slice size of  ½".
It's so common that many slicers don't even mention the maximum thickness!
Well, the WeChef changes that by having a maximum slice size of ⅝".
I understand, that extra ⅛" might not sound like much, but that is a significant difference when it comes to food. Especially certain types of cheese like Munster.
But a little extra thickness isn't the only feature that makes this slicer great. It's also great because it has a 12" blade that can quickly cut through meat because of its 270 watts of power.
Perhaps the most interesting feature this meat slicer has is an anodized base. An anodized base doesn't get scratched as easily as a coated base, which makes it great for a Deli or a professional kitchen.
Pros:
It gives thicker cuts (⅝") than most other slicers on the market. This makes it great for certain types of cheese.
12" blade, and a 270 watt motor, makes the actual slicing much easier. It also allows slicing slightly larger pieces of food.
Cons:
Slightly more expensive than other options.
---
What is the difference between a Commercial Meat Slicer and a Home Meat Slicer?
You might think all meat slicers are the same since all they do is one thing – cut meat.
However, that's just not true. There are vast differences between a commercial meat slicer and a home slicer. Here are the two biggest differences:
Durability
The first major difference is durability. As you may have guessed, a product designed for commercial purposes will last much longer than one designed for home use.
Expect it to last at least 5 years with the proper maintenance. It can also be used for hours at a time without any major problems.
Things are a little different when it comes to slicers designed for home use, especially at the lower end of the budget. These slicers will last a much shorter amount of time – often as little as a few months – before breaking.
Electricity
Perhaps the biggest difference between a commercial meat slicer and a personal one is the use of electricity. A commercial slicer will always use electricity to spin the blade that cuts the meat.
No business has the time or patience to deal with a manual slicer.
A spinning blade might not sound like much, but it greatly increases the consistency and quality of every cut. It also makes the whole process so much easier.
---
How much is a Commercial Meat Slicer?
The price range on commercial meat slicers varies with quality. A higher-quality meat slicer will obviously cost more money.
However, don't let the word "commercial" scare you off. It will not cost nearly as much as you think.
For instance, decent commercial deli meat slicers start at around $200 and will last you a few years.
---
Top Commercial Meat Slicer Brands
Every industry has brands that have a reputation, and the meat slicer industry is no different.
The two best brands for commercial meat slicers for home use, in my opinion, are KWS and VIVOHOMES.
Both those brands manufacture quality slicers that you will find in restaurants, delis, and butcher shops. Most importantly, they have a tendency to be on the more affordable side.
---
Features To Look for in a Commercial Meat Slicer
Blade Size
The blade is the most important factor to consider when choosing a commercial meat slicer. A bigger blade means you can cut more types of food (turkey legs, bread, big cheeses, lettuce, and so on).
A normal blade is 9 inches. A smaller blade is under 9 inches. And a bigger blade is over 11 inches.
Power
Power, measured in watts, might be an important factor when purchasing a meat slicer. If you plan on cutting a lot of frozen meat and cheese, then you will want a lot of power.
You will also need a slicer will a decent amount of power if you plan on using it for hours at a time.
It also makes everything much easier, but it's not necessary to have a lot of power.
Material
Metal will last much longer than plastic. It also looks much better in a modern kitchen.
And appearance is very important.
I only recommend metal meat slicers. Luckily, plastic meat slicers have mostly disappeared from existence.
---
What types of meat can a commercial meat slicer cut?
A commercial meat slicer can cut pretty much every type of boneless meat that will fit in it. Chicken, pork butt, sausage, and venison are all sliceable. Don't cut bones, though.
Also make sure that the meat is not completely frozen while you feed it into the slicer as frozen meat is extremely hard and will  damage the blades of the slicer.
Although, using a slightly frozen meat is the best way to get a nice slice from the slicer.
---
What else can a commercial meat slicer cut?
Basically, anything that you can cut with a knife and cutting board can be cut with a meat slicer.
Lettuce, onions, peppers, cheese, and bread can all be cut in a meat slicer.
---
How to clean and maintain a commercial meat slicer?
Maintaining these machines is surprisingly easy. First, make sure to keep the slide rods lubricated with mineral lubricants. The owner's manual will describe the exact spot on the slide rod that will require lubrication.
Cleaning isn't hard, either. All that is required is removing the carriage (if removable), slicer tray, blade deflector, and every other removable part. Wash all those parts in the sink with soap and water.
You can remove the blade for cleaning, but that's not entirely necessary. You should still clean the blade, though.
Also, never use steel wool to clean a meat slicer. It will leave scratches.
As for sharpening, that is also easy. Simply set the thickness to zero, remove the housing that protects the sharpening stone, turn on the slicer, and apply the sharpening stone to the blade.
Yes, the meat slicer should have a built-in sharpening stone.
---
How often to clean a commercial meat slicer?
You should clean it after every use.
If you use it continuously for commercial purposes, then it should be cleaned every four hours.
---
How to use a commercial meat slicer?
Using a meat slicer is not hard, but it does require practice and basic knowledge. For instance, cold (not frozen solid) food slices better than warm food. Anyway, here are the basic steps:
Unplug the slicer.
Place the meat in the carriage, and lock it in place.
Select the slice thickness.
Turn on the machine.
Push the carriage back and forth. Only use the handle to push the carriage. Don't force it. Let the meat glide through the blade.
Use your other hand to collect the meat as it drops down.
Again, it's not complicated. Also, make sure to wear cut resistant gloves while using the slicer.
---
How frequently do you need to sharpen the blades of a commercial meat slicer?
In a perfect world, you would sharpen the blade after each use.
However, we don't live in a perfect world. Most homeowners sharpen the blade when the quality of the cuts begins to decrease.
In other words, the exact amount of time varies depending on the quality of the blade, type of meat you cut, and the amount of time you spend cutting meat.
---
Conclusion
Well, that about covers it for everything you need to know about commercial meat slicers. They really are great appliances to have in your home, and will certainly get used if you enjoy deli meat, sliced cheese, or vegetables.
As a quick recall, the best overall slicer for commercial purposes is the BESWOOD 10" meat slicer. It's affordable, relatively compact, and made from quality materials.
On the other hand, if you're looking for a commercial slicer for use at home, then the Super Deal is the clear best choice. It's even more affordable than the BESWOOD, and it's a little bit smaller.