People are always coming to me for advice when shopping for a new or used grill, and one of the most common questions I get is "Why are Weber grills so expensive?".
I'd have to admit that the price of some Weber grills may not fit into everyone's budget, but as the saying goes "you get what you pay for", which in the case of Weber equates to a superior grilling experience.
Weber grills are built tough and come with innovative features, which are two noteworthy reasons for their high prices. Plus, Weber has been around for a few decades, and is a brand that you can bank on!
---
History of Weber Brand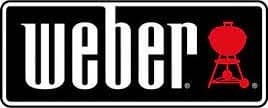 Founded in 1893, Weber is perhaps the biggest name in the grilling space. The company manufactures gas, charcoal., electric grills, and related accessories.
But that's not all, Weber also owns restaurants and publishes cookbooks, and became a publicly-traded company in 2021.
In 1951, George Stephen incepted the original round charcoal kettle grill at Weber Brothers Metal Works in Mount Prospect, Ill, which was an instant hit, and still remains one of the company's bestselling models.
Weber manufactures their grills in Palatine, Illinois and have been manufacturing them in the United States since 1951.
---
What is so good about Weber grills? Key Features of Weber Grills
There are several reasons why a grill from the Weber hangar is absolutely worth every penny.
1. Designed and Built to Last
Weber grills are manufactured in the United States with superior quality globally sourced materials. Each grill goes is well designed, and goes through a stringent quality process.
Adding to this, Weber literally spends millions on testing their products to ensure that their grills and accessories last for years to come.
2. Made with Only Premium Materials
There's no shortage of cheap grills in the market, but what sets them apart from Weber grills is the quality of materials used in their construction.
Weber grills are either made from cast iron porcelain-coated steel stainless steel—two materials that are designed to help you control the temperature and prevent flare-ups.
3. Innovation is Weber's Top Priority
Weber has been in the grilling game since 1893 and has mastered the art of innovation. Each product boasts a long list of innovative features, starting from cast iron grill grates to the powerful Gs4 high-performance grilling system.
4. Products for Every Customer
Even though Weber grills are a little pricier compared to the competition, the company has several different series in their portfolio to match budgets big and small.
5. Unmatched Customer Support
When it comes to customer support, Weber is hard to beat. Most Weber grills also come with an impressive 10-year manufacturer warranty.
Furthermore, it's very easy to get your hand on a Weber grill's replacement parts in case something goes wrong with your grill.
---
What Are The Best Weber Grills?
Charcoal Grills
Weber Original Kettle Premium Charcoal Grill – Kettle Series
The Weber Kettle grill is my all-time favorite for several good reasons, starting with its compact design, and its ability to cook 13 burgers at a time.
Further, it comes with rust-resistant aluminum dampers and an onsite ash catcher for hassle-free cleanup.
The Weber Kettle grill is topped with a porcelain-enameled lid, which retains heat, and won't rust or peel.
Weber Performer Deluxe Charcoal Grill – Performer Series – Best Weber Grill Under $500
The Weber Performer Deluxe charcoal grill is a true performer in its class and is equipped with a large 22-inch (diameter) porcelain-enameled bowl and lid.
It is perhaps the best grill you can buy for under $500 and comes with a rich set of features that includes an aluminized one-touch cleaning system, a high capacity ash catcher, a removable LCD cook timer, and a built-in lid thermometer.
Weber 18-inch Smokey Mountain Cooker – Smokey Mountain Cooker Series
The Weber Smokey Mountain Cooker is available in a choice of three sizes namely 14-inches, 18-inches, and 22-inches, and is made from robust steel.
It is designed to give you an authentic smokehouse flavor in the comfort of your home and is large enough to accommodate a full turkey and ham at the same time.
The Weber Smokey Mountain Cooker tips the scales at a little under 40 lbs and is equipped with two nickel-plated cooking grates.
Adding to this, it comes with a water pan, individual vents on the bowl and lid, a thermometer, and a heat-resistant nylon handle.
Gas Grills
Weber Summit S-670 Liquid Propane Gas Grill – Summit Series
For a grill that hits all the right notes, grills from the Weber Summit Series won't disappoint.
The Weber Summit S-670 gas grill is in a league of its own and is loaded with literally all the bells and whistles, starting with its massive 769-square inches of cooking space.
Further, the Weber Summit is fitted with stainless-steel cooking grates, and flavorizer bars, and a total of six stainless-steel burners.
It features Weber's patented Snap-Jet individual burner ignition system, and a rear-mounted infrared rotisserie burner, smoker burner, and a sear station burner.
But that's not all, the Weber Summit offers two work areas, and comes with detailed 3D assembly instructions.
Best Weber Budget Grills
Weber Spirit II E-210 2-Burner Liquid Propane Grill – Spirit Series
As I mentioned before Weber grills are pricey, but the company does offer budget-friendly models that don't scrimp on key features such as porcelain-enameled cast-iron cooking grates.
The Weber Spirit II costs roughly $400 and comes with a rich set of features that includes a built-in thermometer, fuel gauge, and a stainless-steel deflector.
This two-burner gas grill is designed to fit into tight spaces and is powered by the GS4 grilling system.
Weber Q 1400 Electric Grill – Electric Apartment Size Portable Grill
The Weber Q 1400 is a sleek and compact electric portable grill that is fitted with a powerful 1560-watt heating element. It offers a moderately-sized 189-square inch cooking area, and best of all arrives fully assembled right out of the box.
---
Final Thoughts
Getting back to the main question—why are Weber grills so expensive? Well, for several reasons including decades of experience in the grilling arena, and unmatched product quality. Weber also offers a long list of budget-friendly models, some even under $300 like the Weber Q1200 propane gas portable grill.