Grills today aren't the same as what they were a couple of decades ago, but now come with an array of innovative features and components.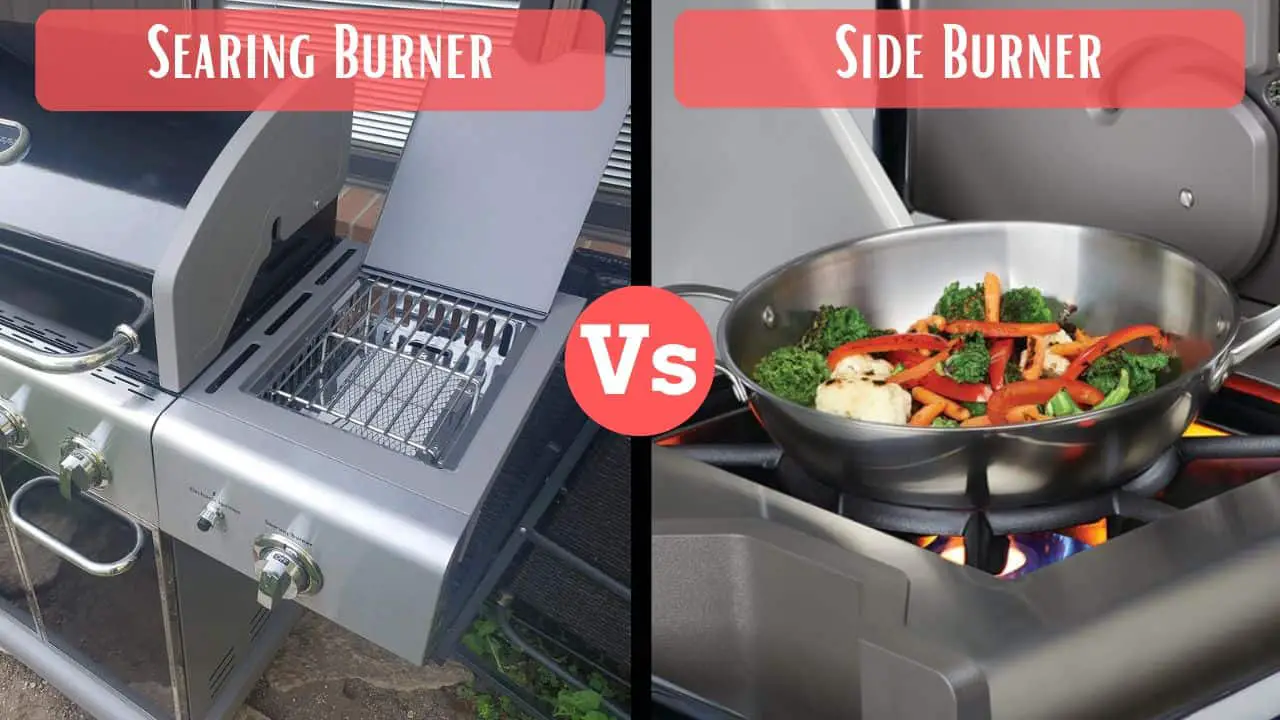 Searing meat is a cooking process that allows you to enjoy restaurant-style grilling meat complete with those clear and crisp sear marks.
However, not all grills come with a searing station but some models are equipped with a side burner, which begs the big question—which grill should you choose—one with a searing burner or a side burner.
---
What is a Searing burner on a Grill?
Many higher-end gas grills come with a searing burner—a powerful cooking tool. Even though the technology may vary among manufacturers, most searing burners use a large number of small flames to heat a ceramic plate to very high temperatures.
This extremely hot ceramic plate emits infrared radiation which rapidly heats and browns the food over it.
Although a searing burner can be used for several different purposes, it's primarily used to sear steaks and some other types of meat before they go on the grill.
---
What is a Side Burner on a Grill?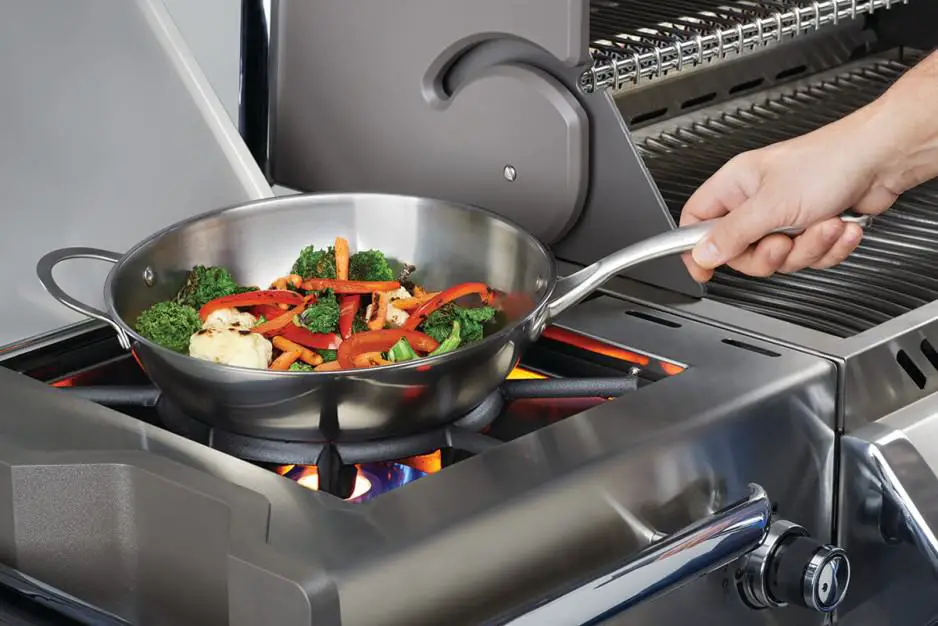 A side burner is an additional grilling component to a grill, and basically provides an extra cooking area. Side burners however are fitted with fewer burners and produce less flame power than the main cooking area of a grill.
Due to its low heat temperatures, a sear burner cannot be used to sear meat, or even if you tried will take a while, so it's really not worth the effort.
But on a brighter note, there are a few things you can do on a side burner that isn't really good to perform on a searing burner like make sauces, pan-fry certain dishes such as blackened fish in a cast-iron skillet, cook lobster tails while your steaks cook on the grill, steam oysters, and/or char peppers.
---
Searing Burner vs. Side Burner
1. Temperature Ranges
The temperature of a searing burner begins at 300 degrees F and can go up to more than 700 degrees in some grill models.
The side burners of most gas grills produce no more than 10,000 BTUs of firepower, so the temperature is probably half or much less than what you'd get with a sear burner.
2. Purpose
But again, side burners aren't designed to sear meat, so this low heat temperature is perfectly acceptable.
A searing burner produces intense heat quickly, making it a great option if you're looking to sear steaks and other types of meat. A side burner is an ideal choice when you want to cook food items over slow heat or even to heat sauces.
3. Number of burners involved
A side burner is equipped with one or maybe two burners, whereas a sear station typically features an infrared system, which helps produce flaming heat quickly.
4. Types of Grills they come in
Searing burners and side burners are only available in natural gas and propane-powered grills. But there may be some hybrid aka bespoke options available in the market.
---
Can a Searing Burner be Used as a Side Burner?
You can ideally use any burner including a searing burner as a side burner, but it's not recommended, given that it can burn your food fast.
Certain food items like fish and vegetables benefit from slow cooking, so tossing them on a sear burner probably won't provide the desired results.
You can however cook meals on a side burner, but you'll have to be extra careful and make sure you don't burn your food.
---
How Hot Does a Searing Burner Get?
A searing burner is the key to steakhouse-style steaks and much more, but have you wondered how hot does a searing burner actually gets?
If you desire juicy, flavorful meats, and steaks, specifically with that signature crusty exterior, you undoubtedly need to cook the meat on a searing burner.
A searing burner is embedded with hundreds of tiny flame ports that allow it to reach unmatched high heat temperatures than traditional gas grill burners, which in terms of numbers can be more than 1,000˚ F.
Similar to how the sun's energy warms your skin, the intense, radiant heat emitted by a searing burner penetrates food, resulting in faster-cooked food, and foods that retain more moisture.
Although I mentioned earlier that a searing burner isn't recommended to cook certain types of food, it can be used to cook meat for fajitas, thin-cut boneless chicken breasts, pork chops, and even vegetables.
A searing burner can also be used in tandem with your regular gas grill burners to grill cuts that require longer cook times like pork loins, thick steaks, roasts and more.
In this type of combo cooking, a searing burner and your traditional gas grill burners work alongside, where meat is first seared on the high heat of the searing burner, and then moved over to the low heat of the regular burners to finish cooking.
There's also a "reverse sear" technique, where meat is fist cooked on slow to medium heat on the regular burners, and then seared at the end on a searing burner for a succulent browning and crusty texture.
---
Does a Grill Have Both a Sear Burner and Side Burner?
I haven't come across many grill models that come with a sear burner and a side burner except for the Royal Gourmet GA4402S propane gas grill.
This grill is loaded with 3 main burners for 10,000 BTUs, a 14,000 BTU sear burner, and a 10,000 BTU lidded burner.
It offers a total of 632 square inches of cooking space, and comes with a one-button electronic ignition system for reliable and quick startup.
Since there's just a handful of grill models that come with both a sear burner and side burner, the decision to buy a grill with either a sear burner or side burner can be tricky, but here's what you should consider when on the shopping trail.
If you cook steaks and other types of meat often and love those sear marks, and needless to say the exterior browning, buying a grill with a sear burner is perhaps a good idea.
But you make sauces and other similar food, and don't mind searing your steaks in the traditional grill burners, buy a gas grill with a side burner.
---
Grills with Searing Burners
When shopping for the best grills with searing burners, you'll be spoilt for choice, but here are my top 3 options.
1. Napoleon P500RSIBPSS-3 Prestige 500 RSIB Propane Gas Grill
The Napoleon Prestige propane gas grill can be ordered in a choice of three exciting finishes and is fitted with four stainless-steel main burners that produce a total of 48,000 BTUs of firepower.
It is also equipped with stainless steel sear plates and comes with an infrared sizzle zone side burner that heats up to a whopping 1800 degrees in just 30 seconds.
The feature-rich Napoleon Prestige gas grill rings in with an 18,000 BTU infrared rear burner that arrives complete with the company's heavy-duty rotisserie kit.
In terms of cooking space, the Napoleon Prestige gas grill doesn't disappoint with its 500 square inches of main cooking area, a 260 square inch warming rack, and 140 square inch side burner.
2. Weber Summit E-470 Propane Gas Grill
The Weber Summit E-470 propane gas grill is an all-rounder in its segment in that it comes with features that are only seen in much higher-priced models.
It features a separate sear station, which creates an intense heat zone to add sear marks to your meat quickly. Adding to this, the E-470 gas grill features an integrated smoke box to add tantalizing smoky flavor to your food without buying a box separately.
But that's not all, the Weber Summit E-470 propane gas grill comes factory equipped with a tuck-away infrared rotisserie system that evenly distributes heat towards the spit.
The Weber E-470 gas grill features premium-grade stainless-steel burners that deliver a total of 48,000 of heat to the primary cooking surface.
3. Kenmore PG-A40405S0L-SE Stainless Steel Grill
Kenmore is a leading name in the grilling space, and the PG-A40405S0L-SE gas grill is yet another hit addition to the company's lineup of products.
The four main burners of this grill are made from stainless steel tube and deliver 10,000 BTUs each to the 432 square inch primary cooking surface.
Further, it is topped with a fully welded stainless-steel lid and a fully aluminized steel liner, which together enhance the durability of the grill.
The Kenmore PG-A40405S0L-SE gas grill features 6mm stainless-steel cooking grates, a stainless-steel warming rack, and four rolling casters to move the grill around across places.
---
Grills with Side Burners
1. Char-Broil Classic 280 gas Grill
For a gas grill that costs less than $160 and a model that comes with a side burner, the Char-Broil 280 gas grill is hard to beat.
It comes with an 8,000 BTU side burner, giving you extra room to heat up sides and sauces. The Char-Broil 280 gas grill offers 280 square inches of cooking space and comes with porcelain-coated cooking grates.
Additionally, the Char-Broil 280 gas grill is equipped with two stainless-steel in-line burners for unsurpassed cooking performance, and a porcelain-coated steel lid and firebox that can withstand harsh weather elements.
2. Weber Spirit E330 Gas Grill
The Weber Spirit E-330 gas grill is the younger brother of the E-470 gas grill yet doesn't compromise on its list of features.
It comes with both a warming rack in the interior and a separate side burner to simmer sauces or sauté vegetables. Adding to this, the Weber Spirit gas grill comes with porcelain-enameled, cast-iron cooking grates that retain even heat for the most delicious tasting food.
3. Rintuf Propane Gas Grill
The Rintuf propane gas grill is an ideal choice for small to medium-size families and is equipped with four burners and a side burner. It offers 42,000 BTUs in the main cooking area and features two enameled cooking grates.
The stainless steel burners of the Rintuf gas grill can be adjusted between low and high flame, so you can cook food your way. The Rintuf gas grill features a double shelf design and a built-in thermometer.