I've been really debating installing a bespoke built-in grill at my home, but have received ridiculously high quotes so far.
This got me thinking—why are built-in grills so expensive, and are they really worth the price?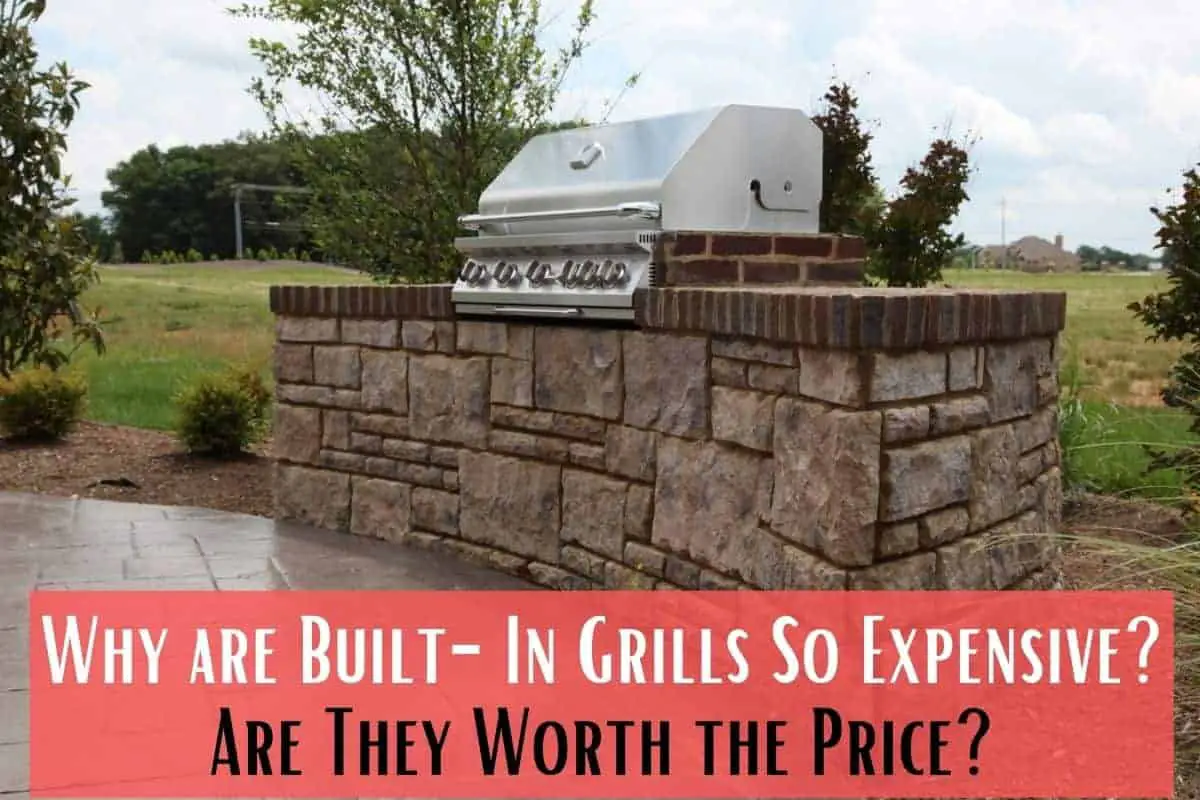 The short answer is it truly depends on your needs and budget, where some homeowners choose a built-in grill to enhance the overall aesthetic appeal of their outdoor environment.
---
What are Built-in Grills?
An outdoor kitchen complete with a built-in grill is a dream for many homeowners. If you're one of the many who never heard of a built-in grill, you may be wondering what exactly is a built-in grill?
Built-in grills are customized for your backyard and allow you to create an outdoor kitchen that gives you the countertop space you need to cook tantalizing meals.
This type of outdoor grill also tends to last longer than traditional standalone outdoor grills. Built-in grills are available in all shapes and sizes, making it easier to get the right appliance for your needs.
---
How Much Does a Built-In Grill Cost?
Just like sizes, built-in grills are available at a wide range of price points, starting from $1500 to upwards of $10,000. For example, the Blaze Prelude 4-burner built-in propane grill features a robust 304-grade stainless steel coating and comes with a $1600 price tag.
If you're looking to buy a much bigger size grill, the Napoleon Prestige PRO 825 is a great option, as it arrives complete with four stainless steel burners, a wood chip tray with a dedicated burner, and a rear infrared rotisserie burner.
It costs roughly $3400, which is the average cost of a built-in grill with mostly all the bells and whistles.
Speaking of which, if you want a massive built-in grill that does come overloaded with features, the Lynx Professional built-in grill at $7000 is worth a second look.
---
Why are Built-in Grills So Expensive Compared to Standalone Grills?
Apart from being sleek and powerful, there are several reasons why built-in grills come with heft price tags.
1. Material Cost
One of the key reasons why built-in grills are expensive is the material used in their construction. Take a look at standalone grill and a top-rated built-in grill, and you can easily spot which of the two has a more robust build.
Most high-end built-in grills are made from high-grade stainless steel, so you can rest assured they will serve you well for many years to come.
Adding to this, built-in grills also come with additional components that are made from superior quality stainless steel like the firebox, burners, and hood.
Better quality material also means top-notch performance in terms of heat distribution and retention.
Why does this matter? Stainless -steel is one of the most durable materials available, and is corrosion-resistant, making it a perfect choice for outdoor grills.
Stainless steel also doesn't absorb grease or other debris, making built-in grills easier to clean after a grilling session.
Some of the best built-in grill models are made in the USA, which results in higher costs of labor.
2. Performance
When it comes to performance, built-in grills are truly hard to beat. Grill performance is measured in BTUs (British Thermal Units), the best built-in grills can generate an astounding 48,000 BTUs of firepower across four primary burners.
This higher power translates to a higher temperature range, which gives you more flexibility over your cooking.
Built-in grills also heat up quicker, so you can get cooking in no time. They also come with more burners than standalone grills and offer more cooking surface real estate.
3. Superior Fit and Finish
A built-in grill must match the luxurious finish of your outdoor kitchen, and not stick out like a sore thumb.
Built-in grill manufacturers step it up a few notches to ensure that all the parts are carefully formed and assembled, dimensions are on point, etc.
---
What are the Advantages of Built-in Grills?
Oh boy! Where do I start! If you've been thinking about adding some pizzazz to your backyard, a drop-in grill is a great way to start.
There are myriad benefits to installing a drop-in grill, most notably:
1. They are Bespoke
You can purchase a standalone grill just about anywhere including your local hardware store. Built-in grills are actually customizable units that are the starting point of any outdoor kitchen, after which you can add sinks, drawers, etc.
2. They Define a Space
Outdoor kitchens generally have a lot of different areas, similar to the different rooms in your home. With a built-in grill, you can create and define these different spaces according to your needs.
3. They Increase the Value of Your Home
This goes without saying, but any aesthetic enhancement is bound to increase the value of your home. A built-in grill has a great ROI and allows you to enjoy cooking on it while you own the home, and recoup your investment if you ever sell your home.
4. They Attract Visitors
Install a built-in grill, and see how fast you become the envy of the neighborhood. If you love hosting outdoor barbeques, a built-in grill is a must-have.
---
What are the Disadvantages of Built-In Grills?
I personally can't think of too many, but the only thing that comes to mind is a high-end price tag! But as the saying goes— "you get what you pay for"!
Built-in grills also require a bit more maintenance than standalone grills to ensure that the propane tanks and natural gas lines are working properly.
---
So, is a Built-in Grill Worth the Price?
If you have the money to splurge and have the space, don't think twice—buy a built-in grill.
You can customize a built-in grill according to your liking, so it will be unique to your home. Plus, built-in grills are built tough and come with a long list of innovative features.
---
FAQs
Can I use a regular grill for a built-in?
The answer to this question is a definite "NO", and here's why! Built-in grills allow you to customize your workspace, and add a luxurious feel to your outdoor space.
Take a look at a garage with a Mercedes and a garage with a Ford—which one is more appealing?
Adding to this, built-in grills showcase a solid build quality and are customized to fit your outdoor kitchen, but standalone grills come in universal sizes.
How far should a built-in grill be from the house?
According to the U.S. Consumer Product Safety Commission, built-in grills should be placed at least 10 feet away from any structure (walls, sidings), including overhangs that are flammable such as awnings.