I've owned a Char-Broil gas grill for the past 10 years and started my grilling journey with it. Even though it's served me well, it's been acting up a bit lately and a little tough to work with.
So, I found myself on the shopping trail for a new grill, and to be honest, the experience was a bit overwhelming, given the sea of options to choose from.
That said, I put together a long list of all the different types of grills available in the market, their best uses, and top models to ease your buying decision.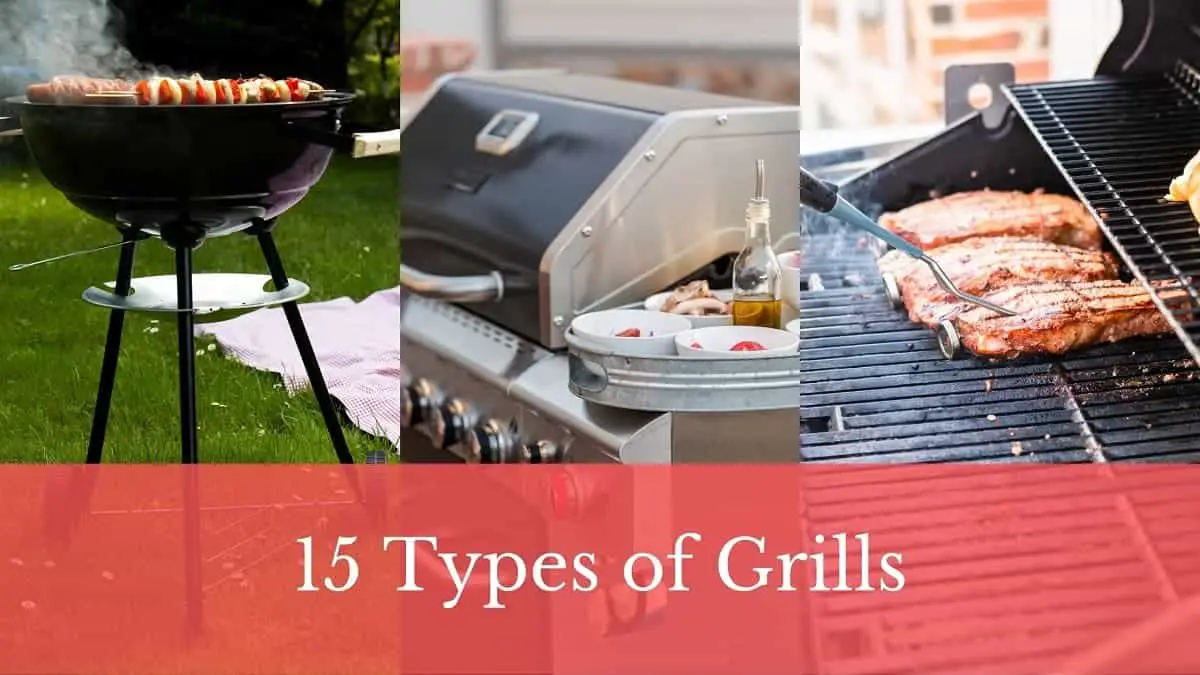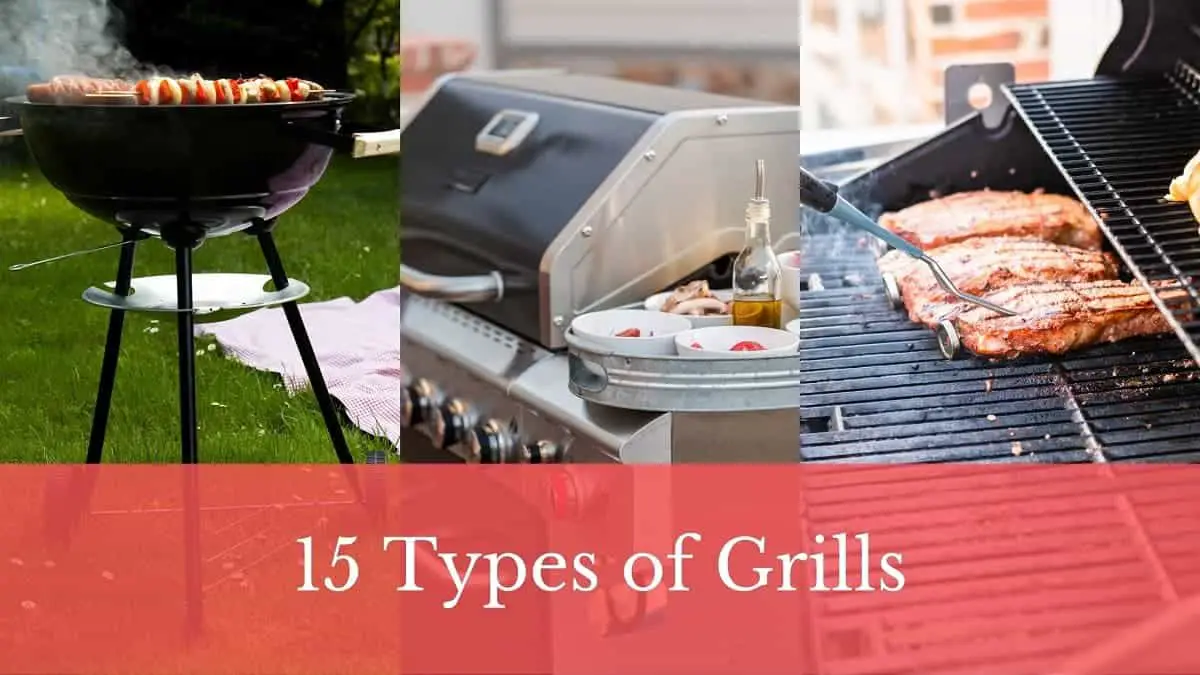 ---
Type of Grills Based on Cooking Method
1. Open Grills
Open grills represent a broad category of cooking appliances that as the name would suggest do not come with a lid.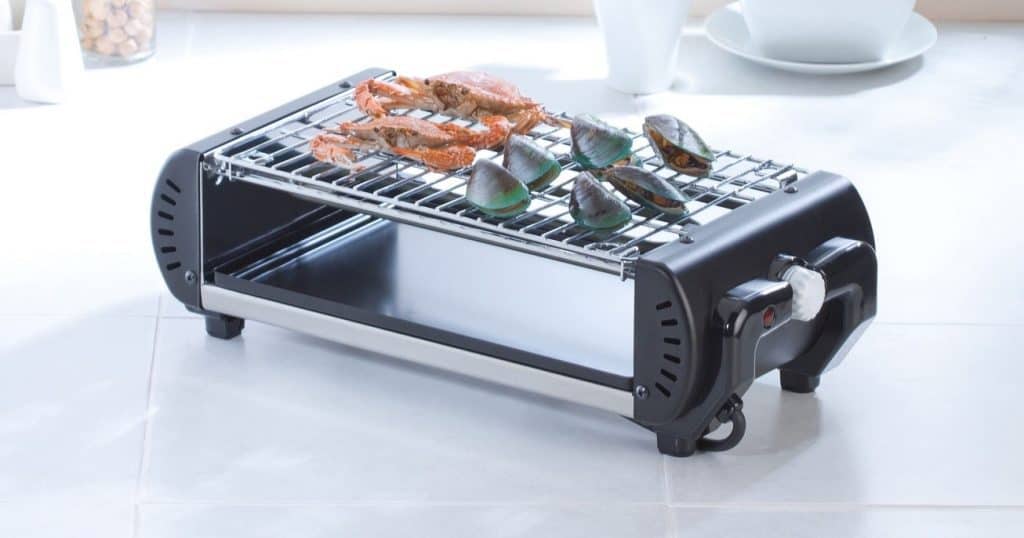 They are designed for both indoor and outdoor environments and are termed "open" because only one side of the food is in contact with the cooking surface, and the other is exposed to open air rather than a lid.
Cooking food items on an open grill requires close monitoring, given that one side of the food cooks faster than the other.
Indoor open grills are becoming increasingly popular because they can be used indoors, and can be powered by electricity rather than gas or another fuel source.
One of the biggest benefits of buying an open grill is its large cooking surface, making it easy to cook for a crowd.
Another advantage is that most of these types of grills are smoke less so that it can be used indoors as well.
But on the downside, open grills are limited by the weather, temperature, and outdoor conditions, so can't be used in rainy weather unless grilling in a tent.
George Foreman GFS0090SB Open Grate Smokeless Grill
The George Foreman GFS0090SB open grill features a medium size 172 square inch cooking surface, and variable temperature controls that allow you to choose from high, medium, and low cooking modes.
It boasts a non-stick coating that is free from PFOA (perfluorooctanoic acid) and is easy to clean after use.
The George Foreman open grill generates up to an impressive 80 percent less smoke, making it easy to use in indoor spaces such as apartments.
2. Closed Grills
Closed grills are topped with a lid, can be powered by liquid propane, natural gas, or electricity. They can be ordered in a plethora of sizes, and even colors, and can be used year-round.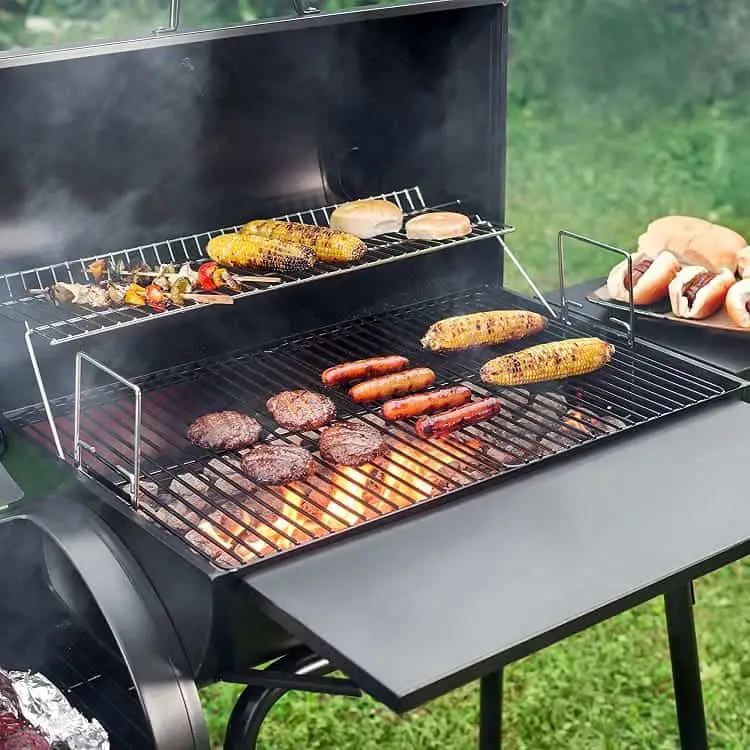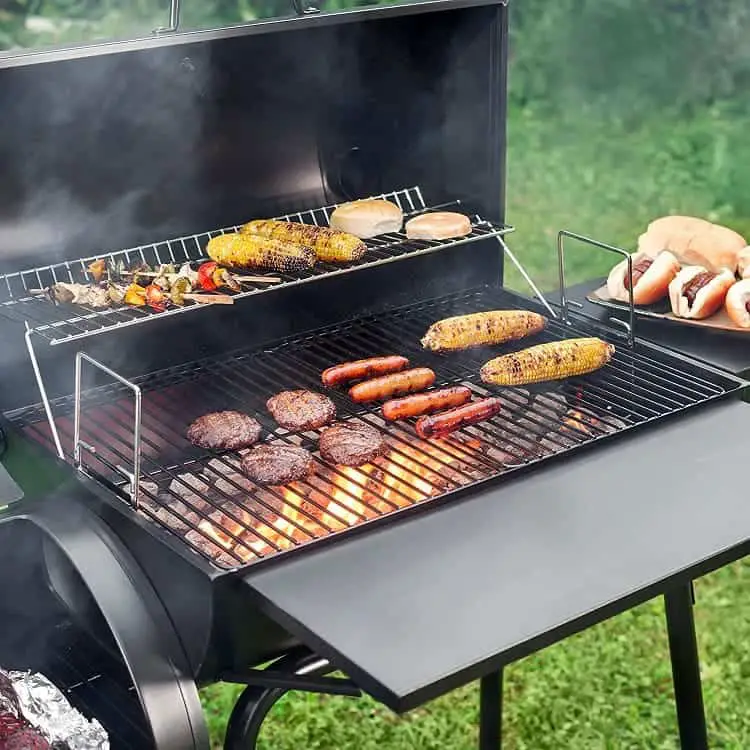 Closed grills come with a rich set of features compared to their open grill counterparts such as an integrated temperature gauge, and superior heat retention.
Closed grills allow you to cook with the lid open or closed, so the delicious smoke stays in the grill to cook food items such as steaks to perfection.
You can leave the lid open too, but the food will take longer to cook, and will lose moisture even if the exterior is seared to perfection. Some of the big names in the closed grill space are Royal Gourmet, Char-Broil, and Weber.
Royal Gourmet CC1830SC Charcoal Grill
The Royal Gourmet charcoal grill offers a massive 443 square inch cooking surface and comes with an offset smoker that seamlessly attaches to the grill.
It can accommodate up to 4.4 lbs of coal and features a new black finish that can withstand heat up to a whopping 400-degree F.
The Royal Gourmet charcoal grill is fitted with front and side shelves, giving you extra space to store your seasonings and grilling tools.
3. Rotisserie Grills
In rotisserie grills, the meat is cooked on a long, solid rod. There are some grills that come with a rotisserie attachment, but others don't, so you will have to buy the kit separately.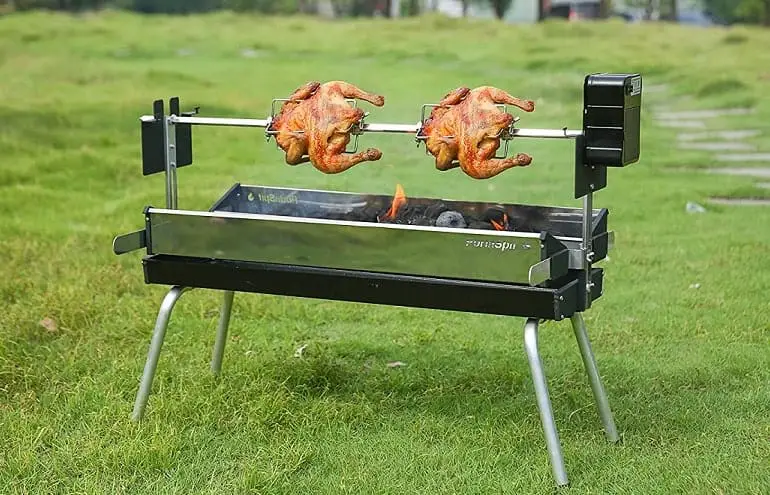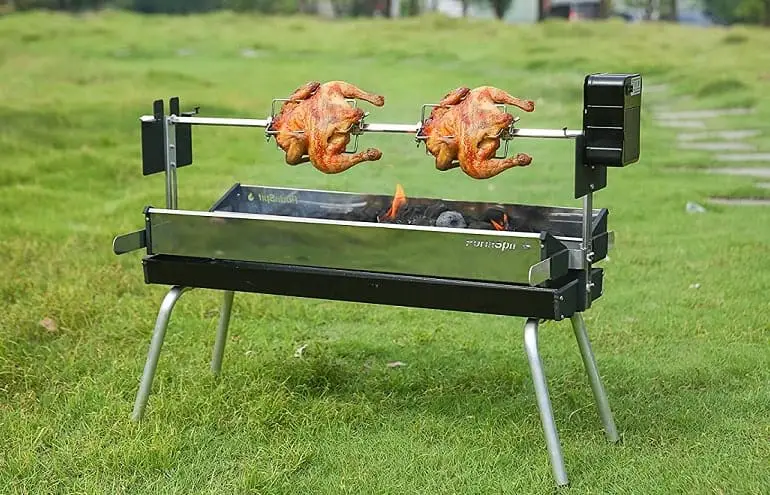 One of the biggest benefits of rotisserie grilling is that this method of cooking greatly reduces fat and grease by allowing it to drain off as the meat spins on the rod.
While some grilling enthusiasts say that rotisserie grilling results in less flavorful meat, it's a much healthier approach compared to other types of grilling.
BBQ Creations B-007 PortaSpit Rotisserie/BBQ Charcoal Grill
The BBQ Creations rotisserie grill is a charcoal-powered appliance and features a battery-powered rotating spit motor.
It can be easily folded up to take with you on the go, and can also be used for regular grilling for items such as hot dogs and hamburgers.
4. Open Pit Grills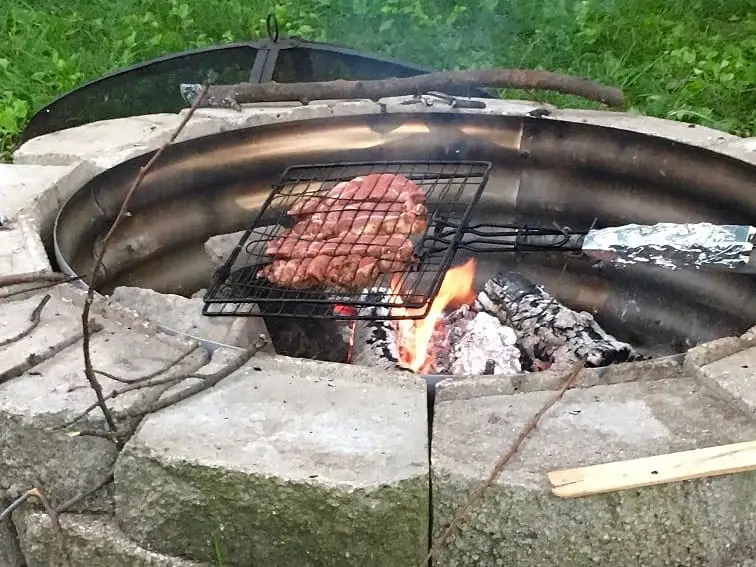 Open pit grills are similar to open grills, except that they source heat from a fire pit below. They are a preferred choice for camping trips, owing to their portability, but can't be used in outdoor inclement weather or indoors.
Open pit grills are usually available in small sizes, are an easy approach to grilling in the great outdoors.
Adjust-A-Grill Open Pit Grill
The Adjust-A-Grill open pit grill can be ordered in a choice of two color options and comes with a moderate size 6 inches x 16 inches grilling surface. It is easy to set up on its included 24-inch stake and features a coated grate for uniform cooking.
---
Types of Grills based on Fire/Heat Type
Grills can be classified based on the source used for generating the heat needed for grilling. There are broadly 7 different types of grills based on source of fire/heat.
1. Propane Gas Grills
If you're looking to grill all year round, buying a propane-powered grill is a great option.
Propane grills start up quickly by turning the dial, and pushing a button, and provide a serious amount of power for a great grilling experience, , which in terms of numbers preheat to 500-degrees F in roughly 15 minutes.
The only pitfall of propane grills is that you should keep at least two propane tanks handy in case you run out. Some of the leading names in the propane grill space are Masterbuilt, Master Cook, and Char-Broil.
Char-Broil 463655621 Propane Grill
The Char-Broil 463655621 propane grill offers 310 square inches of cooking surface, and a 95 square inch warming rack.
Adding to this, it arrives in an appealing metallic grey finish and features TRU-infrared cooking technology to prevent flare-ups, and for uniform heat distribution.
The Char-Broil 463655621 propane grill is fitted with an electronic ignition system for fast and reliable lighting, and a lid-mounted temperature gauge to easily keep tabs on the temperature inside the grill.
2. Natural Gas Grills
Natural gas grills are also powered by gas, except that the fuel is sourced from your home rather than propane tanks.
They are a great choice for people with an existing natural gas supply, and some models even come with a kit to hook them up to your home gas line.
If you don't have a natural gas line, it may be cheaper to buy a propane gas grill, as new natural gas lines are a little expensive to install in your home.
But paying these upfront costs could save you a handsome amount of cash in the long term if you grill frequently.
Additionally, natural gas is considered eco-friendly, and safe to use, given it is lighter than air, and easily floats out of your outdoor kitchen in the event of a leak.
There are several benefits of buying a gas based grill, starting with the fact that they are much more economical and efficient compared to charcoal grills.
Weber 49010001 Spirit II E-310 Natural Gas Grill
The Weber 49010001 Spirit II E-310 natural gas grill can be had in a choice of two exciting colors—ivory and black and is equipped with a patented Gs4 grilling system that comes with an improved infinity ignition, porcelain-enameled flavored bars, and a grease management system.
Adding to this, the Weber 49010001 Spirit II E-310 natural gas grill comes with a long 1o-foot flexible hose and provides 529 square inches of cooking space.
It boasts an open cart design and is fitted with six tool hooks, and two large wheels to easily move it around. The Weber 49010001 Spirit II E-310 natural gas grill is backed by a 10-year warranty against any manufacturer defects.
3. Charcoal Grills
Charcoal grills offer great versatility and deliver amazing flavor regardless of the food you're cooking. This type of grill provides high heat and can produce both direct and indirect heat.
Furthermore, charcoal grills make it easy to arrange dual zones by simply moving the coals to one side.
When grilling on a charcoal grill, the food drippings are instantly vaporized when in contact with the charcoal, so you get a smoky, aromatic flavor.
You can even add wood chips to the top of your coals for wood-fired flavors. Charcoal grills are often less expensive than gas grills, owing to the lack of components such as burners and valves.
Char-Griller 2137 Outlaw Charcoal Grill
The Char-Griller 2137 Outlaw charcoal grill is made from heavy-duty stainless steel and is fitted with an airtight flanged hood and heat gauge.
Adding to this, the Char-Griller Outlaw charcoal grill offers 1063 square inches of cooking space and features both a main grill area and a warming rack.
It comes with three onsite shelves to store your grilling tools, spices, and sauces, and an easy dump ash pan for quick and convenient ash disposal.
4. Wood Fire Grills
There are myriad benefits of cooking on wood fire grills compared to other fuel sources, most notably longer burn times, because wood burns longer than charcoal.
Additionally, wood is easier to handle and less messy than charcoal, and if you've touched charcoal with your bare hands, you already experienced that hard to clean black powdery residue on your skin.
Wood grills are regarded as a natural cooking source and produce a fragrant aroma that's missing in certain other fuel sources.
BALI OUTDOORS Wood Burning Grill
The Bali Outdoors wood fire grill offers the best of both worlds—a fire pit, and a 360-degree grill. The grill can be adjusted to the right or left, and up and down, giving you more control over your cooking.
Further, the Bali Outdoors wood-burning grill features a unique yet appealing design that's complete with an outer ledge set on the central fire for easy access to your personal supplies.
The base of the Bali Outdoors wood fire grill is equipped with a circular steel ring that is secured on all four legs for top-notch stability.
The Bali Outdoors grill measures 34 inches x 24 inches and comes with a poker and log rack, so you won't have to buy them separately.
5. Electric Grills
Electric grills are all about convenience, as they allow you to grill in any place where an electrical outlet is present.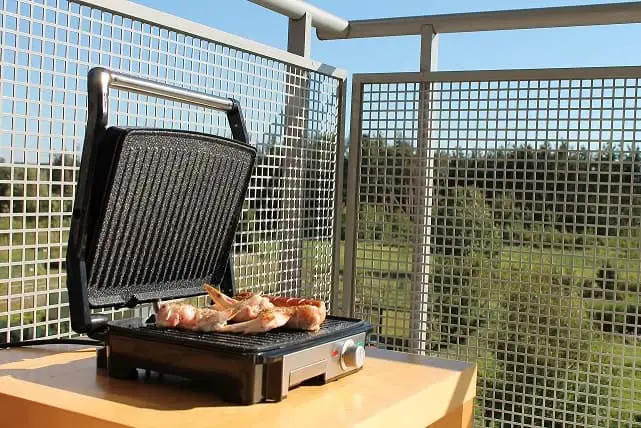 They are also a great choice for those who don't have a traditional grilling setup and grillers that want a grill that's easy to use.
Electric grills also produce less smoke unless fat drippings vaporize on the heating element, which is something I desire in moderation.
With electric grills, there are no more propane tanks to haul around, and you don't have to ever worry about running out of fuel.
Some of the top electric grill brands include Cuisinart, Weber, Blaze, and Coyote Outdoor Living. Prices for electric grills range from $100 to $1000+ for one with all the bells and whistles.
Cuisinart CEG-980 Electric Grill
The Cuisinart CEG-980 electric grill can be plugged into any 120-volt electrical outlet and is a great choice for medium-sized families as it can cook eight burgers or eight steaks at a single time on its generous 145-square inch grilling surface.
Further, it is fitted with a powerful 1500-watt 5120 BTU burner, topped with a porcelain enameled coated grill plate.
The Cuisinart CEG-980 electric grill is fitted with telescopic legs that lock into place at a comfortable grilling height. After you've finished grilling, the legs can be folded and tucked away neatly under the grill.
The Cuisinart CEG-980 electric grill heats up quickly, and comes with convenient carry handles to move it across places.
6. Infrared Grills
Infrared grills are basically gas grills that are powered by infrared technology as their source of heat or an optional burner.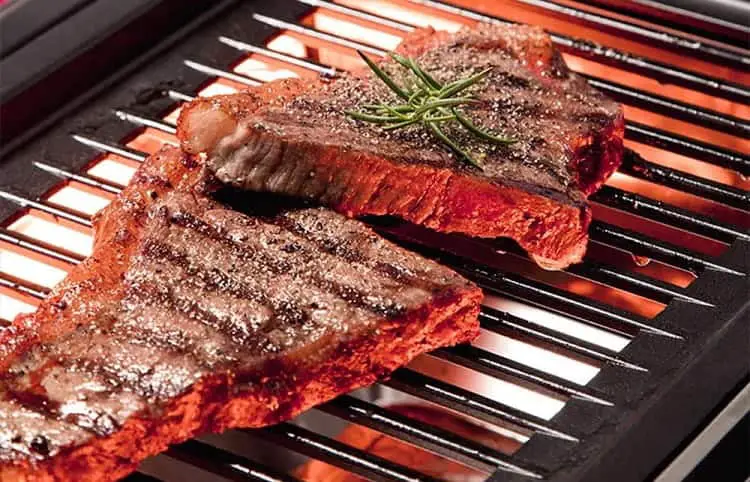 One of the noteworthy benefits of infrared grills is that they heat up super quickly in roughly three to five minutes. Adding to this, they produce even heat distribution across the grilling surface, which greatly reduces cold spots that are often seen with other types of grills.
Infrared grill-cooked foods also retain up to an impressive 30 percent of their natural juices, leading to tender and juicy results.
Additionally, infrared grills are energy efficient compared to traditional gas grills and are easy to clean.
However, infrared grills aren't perfect and do come with a couple of pitfalls, starting with the higher chance of burning or charring food, owing to their extremely high temperatures.
Some of the big names in the infrared grill space are Char-Broil, Simply Living, and Solitaire. Infrared grills can be expensive, ranging from $300 to more than $1000.
Char-Broil 463370719 Infrared Gas Grill
The Char-Broil infrared gas grill offers 450 square inches of cooking space to cook on, and features an appealing stainless steel finish for enhanced style and durability.
It is backed by TRU-infrared cooking technology, so you won't have to deal with flare-ups or uneven heat distribution.
The Char-Broil infrared gas grill comes with porcelain-coated cooking grates that are easy to clean, rust-resistant, and durable.
You can start the Char-Broil infrared grill easily using the onsite push to start ignition system. To top things off, the Char-Broil infrared grill comes with a swing-away warming rack for greater versatility.
7. OTG
OTG, short for oven toaster grill is a 3 in 1 cooking appliance that as you might have guessed allow you to access features of three different appliances.
With an OTG, you can prepare anything from french fries, pizzas to cupcakes and cookies.
Oven toaster grills are compact versions of an oven and are fitted with heating elements at the top and bottom.
Some OTG appliances even come with a rotisserie attachment, so you can do more without having to buy another appliance.
Prices for oven toaster grills range from $100 to $500, and some of the big brands in this space include Cuisinart and Hamilton Beach.
Cuisinart Airfryer, Convection Toaster Oven
The Cuisinart OTG can be ordered in an assortment of great colors including black stainless steel, and copper.
It offers seven functions to choose from including convection bake and air fry, and boasts a large 3249 lbs capacity.
This OTG by Cuisinart comes with a non-stick interior complete with a light and is equipped with an adjustable thermostat that features a 60-minute timer and auto-shutoff.
The package of the Cuisinart OTG includes everything you need to get started right out of the box such as a baking pan, oven rack, and an airfryer basket.
---
Types of Grills based on Shape
1. Kamado Grills
Kamado grills have been around for a few thousand years, and are multifaceted grills that can cook virtually anything to perfection from burgers to briskets.
Kamado grills feature an oblong egg shape and are generally made from ceramic—a material that provides strong insulation.
Adding to this, kamado grills can do much more than grilling but can sear, roast, smoke, barbeque and bake as well.
One of the downsides of kamado grills is that they can be a bit fragile, as they're made from ceramic, but can last you a while with proper care.
Prices for kamado grills start at $150 and can go all the way up to $1000, depending on the brand you chose such as Kamado Joe, Vessils, or Char-Griller.
Kamado Joe Jr.
The Kamado Joe Jr. grill features a thick-walled, heat-resistant shell that is designed to lock in moisture and smoke regardless of the temperature.
It features a cast iron air vent for great temperature control, and a built-in temperature gauge to know exactly when your food is ready to be served.
The Kamado Joe Jr. grill comes with a 304-grade stainless steel grate and is also made from stainless steel.
It tips the scales at just 68 lbs and is equipped with a cast iron stand to easily carry it around.
2. Kettle Grills
Kettle grills are spherical-shaped appliances that look similar to a kettle. This design was conceived by the grilling company Weber and has become a big hit among grillers ever since they took center stage in 1951.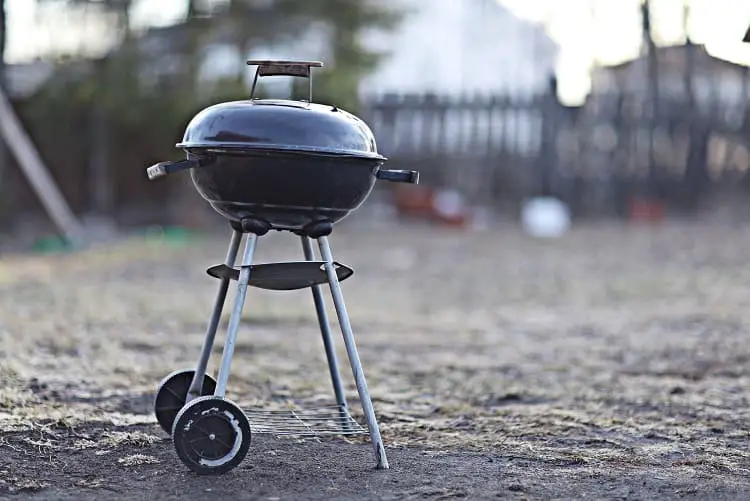 Kettle grills feature a steel cooking grate, round lid, and two sets of vents—one on the bottom and on the lid.
Kettle grills aren't expensive appliances, and generally range from $100 to $300+, and some of the leading brands include Cuisinart, Weber, and Cusimax.
Weber Original Kettle Premium Charcoal Grill
The Weber kettle grill is available in three different colors including copper and green and offers a large capacity to cook up to 13 burgers at a single time.
It features a porcelain-enameled lid and bowl that retains heat well and is rust and peel resistant.
The cooking grate of the Weber kettle grill features a hinge that makes it easy to add charcoal when grilling.
It comes with a one-touch cleaning system, and a high capacity ash catcher to accumulate and clean up the ask without much effort.
---
Multi-Purpose/Hybrid Grills
1. Pellet Grills
Pellet grills are a great choice for those who love the taste of slow-cooked food, and provide even heat, allowing you to use them as a smoke chamber or oven.
Pellet grills use flavorful pellets such as pecan, hickory, or cherry, and are some of the easiest grills to use, and some of the models in this space can be connected to a phone app via Bluetooth or Wi-Fi.
With pellet grills, cooking is a fairly automated process, because most of the models constantly monitor the temperature, and add pellets automatically.
Pellet grills can be expensive appliances costing $400+, and some of the big brands include Traeger, Z-grills, and Louisiana Grills.
Traeger Grills Tailgater 20 Wood Pellet Grill
The Traeger Tailgater 20 pellet grill features a 300 square inch capacity and comes with a digital controller that makes grilling from anywhere a joyful experience.
It offers precise temperature control and maintains a +/- 15-degree temperature to ensure precision grilling.
Adding to this, the Traeger pellet grill comes with easily foldable legs, and wheels to cart it around easily across spaces.
2. Charcoal Gas Combo Grills
If you want the best of both worlds—that is charcoal and gas grilling from one appliance, the buying a charcoal combo gas grill is a great option.
Gas and charcoal combo grills use both charcoal and natural gas to cook at higher temperatures, and some models even offer to choose between the two fire sources at the time of grilling.
One of the biggest advantages of a charcoal and gas grill combo is the option to add additional flavors, so you can cook food according to your desired taste.
Coyote Centaur Charcoal/Gas Combo Grill
The Coyote Centaur charcoal gas combo grill boasts a robust build, complete with a welded stainless steel box, and polished edges for unmatched durability.
It is fitted with two high-performance Coyote iBurners that collectively deliver 40,000 BTUs of sheer cooking power.
But that's not all, the Coyote Centaur charcoal gas grill combo offers a massive 1200 square inches of cooking area, so you can grill for your family, as well as your entire neighborhood.
The Coyote Centaur gas and charcoal combo grill is fitted with adjustable dampers and a removable warming rack on each side of the grill.