My neighbors consider me a grilling aficionado, and they aren't very far-fetched with that thought. In fact, my neighbors quite recently have been knocking on my door asking for advice on buying grilling accessories and even massive outdoor grilling machines.
That said, Jennifer—my neighbor's wife walked up to me just the other day saying she wanted to buy her husband Bill a new grill for their anniversary at the end of the month.
The good news was that she'd already scoured the market, and narrowed her options down to two budget-friendly gas grills, but was on the fence about which one to buy—the Weber Spirit II E-310 or the Kenmore 3 Burner Propane Grill.
I did some research and helped are with all the details which I thought would be handy for you guys as well who are stuck between which one to choose.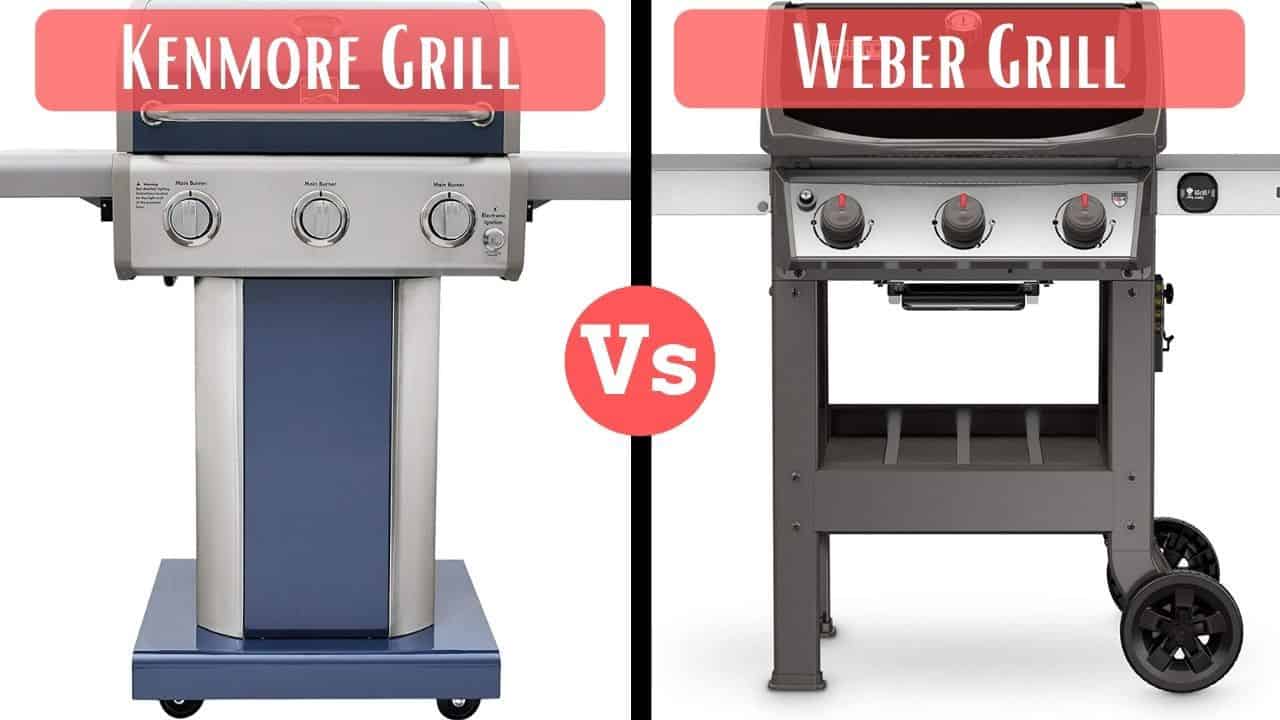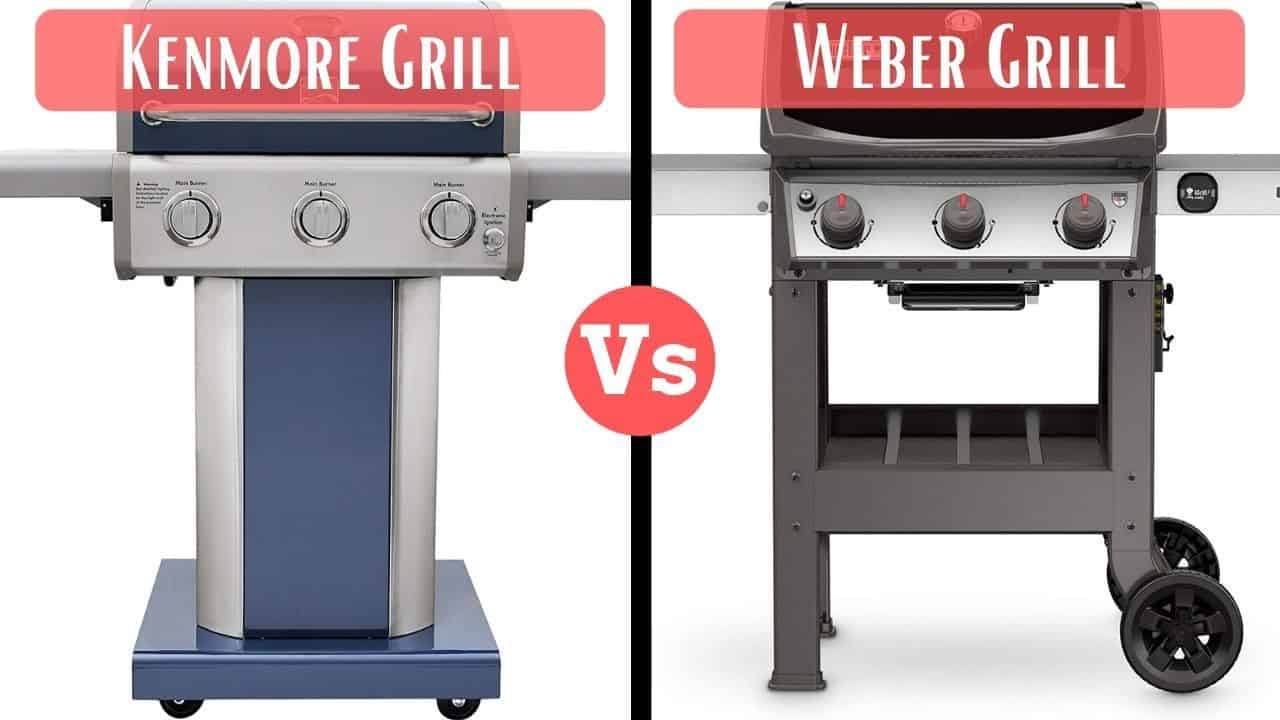 ---
Kenmore PG-4030400LD vs Weber Spirit II E-310
1. Comparing the Brands
Incepted in 1893, Weber is a leading manufacturer of gas, charcoal, and electrical outdoor grills, and accessories.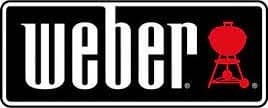 Apart from grills, Weber owns restaurants in different parts of the country and publishes cookbooks.
Kenmore is another esteemed Appliance brand that manufactures products under several other reputable brands such as Panasonic, Whirlpool, and LG.
Kenmore was introduced in 1913, and just like Weber manufactures and sells a massive range of high-quality grills.
2. Main Grilling Features and Functionality
One of the key features that sets the Weber Spirit II E-310 apart from the Kenmore gas grill is its GS4 grilling system, which brings in four fantastic elements that provide a powerful grilling experience.
Upgraded Infinity Ignitor – with the improved Infinity ignitor, you can fire up, control and adjust the temperature across the entire grill surface instantly, all with a single control.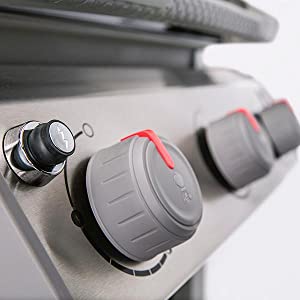 High-performance burners – the burners in the GS4 grilling system are completely redesigned from the ground up and are built to withstand the most rigorous grilling temperatures.
Flavorizer bars – the flavorizer bars in the GS$ system do much more than add flavor to your grilled meals, but are also designed to minimize flare-ups while grilling.
Grease management system – the updated GS4 grease management system uses special channels to funnel the grease directly to the removable drip tray for easy, quick, and efficient cleaning.
The Kenmore 3-burner propane grill can be ordered in a choice of five exciting colors including red, and pearl, and comes with an easy-to-start ignition system.
3. Burner Quality
The Weber grill's GS4 system comes with three promising burners that distribute heat evenly and consistently across the cooking surface.
These burners are geared to resist high cooking temperature and to last for years to come with proper care.
The Weber GS4 system burners will not wear or corrode even after years of use, and are built with a singular level of resistance and strength to natural wear and tear.
The Kenmore propane gas grill comes with three premium quality stainless steel burners that also will not rust with proper care.
Winner – Weber
4. Cooking Temperature Ranges
Both the Weber and Kenmore gas grills are fitted with three burners, which deliver 30,000 BTUs of intense firepower to the grill's surface. Each of the three burners generates up to 10,000 BTUs for a total of 30,000 BTUs for the three burners.
Winner – Both
5. Quality of Construction & Build
The Weber 45010001 Spirit II E-310 gas grill boasts a lightweight footprint and is fitted with a cookbox and shroud that are made from cast aluminum, which is much more durable than sheet metal found in other grills in this segment.
Adding to this, the shroud is also porcelain-enameled, which helps prevent peeling, fading, and rusting, and best of all is easy to clean.
The side shelves and burner tubes of the Weber grill are made from stainless steel, making them rust-resistant and highly durable.
The Weber grill features an open cart design to provides you with additional room and accessibility for your grilling tools.
It is equipped with two side tables, where the left side can be folded down with the click of a button to enjoy extra space. The Weber gas grill also comes with handy tool hooks to hang your essential grilling tools.
The Kenmore gas grill features a solid stainless-steel build, and to top things off comes with powder coated surfaces, which is hands down one of the most durable coatings you can use for metal surfaces.
Adding to this, it comes with two foldable side shelves, making it easy to store, and provide you with extra space when cooking.
Winner – Both
6. Ease of Usage
Both the Weber and Kenmore 3-burner grills are a joy to use with their easy-to-start push ignition systems. Additionally, the Kenmore as well as the Weber grill is fitted with a warming rack that gives your extra space to warm up sauces or other food items.
The Weber however does score extra points when it comes to ease of use, thanks to its easy-to-read fuel gauge located right next to the propane tank that lets you see the amount of fuel left in the tank.
The Weber and Kenmore gas grills feature a lid-mounted temperature gauge to avoid opening the lid frequently to check if the food is ready to be served.
Winner – Weber
7. Grilling Space Available
The Weber 3-burner grill offers a 529 square inches of primary cooking area, which includes the space for the interior warming rack.
Comparatively, the Kenmore grill offers 381 square inches of primary cooking area and a 131 square inch secondary cooking surface for a total of 512 square inches of cooking space to work with.
Winner – Weber
8. Fuel Efficiency
The Weber and Kenmore grills use the same 20 lbs propane tank, so fuel efficiency depends on how often you use the grill.
With regards to the fuel efficiency of the tank, a propane tank should last for roughly a8 to 20 hours with continuous use.
Propane tanks last less depending on the size of the grill, which works out to approximately 10 hours for grilling on larger than the two models in this article.
9. Grate Quality
Both the Weber 3-burner and Kenmore 3-burner grills are factory equipped with porcelain-coated cast-iron cooking grates, which provide unmatched heat retention and even cooking.
10. Storage Capacity
The Weber grill comes with an open storage area located at the bottom of the grill, but the Kenmore offers no dedicated storage area.
On a brighter note, the Kenmore comes with tool hooks on both side shelves of the grill, whereas just the one side with the Weber.
Winner – Weber
11. Weight & Portability
The Weber grill tips the scales at just 20 lbs, and the Kenmore 3-burner grill at 75 lbs. Both grills are easy to move around, owing to the two wheels located at the base, however you may have to put in a bit more effort with the latter, as it is on the hefty side.
Winner – Weber
12. Ease of Cleaning & Maintenance
Gas grills such as the Weber 3-burner and Kenmore 3 burner grills are much easier to clean than their charcoal counterparts.
You can either clean them the inexpensive way using a spray bottle, vinegar, cotton cloth, and water or the traditional and more effective way of heating the grill for 15 minutes and then scrubbing the hot grates with a wire brush.
The Weber comes with the GS4 grease management system, so you simply have to remove the drip tray, and empty it properly.
The Kenmore grill doesn't come with a drip tray, but you can buy one separately at a nominal cost.
Winner – Weber
13. Price & Warranty
The Weber 45010001 Spirit II E-310 propane grill is priced at a little over $500, and the Kenmore 3-burner at around $400. In terms of warranty, the Weber grill is backed by an impressive 10-year warranty, and Kenmore offers a 1-year warranty against defects in material and craftsmanship, and a 5-year warranty on the stainless-steel burners.
Winner – Weber
14. After-Sale Service Quality
Kenmore and Weber are esteemed brands in the grilling space, so you can expect nothing less than unsurpassed customer service either via email, phone, or social media channels.
15. Resell Value
The resell value of both grills depends on their age and upkeep. If you maintain your grill, and it's in good working condition, it will probably fetch you between $200 and $300 after 4 to 5 years of use. When it's time to sell your grill, you can marketplaces such as Craigslist.
16. Value for Money
The Weber may cost roughly $100 more than the Kenmore 3-burner grill, but I feel its definitely worth the extra cash. For starters, it comes with the GS4 grilling system, which alone upgrades several components of the grill.
Next, it offers a little more grilling space, so you can probably cook one or two more burgers than the Kenmore gas grill.
---
List of Features of Kenmore PG-4030400LD Propane Gas Grill
Can cook 33 burgers at one time on its 512 square inches of cooking space
Two easy to fold side shelves complete with tool hooks on both sides
Powder coated surfaces for added durability
Easy to start electronic ignition system
Three burners made from stainless steel for a total output of 30,000 BTUs
Porcelain-enameled cast-iron cooking grates
5 color options
---
List of Features of Weber Spirit E-310 Liquid Propane Gas Grill
GS4 grilling system
Grease management system
Porcelain-enameled cast iron cooking grates
529 Square inches of primary cooking space including warming rack
3D interactive assembly instructions
3 burners for 30,000 BTUs power
Open cart design with 6 took hooks
4 color options
Easy to read fuel gauge
---
Pros & Cons of Kenmore PG-4030400LD Propane Gas Grill
| | |
| --- | --- |
| Pros | Cons |
| Visually attractive | Tiered warranty |
| One push start ignition | Assembly can be a bit tricky |
| Durable design with large grates | |
| Stainless-steel burners | |
| Powder coated surfaces | |
---
Pros & Cons of Weber Spirit E-310 Liquid Propane Gas Grill
| | |
| --- | --- |
| Pros | Cons |
| Visually attractive | A little expensive |
| Small footprint and lightweight | Only one side shelf folds down |
| Porcelain-coated grates | |
| GS4 system | |
| Integrated fuel gauge | |
---
Which grill is better Kenmore PG-4030400LD or Weber Spirit E-310?
Both the Weber and Kenmore 3-burner grills are powerful appliances that are designed to suit most budgets.
However, for a few bucks more, the Weber Spirit E310 gas grill gives you more bang for your buck, owing to features such as the GS4 grilling system.
The Kenmore 3-burner gas grill is a great choice for novice grillers and/or those who don't want to splurge on a grill just yet!
It comes with a decent set of features for a great grilling experience such as porcelain-coated cooking grates, push-start ignition and a fairly large cooking area.
But keep in mind, the Kenmore grill does come with a shorter warranty than the Weber grill, but will proper maintenance should serve you well for years to come.