As the pandemic restrictions were eased in my state this week, I thought it would be a good idea to catch up with my neighbor—good ol' barbeque Bob (aptly named for his smooth BBQ skills).
We cracked open a few cold ones, and as we're chatting, I noticed something odd—where's the grill? The last I remember, the grill was near the fence, but now it's about five feet away from the house.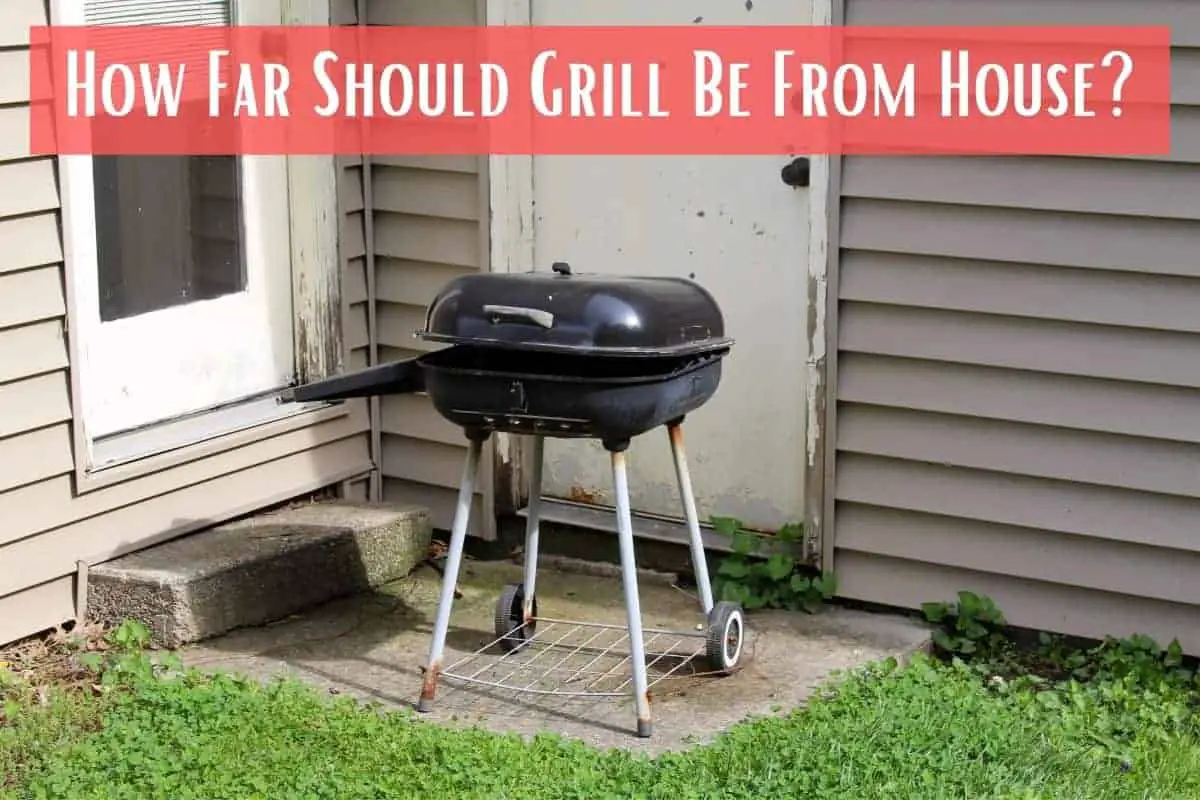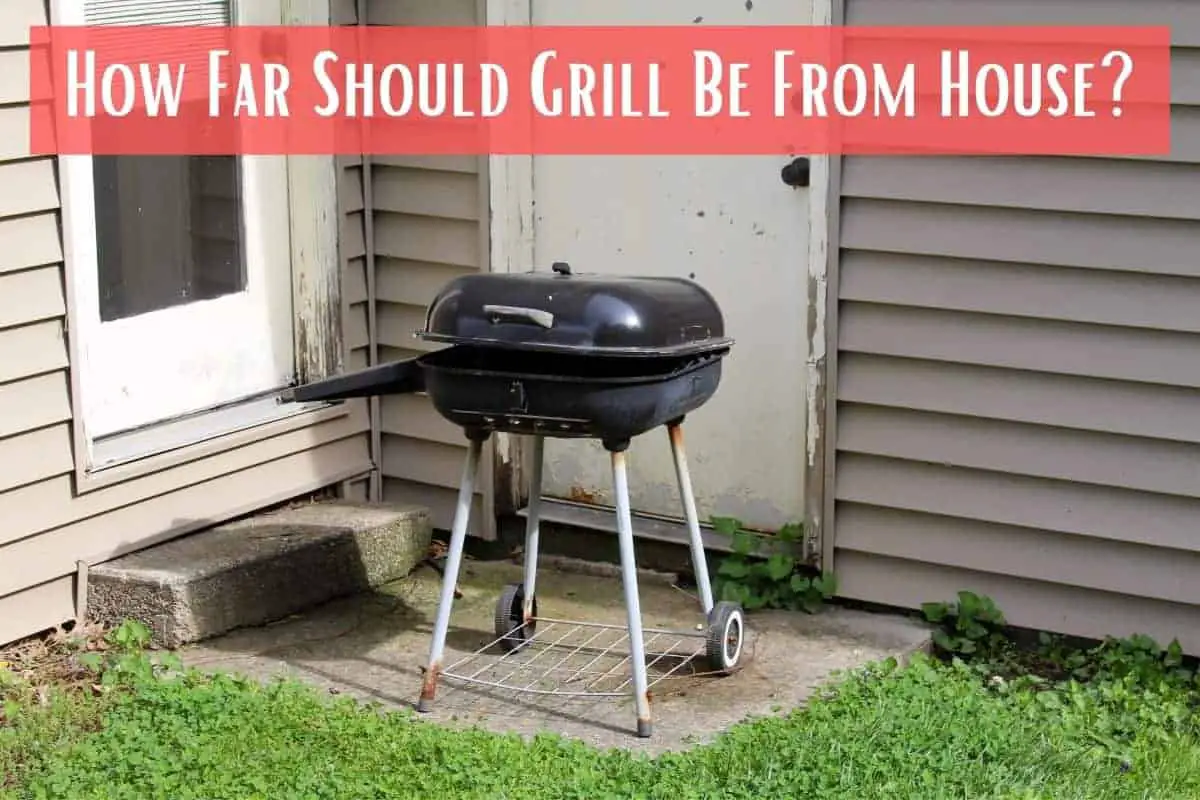 This got me thinking—how far should a grill be from the house? Well, according to the Department of Fire Services, grills must be placed at least 10 feet away from the building unless the manufacturer's instructions state something different. The ideal distance also depends on a number of factors, most notably the type of grill.
---
How Far Should Grill be from House?
Since there are many different types of grills, I'll cover how far each time should be placed from a house.
How Far Should Natural Gas Grill be From House?
A natural gas grill should be placed at least 10 feet away from deck railings, and any structures such as your home, garage or shed.
Natural grill manufacturers recommend a clearance of 20 inches to the rear of the grill, 7 inches from the sides, and 24 inches if the grill is placed near vinyl siding.
How Far Should Propane Grill be from House?
Propane gas grills should also be placed at least 10 feet away from your house, because floating embers could easily cause a fire. In fact, a barbeque placed on an outdoor deck damaged a home in Santa Rosa in 2020.
Some grilling enthusiasts say that gas grills should be placed three feet away from a house, but to me that number does seem too risky.
How Far Should Electric Grill be from House?
The code from the National Fire Protection Association states that electric grills should be placed 10 ft (3 m) from any structure.
This keeps the ignition source at a safe distance away from the exterior areas of your home.
---
Can You Place Grill in Your Garage?
Yes, you can, but only for storage purposes. There are two big risks of placing a grill in a garage—first is the fire risk from rising sparks, and second is that charcoal and gas grills produce large amounts of carbon monoxide, which when accumulated in your garage can be fatal.
You can however store a grill in your garage, but first you must turn the propane tank completely off, disconnect it from the grill, and keep it outside your home.
Next, thoroughly clean your grill, secure the grill lid if it has a locking mechanism, cover it with a grill cover, and store it in your garage.
---
Can You Place Grill in Your Backyard Shed?
While it might be tempting to use your grill in your backyard shed, this is again a big risk.
Grilling indoors in your shed may seem like a good idea, especially during the freezing cold, but using ignitable fuels inside your home is risky business, even if it's just for a few minutes.
However, there are some grills that you can use in your garage or shed, which are classified as indoor grills, and some of the top models include the George Foreman indoor grill, and the Hamilton Beach electric grill.
---
Can You Place a Grill in Your Carport?
Again, you can only use a grill designed for indoor use in your carport. Firing up a propane, charcoal or outdoor electric grill in your home can be harmful and needless to say cause serious damage to your home.
---
Why Should Grills be Placed at a Safe Distance from House?
There are several reasons why grills should be placed at a safe distance from house, most notably:
Increased Air Circulation
Maintaining adequate space from your home is important to prevent gas or carbon monoxide buildup.
Any accumulation of gas or carbon monoxide can lead to sudden flare-ups and fires that can spread quickly.
Limit Smoke Damage
Along with fire comes smoke, and lots of it when grilling! The smoke that escapes from your grill should ideally dissipate quickly into the surrounding air, but can cause damage to your eave or awning if your grill is located too close to your house.
Avoid Siding Damage
Most homes today have vinyl siding—a material that is susceptible to high temperatures and can melt.
When siding becomes loose or rippled, it can pose other risks such as leaks, structural damage, and even building movement.
---
Where Should Grill be Placed in Backyard?
Place your grill anywhere in your backyard, but 10 feet away from your home. Place it on a flat, clean surface, because you don't want your hot dogs rolling down in the midst of a grilling session.
You should ideally place your grill 10 feet away from your home, and near your backyard entrance, to avoid going back and forth from your indoor kitchen.
You should also consider the views from the grill's location, where you should be able to see the rest of your backyard landscape.
Set the grill in a location where the smoke will be carried away from the living and dining areas.
To ensure a comfortable grilling experience, place the grill under some type of shade like under trees, a patio cover, pergola, or umbrella.
---
FAQs
How Close Can a Grill be To a Fence?
The grill should be placed 10 feet away from any structure, which includes fences. Fences are made from wood, and can catch fire easily!
How Far Should Weber Grill be from House?
If it's an outdoor Weber grill, then 10 feet away from your home is the ideal distance.
Is it Okay to Put a Grill on a Deck?
Putting a grill on a wooden deck can lead to unwanted fires. Sparks from the grill can ignite wood decking boards or railings, and wind can increase the danger from stray sparks.