I'm a few days away from my annual camping trip to the Acadia National Park in Maine and wanted to take my Traeger pellet grill along.
The park does provide electricity, but limited, which isn't enough to power my long cookouts.
So, the question I have is do pellet grills need electricity, and how much electricity do they actually use?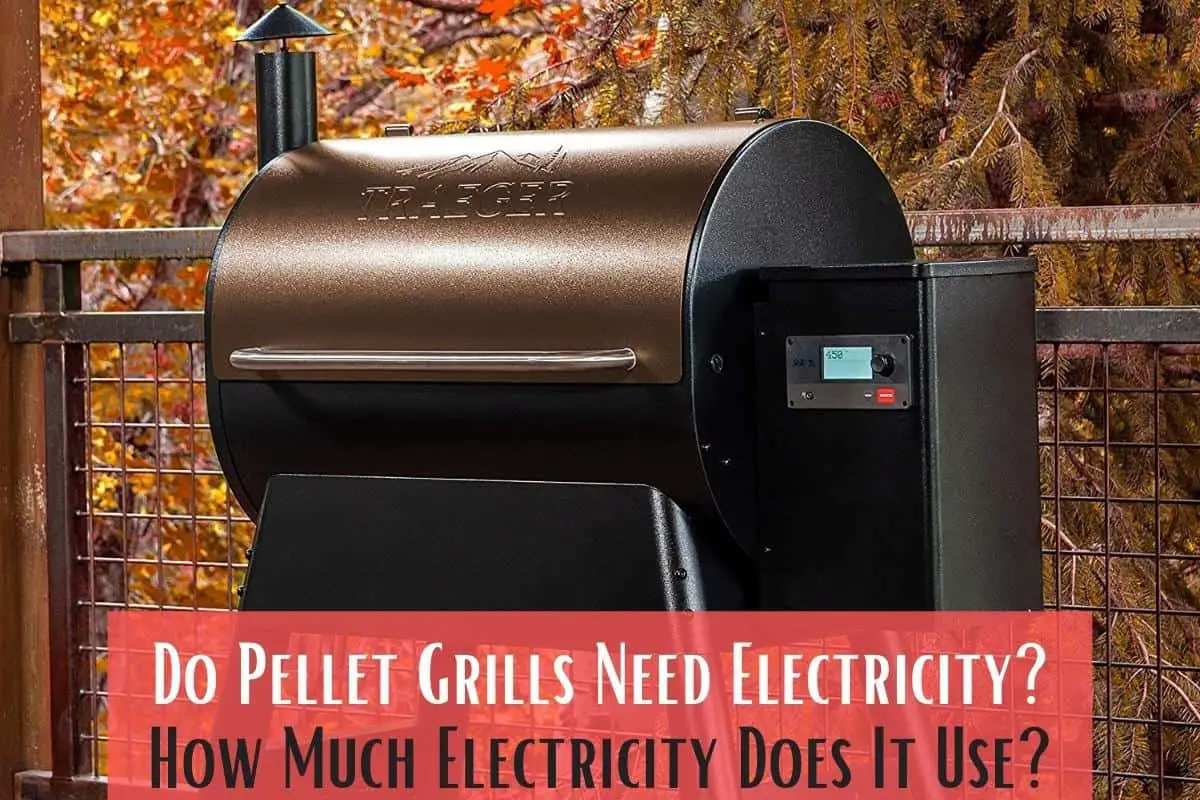 Pellet grills contain components that aren't seen on gas or charcoal grills such as augers that feed pellets into the fire. These components need electricity to run and can be powered by portable electricity sources such as a gas or propane generator.
---
Do Pellet Grills Need Electricity to Run?
In order to understand if pellet grills need electricity to run, it's a good idea to understand how pellet grills work.
Unlike propane, charcoal, or gas grills, pellet grills use wood pellets as a source of fuel to create heat and smoke.
The auger of a pellet grill slowly feeds the pellets into the firepot, where there are burned to create heat and smoke.
The components of a pellet grill such as the auger, thermometer, control panel, and fans need electricity to run, therefore all pellet grills can only be used by connecting the appliances to an electrical outlet.
---
How Many Watts Does a Pellet Grill Use? 
I'm no technician but did speak to an electrical engineer (my good ol' neighbor) to understand how many watts does a pellet grill use.
Pellet grills use more power during startup and less power when they are up and running. In terms of numbers, that works out to 300 watts to 500 watts during startup (first 5 – 10 minutes), and just 30 watts when running.
To run a pellet grill, you're going to need a power supply that can provide at least 500 watts of power during startup, and at least 30 watts of power consistently for 12+ hours.
---
How Much Electricity Does a Pellet Grill Use?
There's no sure shot answer to this question because the amount of electricity a pellet grill uses depends on the power rating of the respective pellet grill model.
However, I was tinkering with some numbers, and it works out to be under 1 cent an hour to operate a pellet grill.
If you're curious how I got these numbers, here's the math!
My calculations are based on 13.19 cents per kWh—the average US electricity rate, and the wattage of the standard pellet grill.
Take for example a Traeger smoker that uses 50 watts of power when running for 8 hours consumes just 0.4 kWh per day, which equates to roughly $5.56 for an 8-hour cooking session.
---
Pellet Grill Electricity Usage Table
| | | | |
| --- | --- | --- | --- |
| Wattage of Grill | 4 Hour Duration Cost | 8 Hour Duration Cost | Electricity Usage |
| 50 watts | $2.78 | $5.56 | 0.4 kWh |
---
Can You Use a Pellet Grill Without Electricity?
The short answer is no—you need electricity to power a pellet grill, and there's no way around this.
As I mentioned earlier, pellet grills are fitted with components that aren't found in other types of grills such as augers, which require electricity to feed the pellets into the firepot.
---
How Can You Provide Electricity to Run a Pellet Grill?
The good news is that you don't have to connect your pellet grill to a home electrical outlet, but there are several other alternative electrical sources that can run the grill.
1. Using Home Power Line
Great chances are that you have an electrical outlet in your outdoor space, which can use to connect your pellet grill. However, if the power outlet is located at a distance from the location of your pellet smoker, you can use a power cord extension to connect the pellet grill to the electrical outlet.
I've been using the Clear Power 50 ft Outdoor Extension Cord for several years to connect my pellet grill as well many gardening tools.
It is available in a choice of several different colors and lengths and is water, weather, abrasion-resistant, and flame retardant.
Adding to this, the Clear Power extension cord features nickel-coated brass blades, which help prevent arching and won't corrode.
The Clear Power extension cord comes with a grounded plug and connector and is certified for use in the United States and Canada.
2. Using Power Inverter
A power inverter allows you to indulge in delicious grilled creations regardless of where you are from tailgating to camping or a BBQ at the park.
Simply attach a power inverter to the batter of your vehicle to convert DC power to AC power, and experience grilling on the go!
Most pellet grills can run for approximately 12 hours when connected to a power inverter and 120-volt battery.
The BESTEK power inverter can be ordered in a choice of three exciting colors including grey and blue and provides 500 watts of continuous DC to AC power and 1000 watts of peak power.
It features two 110V AC outlets, and two smart USB ports to charge your USB devices. Adding to this, the BESTEK power inverter is fitted with a smart cooling fan, which rotates at different speeds according to the temperature and power load.
The BESTEK power inverter comes with a cigarette lighter plug and a pair of alligator battery clamps.
3. Using Generator
If you don't want to source power from your vehicle's battery and use a power inverter, a generator is yet another great way of using your pellet grill.
I personally recommend the PowerSmart Portable Generator for several reasons, starting with its 52 dBA quiet technology. It provides up to 2200 starting watts, and 1900 running watts and can run for up to 10.5 hours on just 1.05 gallons of gasoline at quarter-load.
The PowerSmart Portable Generator is equipped with several different outlets including two household outlets, one 12V DC outlet and two 5V USB outlets.
It is also backed by an impressive two-year warranty against any manufacturer defects.
---
How Many Amps Does a Traeger Pellet Grill Use?
A Traeger pellet grill doesn't require a lot of electricity to operate. In terms of amps, a Traeger pellet grill uses four amps for the first 5 – 10 minutes of operation, and after that just 1.5 amps to keep the pellet grill running at a normal pace.
Wondering why Traeger grills don't use a lot of electricity to operate? Well, that's because Traeger grills use electricity to power the components of the grill such as the control panel, and don't use electricity to cook your food.
The upfront cost of a Trager pellet may be higher, but the cost per hour of cooking is much more affordable. Take for example a 20 lbs bag of Traeger pellets that can deliver heat for 6 – 20 hours depending on your temperature setting.
---
How Many Watts Does a Traeger Pellet Grill Use?
Traeger grills operate on standard 110-volt AC 60hz power and draw roughly 280 watts for the first three minutes.
After the first three minutes, Traeger pellet grills use 30 watts for the induction fan to run continuously, and another 30 watts for the auger fan to run intermittently.
---
Are Pellet Grills More Expensive to Operate to Other Grills?
Pellet grills are less expensive to operate than other grills. But pellet grills are designed to cook foods that require longer cook times, hence run longer than say cooking up burgers on an electric grill in roughly 5 – 7 minutes.