My first encounter with grilling under a covered patio wasn't a pretty sight. It was a month after I became a freshman, one of my peers was having a barbecue night and invited me to attend.
When I got there, the party had already started, and my colleague just put the first batch of steaks and started grilling under his covered patio with a charcoal grill.
Following the third batch, the roof and glass covering the patio were pitch black. Needless to say, after we ate our barbecue, we spent almost 2 hours cleaning and brushing off the residue. So, from the get-go, I'm going to tell you that it's not a good idea to grill under a covered patio.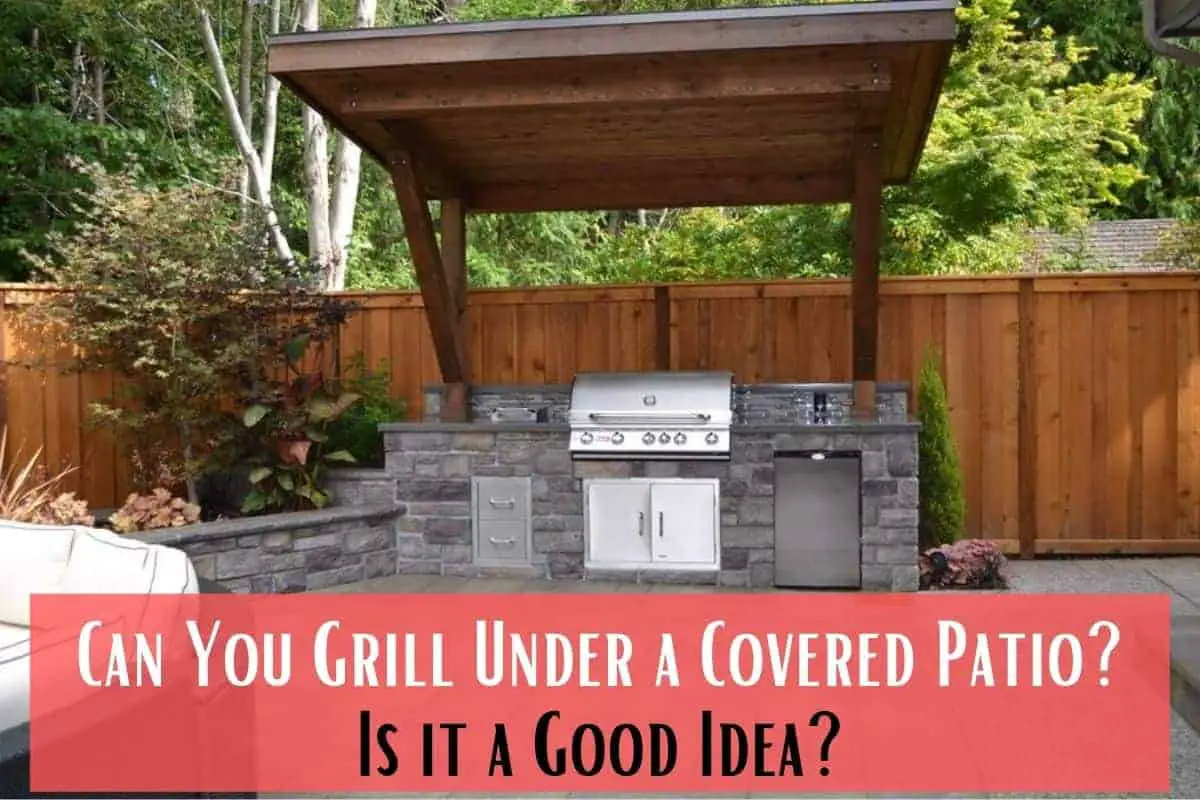 However, grilling under a covered patio requires more than one answer since there are more types of grills out there. That's why I'm here to address the matter and give you an answer to the famous question – can you grill under a covered patio?
---
Can you Grill Under a Covered Patio?
It all boils down to the type of grill you're using or planning to use. Also, you have to keep an eye out for the kind of material your covered patio is made out of. Overall, it's seldom a good idea to start grilling in an enclosed space.
But, for the sake of argument, I will share with you the reasons why and when you should or shouldn't grill under a covered patio with the 4 major grill types.
Can you use a Charcoal Grill Under a Covered Patio?
Barbequing under a covered patio with a charcoal grill? You have to understand that in the end, grilling is a chemical reaction, and it's really not clever to use a charcoal grill under a covered patio because the results of that reaction have to go somewhere.
For starters, grilling with a charcoal grill under a covered patio will definitely smudge, blacken, and blemish the interior of your patio. Let's say that you can grill with a charcoal grill under your covered patio, but why would you take that risk? The sparks and ember residue may even catch fire if your deck is made out of not-so-fireproof materials such as wood and plastic.
If it's plastic – it's even worse! It sends off nasty fumes everywhere, and that's not great for your well-being. Don't be a daredevil, but if that's the way you roll, get yourself a fire extinguisher and proper ventilation for your patio – just in case.
Can you use a Gas Grill Under a Covered Patio?
The short answer is no – you don't want to start barbecuing under a covered patio with a gas grill. Even though a charcoal grill is considered unsafe, a gas, or more appropriately, a propane grill, is more dangerous when it comes to gas leaks.
Even though there's a slight possibility of the place catching fire, there are things such as the releasing of gas fumes in a fully covered patio. The fumes will damage your lung capacity and your patio in the long run. A screened patio will likely catch all of the gases inside, and if the patio is made out of combustible materials, you should let go of the idea of grilling under a covered patio.
Can you use an Electric Grill Under a Covered Patio?
If grilling under a covered deck is really what you're after – an electric grill is the answer. There's no room to worry about the smoke and fumes since an electric grill doesn't set off much smoke and is surely the best option out of the rest.
However, you're still advised to properly ventilate your covered patio if you're going to use it over and over again. This is because the smoke you'll get when grilling with an electric grill contains small droplets of grease, and they tend to stick onto your roof.
An electric grill doesn't provide the flavor of a gas grill and is no way near the taste of a charcoal grill; however, it's the smallest, lightest, easiest to use, and most secure grill available.
You've seen most individuals when the weather is terrible – they use an electric grill indoors. So, grilling under a covered veranda with an electric grill is perfectly safe. Just be careful there's no water around you that you can drop and cause a short circuit, or even worse – catching a full-blown fire.
Can you use a Pellet Grill Under a Covered Patio?
Last but not least is the pellet grill. If you own a pellet grill and you have a covered patio, you can use it to prepare some stakes. It's almost as safe as the electric grill; however, your covered deck must have proper ventilation to avoid smoke residues getting attached and making a mess.
Additionally, you might even get your covered patio blackened if there isn't any ventilation whatsoever. Now, if you've got a screened patio that's small in dimensions, you shouldn't risk it for the biscuit since there will be 10 times more residue than a non-screened patio.
As with all of the grills here, the surface where you put your pellet grill comes into play as well. If your floor is made out of wood, you should take precautions and slide in some material that isn't easily flammable. Note that you should always place the exhaust of your grill near a window so the smoke that comes out will stay outside.
---
How Much Clearance do you Need Above a Grill?
Now that you're familiar with the grill types you can use under your covered patio; it's time to introduce the actions you should take for safe and secure grilling.
First off, remember that you always need a good amount of clearance above your grill if you intend to use it under a covered patio.
Most grill producers will tell you that you need around 30 feet of clearance from the ceiling of your patio. However, going a bit further is wise, to about 35 feet, which should be more than enough clearance.
Regarding the side and rear clearance, you'll need around 3 feet of space from the rear, and a little bit less for the side, which goes about 2 feet.
This is because the sides of the grill aren't as hot as the front and rear. And bear in mind that you always need to properly ventilate the covered patio, so the sides should be a bit closer to an opening or a window.
---
Precautions to Take if Grilling under a Covered Patio
It goes without saying – you shouldn't grill under a fully covered patio with propane and a charcoal grill. Whatever precautions you take in a fully screened patio won't cut it since the charcoal smoke and gas fumes will stick to the glass and maybe even catch fire.
Accurately ventilating your patio isn't going to help either with these kinds of grills. If you're using an electric grill or a pellet one, these are the precautions you should take
A solid clearance range above the grill, from the sides, and even the rear.
Fireproof floor, or at least a fireproof spot where you need to place the grill.
Have a fire extinguisher at hand, just in case.
Proper outdoor extension cord if your socket is quite far.
Guarantee that the grill is absolutely cold before you've turned it on
These tips will help you in the long run if you've set your mind on grilling under a covered patio.
---
Can you Grill under a Covered Balcony?
Just as with a covered patio, it's not a superb idea to grill under a covered balcony. You'll have the same exact risks, and even bigger ones if the clearance of your balcony is smaller than the clearance of your covered patio.
However, note that although grilling under a covered balcony with an electric grill is fine, using a pellet grill under a covered balcony is not. It's not the same if you're using a pellet grill under a covered patio and under a covered balcony since most of the time, a covered balcony is smaller in size.
---
Can you Grill under a Patio Umbrella?
If your patio umbrella is high enough so it won't get damaged or blackened with the residue coming from the grill smoke, you indeed can grill under it. It's even a great idea if you want to grill outside but the weather has it rough on you, and rain starts pouring down.
Just memorize all of the precautions I've listed, and you'll be all set to grill under your favorite patio umbrella. Also, move the grill further from the pole of your patio umbrella, and set it higher than usual so you'll minimize the discoloration of it.