If you want better quality burgers and meatballs compared to what you get from the shelves of your local butcher shop or grocery store, you need to start grinding your own meat.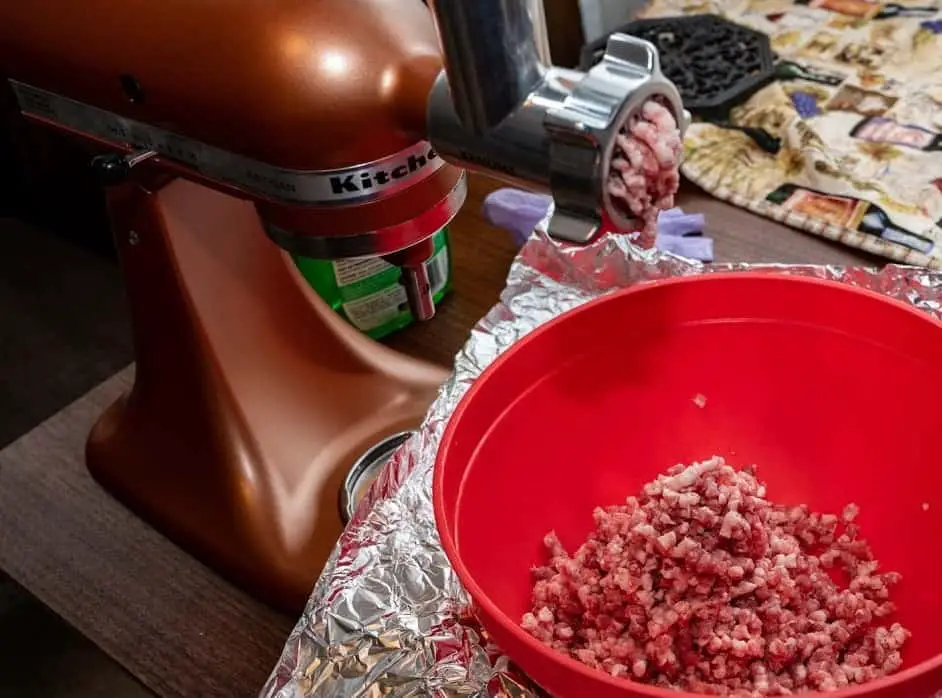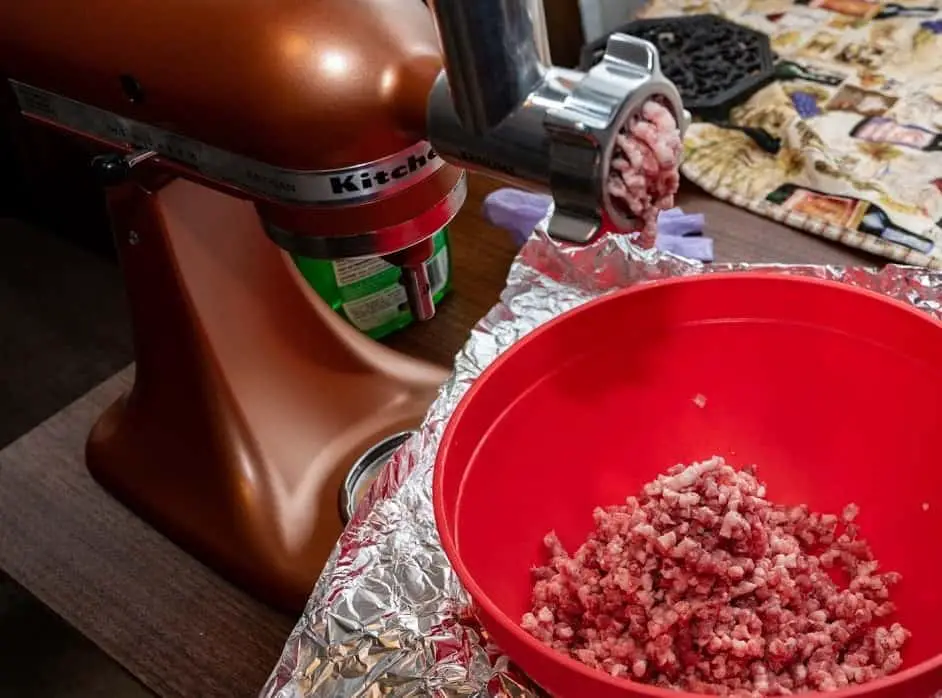 But is it cheaper to grind your own meat? Well, the answer varies, because not all stores and butcher shops sell ground meat at the same price. However, it is almost 10-15% cheaper to grind your own meat in most cases. I have covered it in detail below.
It will be even cheaper if you purchase the meat for grinding when it's on sale, which works out to $1.99 – $2.99 per pound compared to the regular price of $6.99 per pound.
If you are still not convinced about the benefits of grinding your own meat then you should check out the section later where I have covered the benefits of grinding your own meat at home.
---
Full Breakdown of Costs Involved in Grinding Your Own Meat  
There are a few costs involved in grinding meat at home, most notably:
Buying a Meat Grinder  
This is perhaps the biggest overhead expense for grinding meat at home, and just like buying meat, costs vary depending on the meat grinder you buy.
If you're just grinding meat for meatballs, burgers or even sausages, you can easily buy a top-rated electric meat grinder for under $100.
I even bought the LHS manual meat grinder for roughly under $30, but this didn't work too well for me for two reasons—first, I had to put in a fair amount of elbow grease to grind meat, and second, it didn't deliver the results I was looking for.
But for very basic and occasional grinding, I really can't complain much!
When speaking of budget-friendly electric meat grinders, the AICOK meat grinder comes with everything you need to get started right out of the box.
For starters, it is powered by a robust 300-watt motor, which allows it to grind approximately three lbs of meat per minute.
Adding to this, it's a versatile appliance, in that it can be used as a meat mincer, sausage stuffer, and even a kubbe maker.
But that's not all, the AICOK meat grinder comes with one cutting blade, and two grinding plates for a variety of different cuts including fine and medium.
And best of all, the parts of the AICOK electric meat grinder are made from food grade material, which greatly reduces the chances of food contamination.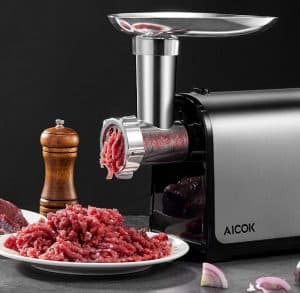 The AICOK meat grinder is not a great a great choice if you're looking to grind a large amount of meat quickly or for grinding bones to make raw dog food.
For this, you will need something much more powerful such as the LEM Products stainless steel meat grinder.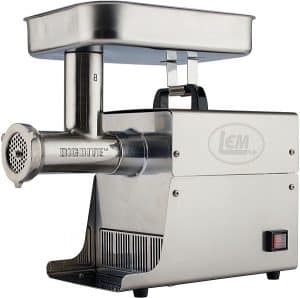 Even though it's a bit pricey, the LEM products meat grinder is powered by a .5 HP motor, which allows you to grind at least a few deer per year.
Plus, the pieces are all made of metal, so you can wash them either by hand (recommended) or in the dishwasher.
Considering that you will end up purchasing a new grinder every 2 years, if you are grinding regularly and grind about 1000 lbs in a year on average. You will end of paying just 4.5 cents per pound, if you go for the AICOK Electric Meat Grinder or 15.5 cents per pound if you go for the LEM Big Bite #8 meat grinder.
Cost of meat  
As mentioned earlier, the cost of meat varies, and depends on the cut of meat, and where you buy it from.
If you buy cheap meat, then you risk affecting its overall quality. For example, I checked out prices at three local grocery stores, and inexpensive ground beef contained 20 percent fat, and was priced at a little under $1 per pound.
When comparing options, you can save between a whopping 60 percent to 80 percent, for ground beef with a fat content of at least 5 percent, if you grind the meat at home.
Cost of Electricity
The cost of electricity to use a meat grinder at home depends on the wattage of the meat grinder, and of course the amount your power company charges you per unit (kWh).
But for the most part, these costs are minimal because unlike other appliances in your home such as refrigerators, you won't be using your electric meat grinder around the clock.
To give you a rough idea, the LEM Products Big Bite #8 meat grinder, which is powered by a .5 HP motor, will cost you only 0.7 cents to grind a pound of meat, given you are from Texas like me where the power cost is 12.7 cents per kilowatt hour (¢/kWh) on average.
---
Total Cost Saving if you Grind your own meat
If you are going to grind a chuck steak on your own, here are the costs involved.
| | |
| --- | --- |
| Item | Cost per pound |
| Cost of raw chuck steak | $6.99 |
| Electricity Cost | 0.7c |
| Cost of Meat Grinder | 15.5c |
| TOTAL | $7.152 |
*Meat price in the table is a rough estimate according to three leading grocery stores in the USA including Walmart Grocery.
You will end up paying roughly $7.99 per pound of ground chuck steak if you were to buy it directly from a store.
So you end up saving around 84 cents per pound which makes grinding your own meat cheaper by around 10.5%.
---
How Can You Save Maximum Money while Grinding Your Own Meat?
There are several little secrets to enjoy even more savings when you grind meat at home.
1. Stock up on meat when on Sale
Grocery stores are flooded with bargains including many in their meat section. If you're able to stock up on meat when it's on sale, you can save some serious cash on your grinds.
So, instead of buying ground beef at the store, you can purchase a few chuck roasts, and store them in your freezer. You can store meat for up to four months in your freezer.
2. Buy big quantities
Don't always aim to buy packages sold by the pound at grocery stores, but instead check out family packs as well.
Family packs cost considerably less than those sold by the pound, and you can even divide them into smaller portions when you get home, and store for later in your freezer.
3. Buy directly from farmers  
If you skip the middlemen, that is the grocery stores, and instead buy meat directly from farmers, then the cost of grinding meat at home is much lower.
Many farmers offer direct sales, and even deliver to your doorstep, so you don't have to step foot outside your home. This way you not only save on meat, but also on fuel making trips to the grocery store or butchers.
4. Buy odd meat cuts
Grocery stores today stock more than just the regular cuts of beef such as tenderloin and ribeye. You can buy odd bits of meat such as shoulder and flank, which needless to say are flavorful, and cost way less than the popular cuts of meat.
5. Trim the meat yourself
Some grocery stores offer special services to clean and trim the meat you buy.
Even though these services can save you time from buying the meat and cleaning and trimming at home, skipping them, and doing the job yourself could make your home grinds cheaper.
---
Why is it Good to Grind Your Own Meat than Buying it from a Retailer?
Apart from cost savings, there are myriad benefits of grinding meat at home compared to buying ground and prepackaged meat at the store or butchers.
1. Health
When you grind meat at home, you know that the meat has not been sitting on the shelves for a while, but is as fresh as you can get.
And most importantly, the chances of food contamination are much lower, because your work area is clean as possible.
2. Taste
Grinding meat at home gives you total control over the taste, where you can grind it to your liking such as using the right grinding plate for the texture you desire. You can even make combinations by adding other types of meat including pork or veal.
3. Make it a family affair
Grinding meat and cooking it can be a great way to spend family time, where you can also get your kids involved in the fun. This can also teach kids key cooking skills such as washing the meat, and maintaining a clean kitchen.
---
How to Grind Your Own Meat?
Grinding your own meat is easier than you think, as long as you follow the right steps.
The meat and parts of the meat grinder should be chilled first for like an hour or so prior to grinding for clean cuts.
Chop the meat up into 1" cubes, place on a baking sheet, and chill for at least an hour.
Remove the meat and parts of the grinder from the freezer, and set on the countertop. Now, assemble the meat grinder, and load it with your preferred grinding plate. Don't forget to set a bowl under the meat grinder outlet to catch the ground meat.
Load the food tray with a few chunks of meat, and start the meat grinder. You may have to grind twice to achieve your desired consistency.
Once you're done grinding, don't forget to wash all the meat grinder parts thoroughly with liquid soap, and preferably under warm water.