Being a meat aficionado, I've owned several meat grinders over time, but now this is starting to become a little bit of an issue, as I'm running out of room to store them.
But I've always cared for my appliances, so I simply don't want to put up a garage sale or donate them to the Thrift Store, as some of the meat grinders I own are fairly expensive and needless to say in brand-new condition.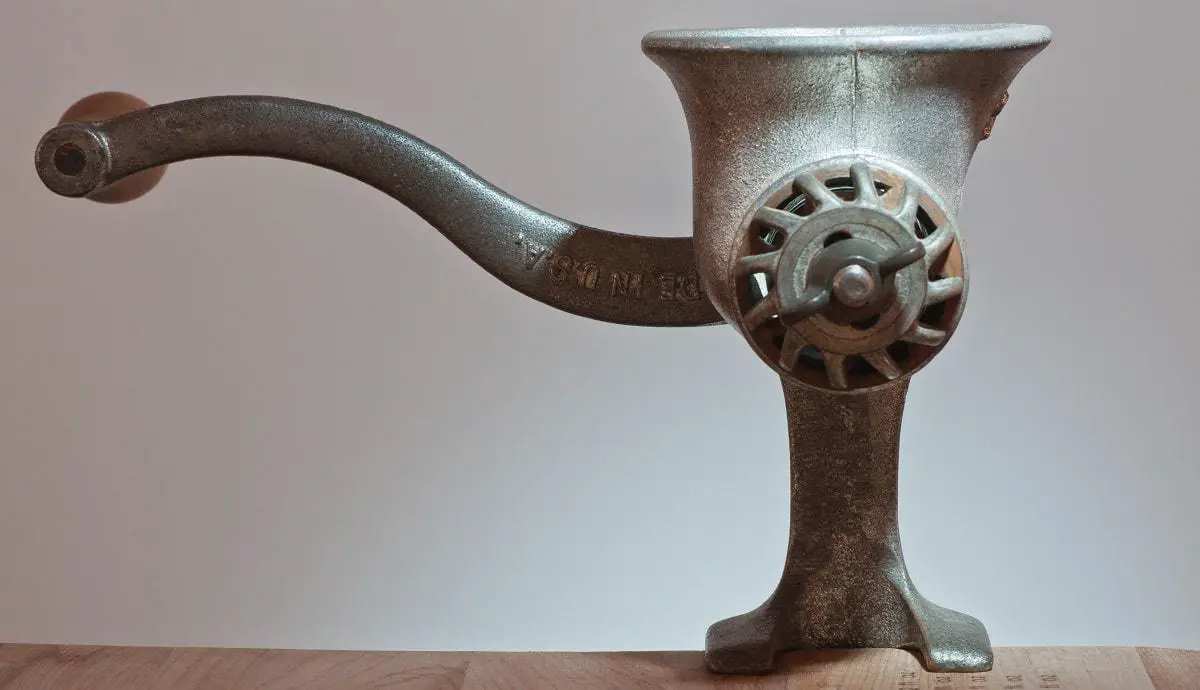 ---
What Factors Determine the Price of an Old Meat Grinder?
There are several factors that come into play when determining the cost of an old meat grinder, starting with the type of appliance.
A. Electric Meat Grinder
1. Manufacturer
When it comes to electric meat grinders, there are several manufactures to choose from.
Just like you would buy a brand new meat grinder from a leading manufacturer because you're rest assured that it will last several years to come with proper care, the selling price of your used meat grinder will be higher if you have one from a trusted manufacturer.
For example, if you have a mid-range meat grinder such as this model from LEM Products that costs a little over $300, it would probably sell for $150 or a little higher after 2 years of use.
2. Condition
The condition of the meat grinder is determined by the exterior and interior of the appliance.
If the interior of the appliance including the parts such as the grinder head and blades are rusted or display a significant amount of wear and tear, you will probably not get a top price, as some of the parts will probably have to be replaced by the new owner.
Similarly, if the exterior of your used electric meat grinder has dings and dents, it indicates that the meat grinder has been maintained in poor condition.
3. Motor
The motor of an electric meat grinder is basically responsible for the grinding action and should be in top-notch condition for the appliance to be worth any money.
If the motor of the meat grinder you're looking to sell is running smoothly, you can ask for a higher price. But if the motor is generating noise or isn't running smoothly, you can either replace it yourself and get a fair price for it or sell it as-is for a few bucks.
B. Manual or Hand Crank Meat Grinders
Manual or hand crank meat grinders aren't worth that much unless you're talking about vintage hand crank meat grinders (more on that later).
1. Hand crank
Unlike a motor in electric meat grinders, the hand crank is what drives manual meat grinders to grind meat.
If the hand crank of your electric meat grinder is damaged, it will not fetch a good price, so you will probably have to give it away for pennies.
2. Grinder blades and plates
Just like electric meat grinders, manual meat grinders come with grinder plates and blades, without which or if damaged, your appliance won't be worth too much, because the potential buyer will have to replace them at an added cost.
3. Body
Manual meat grinders and electric meat grinders can be made from plastic or metal, which either way should be free from any dents or visible damage.
The body of a meat grinder is in most cases irreplaceable, which is why it is important that you clean it regularly, and use it gently to prevent damage.
C. Commercial Meat Grinders
Commercial meat grinders aren't your average kitchen appliances, hence can be worth a whole lot of cash if in proper working order.
To help determine the value of a commercial meat grinder, it is highly recommended that you commission a professional, who can inspect its industrial-grade components.
---
How Much is an old Meat Grinder Worth?
Electric Meat Grinders
The best way to price your used meat grinder is to compare its condition with similar models sold online.
Take for example, this Northern Industrial electric meat grinder that sells for more than $200 selling for $78 on eBay.
You can also buy an electric meat grinder that has a couple of cosmetic flaws at a starting bid of $15.99, but take note that the shipping if you win the auction is $66 for this product.
The Rovsun electric meat grinder that retails for around $40 brand new on Amazon is for sale at $30 (firm price) on Craigslist, which is not a good deal as it has been used three times, so your best bet is to brand new.
Manual or Hand Crank Meat Grinder
Manual or hand crank meat grinders generally sell for under $50, depending on brand and condition such as a fully functional, used Universal manual meat grinder on eBay.
You can even buy new manual grinders on eBay for around $30 or so, but take note of the rather high shipping cost.
Commercial Meat Grinder
As I mentioned earlier, it's not easy to find a used commercial meat grinder online, but there are home kitchen commercial meat grinders available such as the Chefmate CC12 250 lbs commercial meat grinder on eBay.
You can even buy vintage commercial meat grinders in working condition for roughly $200.
---
Where to Sell Your Old Meat Grinder or Buy One?
The good news is that whether you're looking to buy or sell a meat grinder, you've got several options to choose from.
You can try online platforms such as eBay or Craigslist for some great deals or even your local appliance store.
Amazon is a great place to buy or sell a meat grinder as it sometimes lists refurbished units, and owing to their great return policy in case you're not satisfied with the product when it arrives.
The Waring Pro Professional electric meat grinder is available on Amazon as a refurbished product, and features a brushed stainless steel housing, durable die-cast hopper, and comes with three cutting plates, so you won't have to buy any accessories separately.
---
How Much are Antique Meat Grinders Worth?
While today's meat grinders, both manual and electric models are driven by the latest technology that greatly reduces time and labor in grinding meat and a whole lot more, vintage meat grinders aren't obsolete.
Vintage meat grinders are often found at garage sales or flea markets, and many are available at bargain prices between $5 and $20+.
There are several perks of buying an antique meat grinder including the nostalgia of turning the crank just like your grandma did or their attractive look and feel.
Antique meat grinders in good condition are literally indestructible, as they were crafted to provide superior functionality with little or no focus on looks.
If you're looking to sell an antique meat grinder, it's best to consult a professional, as some models can be worth a handsome amount of cash such as the Alexanderwerk model that's approximately 40 years to 50 years old.
There are few factors to consider when buying an antique meat grinder including:
Hand crank should turn smoothly
Should have little or no evident rust
Should include at least two grinding plates
Grinding head and auger should be in good condition
---
How to Increase the Value of an Old Meat Grinder?
There are myriad different ways of increasing the value of a meat grinder, starting with repairing it if it isn't in good working order.
If you aren't handy with tools, you can take your used meat grinder to a repair shop to have it looked at, but be sure to justify the cost of repair with the selling price.
You can watch YouTube videos on how to repair a meat grinder, but it's best to leave things to a professional, as it could make matters worse than what they were.
If the used meat grinder, you're trying to sell is missing accessories such as grinding plates or plates, check on eBay or a similar website for replacement parts.
---
How do you Restore an Old Meat Grinder?
You can restore your old meat grinder easily depending of course on its condition by first:
Taking it apart completely, which means the blades and grinder plates.
Next, grab a small tub or large tray, fill it with household vinegar.
Soak the parts of your old meat grinder in the vinegar solution for at least an hour.
Remove the parts, wipe them clean, and air dry.
Lastly, prep the meat grinder parts and housing for painting, and spray with a couple of coats of paint. You can reassemble the meat grinder, and voila—your meat grinder is ready for use.
If the parts of the meat grinder such as blades and plates are damaged, you should replace them, and not wash with the vinegar solution.
---
What were Old Meat Grinders Made of?
Old meat grinders were generally made from cast steel, cast iron, or even aluminum. They were built tough, and to last a while, which is probably the biggest reason it is easy to find a vintage model today in good condition.
Old meat grinders weren't crafted from plastic, because they were geared towards durability and performance rather than appeal.