Controlling the temperature of the oil can be the make or break of some cooking attempts. Some dishes like crepes are extremely temperature-sensitive and need the right oil temperature to cook to perfection. Wouldn't it be amazing if you could simply use something like a meat thermometer? Well, could you?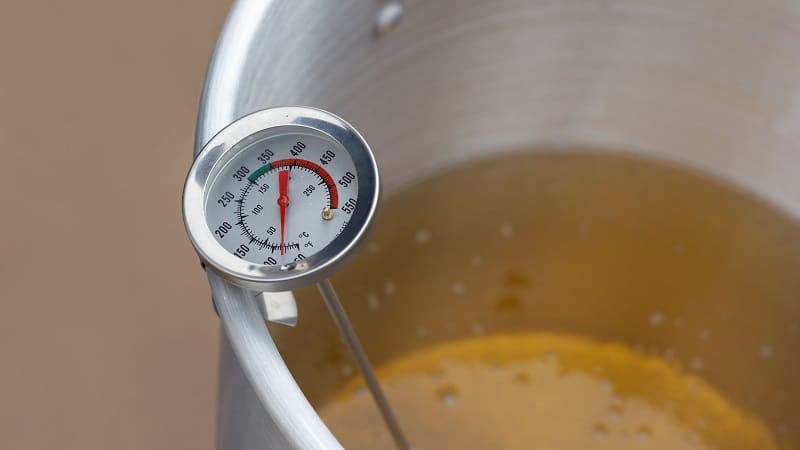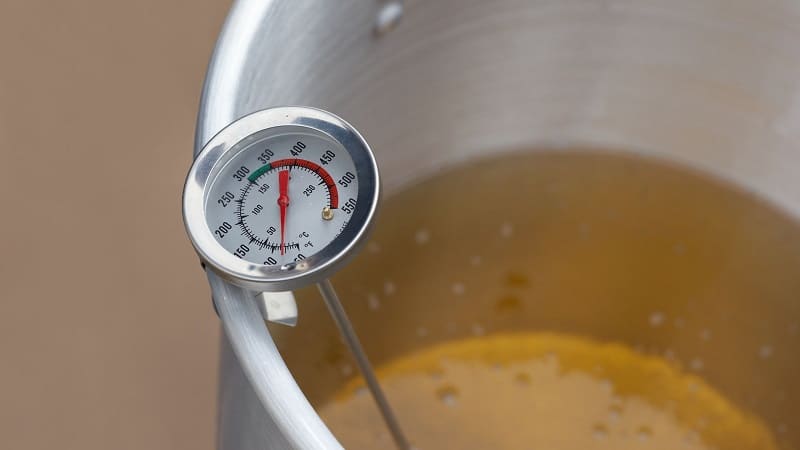 Many of you, while wanting to measure oil temperature, have sure wondered whether the meat thermometer, that you have, can be used to measure the temperature of the oil.
You'd be happy to know that you can use most meat thermometer to measure oil temperatures!
Generally, most meat thermometers can easily be used to measure oil temperatures. This would depend to some extent on the permitted temperature ranges of the meat thermometer. Standard Oil cooking temperatures generally range between 365°F to 375°F whereas the highest temperatures meat thermometers like the ThermoPro TP20 Wireless Meat Thermometer or the Kizen Instant Read Meat Thermometer can measure are ~ 572°F or above.
Some meat thermometers offer a less to moderate heat range for detection, while others need a wider temperature for cooking different meat cuts.
This article will explore all you need to know about using meat thermometers with oil.
Difference in Oil and Meat Thermometer Temperature Ranges
If you want to use a meat thermometer to measure the temperature of oil, you need to understand the differences in the temperature ranges involved. The standard oil cooking temperature ranges from 365°F to 375°F. This stands to be much higher than the internal temperatures for cooking most foods specially meat.
Meat is usually cooked at temperatures ranging from 140°F to 160°F. Even for higher cooks, a maximum of 200°F might be reached. Meat thermometers till the early 2000s were usually calibrated to deliver reading closer to 150°F due to the range in consideration.
But in the recent years most manufacturers have started manufacturing meat thermometers with temperature measuring probes that can measure temperatures up to 716°F. These new generation meat thermometers can easily be used to measure oil temperatures so that you  do not need to buy a candy thermometer for measuring oil temperatures.
---
What is the Best Meat Thermometer for oil?
If you're looking to use a meat thermometer for measuring temperatures on meat as well as oil, it is better to go for ones supporting a wider temperature range. ThermoPro offers one such model that might be the pick for you:
The TP20 Wireless thermometer has a wide temperature range of 32°F to 572°F (0°C to 300°C). It uses the dual-probe technology intended to monitor the cook on different eats. The temperature compatibility is sufficient to measure the normal oil cooking temperatures. The thermometer comes with a 3 year warranty, which is great considering most meat thermometers needs replacement after 1 year.
Another important aspect is that the probes are connected with wires to the digital hand-free monitor. This is specially important in measuring oil temperature as they are generally very high and taking your hands over the heated oil would definitely risk getting a burn.
Pros:
The thermometer facilitates an accuracy of +-1.8°F for pro-level cooking.
The probe can withstand up to 716°F, which is great in case it is exposed to higher oil temperatures.
No sync is required. The device has a countdown and count-up timer, which can be very handy.
A large backlit LCD display makes it easy to use even at night.
The wireless technology enables you to monitor food up to 300 feet away.
There are preset temperatures for nine different kinds of meat, depending upon their doneness as recommended by USDA.
Cons:
It is a bit on the costly side but you save on having to buy a candy thermometer.
This can be an excellent pick if you want to extract the twin benefit of using a professional meat thermometer for measuring oil as well. The only concern can be seen if you are cooking in absolute hot oil, which might not be supported for this particular device. For any other, moderate to high everyday cooks, this can be a good two-in-one pick!
---
Do you need a special Thermometer for Oil?
Sometimes the temperature of the oil needs to be fine-tuned to minute levels to get a perfect cook. If you're exploring these cooking techniques a step further from your mundane daily cooks, you might need a special thermometer intended to measure oil.
While the meat thermometers might work here, the extent of accuracy and control can be significantly different. This is where candy thermometers and oil thermometers can be used.
You can go with the Polder Candy/Jelly/Deep Fry Thermometer or the CDN DTC450 Digital Candy/Deep Fry Thermometer as both are excellent for measuring oil temperatures even while you are deep drying.
---
Which type of Thermometer is used to take the temperature of fryer oil?
Deep fry cooking is all about temperature control. Candy thermometers or other deep frying thermometers like the ones listed below are used for fryer oil, depending on the extent of the cook. These are different from meat thermometers in many aspects.
In contrast to meat thermometers, deep fry thermometers are designed to be clipped on the side on the vessel and be submerged in the oil. The dial detects the current temperate while also indicating the ideal required temperature to obtain a perfect deep fry.
---
What is the Best Thermometer for oil?
Listed below are some of the best oil thermometer models that have been tried and tested for their varied features:
The Polar Candy thermometer is easy to read with six temperature zones indicated on the display. It supports a wide temperature range from – 90°F to 400°F (30°C to 200°C), which is great for measuring oil, chocolate, sauces, and deep-frying.
Some feature highlights can be listed as follows:
It is made of stainless steel with a pot clip and an insulated handle that does not retain the heat.
The pot clip attaches firmly to the vessel for precise readings.
It is dishwasher-safe and completely rust-resistant.
It offers a significantly large temperate range to work with
Check out all images, features and customer review of the Polder Deep Fry Thermometer on Amazon
The CDN Digital Candy thermometer has a large dual progress display. It is compatible over a range of 40 to 450 °F, which can be great for the higher temperatures. This stainless steel thermometer can be the perfect pick for oil temperature control.
Some feature highlights can be listed as follows:
The dual progress display is preprogrammed as well as programmable.
The stainless steel clip can be adjusted for a snug fir.
A temperature guide is inclusive on the sheath
Provides easy control over higher temperatures.
Check out all images, features and customer review of the CDN DTC450 Digital Deep Fry Thermometer on Amazon
---
Conclusion
Thus, we have tried to put together a list of features and products that you might be looking for. We hope that this article has been helpful and you can find your perfect pick. Use a meat thermometer if your everyday cooking is in the mid-level temperatures.
Pick out one from the professional oil thermometers if you want to access a wider temperature range and performance. In any case, remember to select a product that caters to your own specific needs. Happy cooking!