Food processors and blender are appliances that are often confused with each other. Even though both appliances do share a lot of similarities, they aren't interchangeable!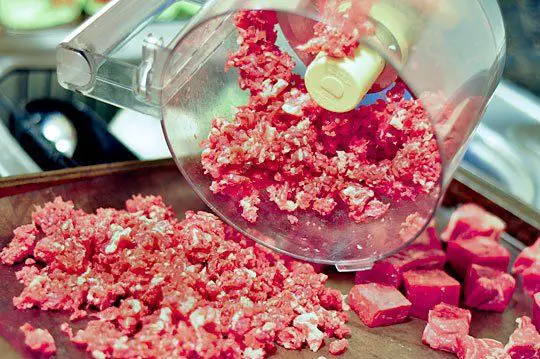 To explain briefly, Blenders are used to blend aka pulverize wet and dry foods, whereas food processors are multifaceted appliances that allow you to do everything from mixing, shredding to chopping.
But can you grind meat in a food processor? The answer is Yes, and just as a blender can grind meat, you can grind meat in a food processor, as it is fitted with versatile blades to get the job done.
---
How to Prepare Meat for Grinding in a Food Processor?
Preparing meat for grinding in a food processor requires a different approach compared to a meat grinder. That said, here's how to prepare meat to grind in a food processor in a few easy steps.
Step 1:
First things first — you have to select the type of meat you'd like to grind in your food processor such as duck, chicken, lamb, beef, pork, etc.
After which, you should choose the part (s) of the meat you'd like to grind, as the fiber's tenderness and fat content will dictate texture and flavor of the grind.
For example, the optimal fat content required for burgers is between 15 percent to 20 percent to keep the burger from drying out when cooking.
This means that you can rule out using too lean cuts such as round and sirloin, but opt for chuck steak meat, which offers both the right fat content, and tantalizing flavor.
Step2:
Since it not recommended to grind bones in a food processor, you should separate the bones from the meat, making sure you remove both the soft and hard bones as well to prevent causing damage to the food processor.
Step3:
Next, chop the meat into the smaller pieces, as larger pieces could add more load on the food processor blades.
Step 4:
Place the meat in small batches in separate bowls, again to avoid overloading the appliance, and to ensure each batch is ground as desired.
Take note that sometimes you may have to add each batch of meat twice to the food processor to achieve consistent results.
---
Can You Use a Food Processor instead of a Meat Grinder?
You can use a food processor instead of a meat grinder, given that it is equipped with right blades to perform the grinding operation.
However, food processors can only perform basic grinding tasks, so if you're looking to grind large amounts at meat at one time, a food processor may disappoint.
---
Should You Go for a Meat Grinder if You Have a Food Processor?
Would you buy a weight bench to perform specific exercises even though you have a treadmill?
Similarly, even though you may have a food processor, and if you grind meat often, especially to make specialty items such as sausages, etc., then adding a meat grinder to your kitchen arsenal simply makes sense.
Meat grinders are specifically engineered to grinding meat, and in the textures you desire, be it coarse or fine. Contrarily, even though food processors can grind meat, the results will not be the same what you'd get from a meat grinder.
---
Which is the Best Food Processor for Grinding Meat?
When shopping for the best food processor for meat processing, you will be spoilt for choice, given the many options available. But the Homeasy Food Processor tops the list in this space owing to several reasons.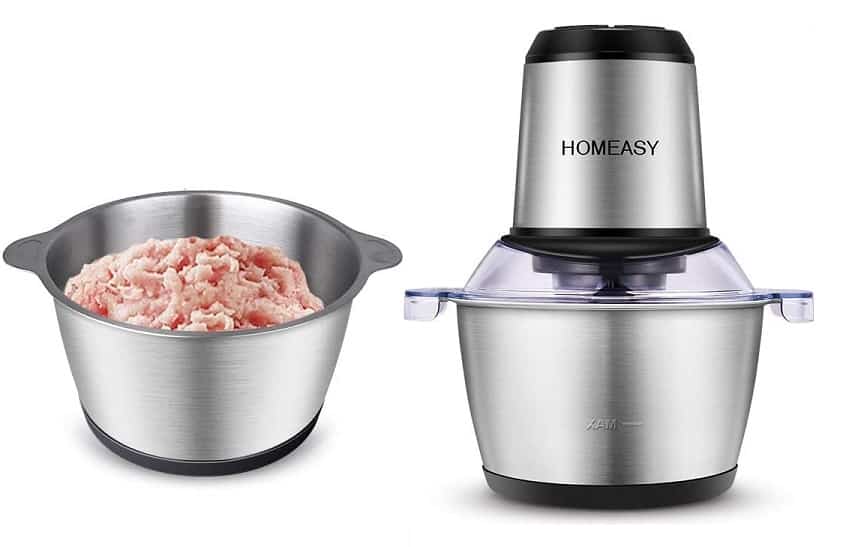 For starters, it is fitted with four stainless steel blades, which collectively provide powerful grinding action. Further, it offers two modes to choose from, and is powered by a robust 350-watt motor.
The Homeasy food process showcases a unique 4D blade design, which allows both the upper and lower blades to chop evenly from every angle at 360-degrees.
It comes with a large 2-liter capacity stainless steel bowl, which combined with glass bowls is much stronger, food safe, and shock proof.
The blade is connected with the main body via a stainless steel joint, making the Homeasy highly durable to use.
To top things off, the Homeasy food processor can be disassembled easily, making it easy to clean, and comes with a non-slip mat to hold the appliance in place during use.
Pros:  
4 super sharp stainless steel blades
Powerful 350-watt motor
2 modes
Can be disassembled easily
Comes with non-slip mat
Cons:
Limited to 1 color option
---
Can I Use Food Processor to Grind Chicken?
Grinding chicken in a food processor to make chicken lettuce wraps, meatballs to meatloaf, etc. is pretty easy.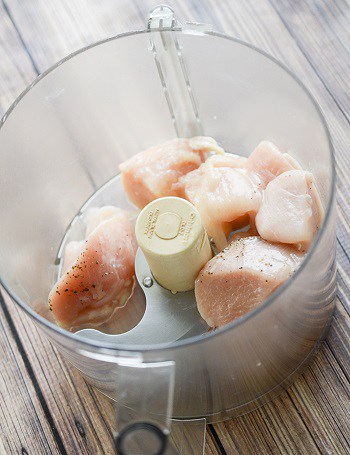 You can use whatever type of chicken you have at hand, but chicken breasts are much leaner than chicken thighs, so you will get more ground meat for less meat.
To start grinding chicken in a food processor, chop the chicken on a chopping board to avoid food contamination into 1/2" pieces. This makes it easier and quicker to grind the chicken in your food processor.
Place the chicken cubes on a baking sheet, and keep in the freezer for roughly 15 minutes to 20 minutes.
Placing the chicken in the freezer for a short period of time makes it firm around the edges, so the food processor will grind the chicken rathe rather than make it into a paste.
Fill your food processor with approximately 1/3rd chicken pieces, and pulse for 10 seconds or so or until it is coarsely ground.
You can run the chicken again for another 10 seconds if you'd like a finer grind. You can use the chicken immediately or store it in the freezer in food safe containers for future use.
---
Can You Put Cooked Meat in a Food Processor?
You can put cooked meat in a food processor to make baby recipes or food for people who can't chew well. The food processor will reduce the cooked meat to really fine pieces, and may even make it paste-like.
But on the downside, you may have to add some spices again after grinding, and some of the cooked meat flavor may be lost in the grinding process.
But it is worth noting that grinding cooked meat in a food processor will in most cases not deliver consistent size of the meat.
---
Can you Grind Bologna in a Food Processor?
If you want to add some pizzazz to plain old bologna with items such as ground bologna sandwiches, you can grind the bologna in a food processor for a great texture.
If you're using rind bologna, you should ideally remove any strings or rings off the ends, and cut each slice of bologna into four sections for easier handling.
---
Can You Grind Meat in a Nutribullet?
A Nutribullet is essentially a high powered blender that boasts a lightweight and compact footprint. This range of small appliance features extractor blades, which can be used to grind meat.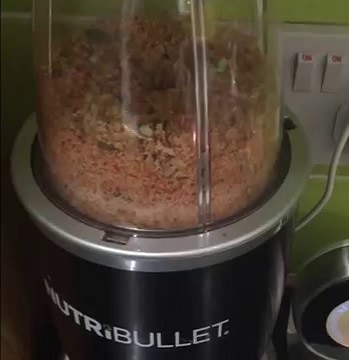 Another noteworthy reason why Nutribullet blenders perform well at grinding meat is their onsite powerful motors, which can grind meat within seconds.
Some Nutribullet models come with 1000-watt motors for easy and quick meat grinding. Adding to this, they feature smart technology with an auto-shutoff feature, which shuts of the models after a period of use.
---
Can You Grind Meat in a Ninja Blender?
Ninja blenders are professional appliances that are powered with class leading 1100-watt motors, which make it easy to grind meat, and even pulverize ice to slow within seconds.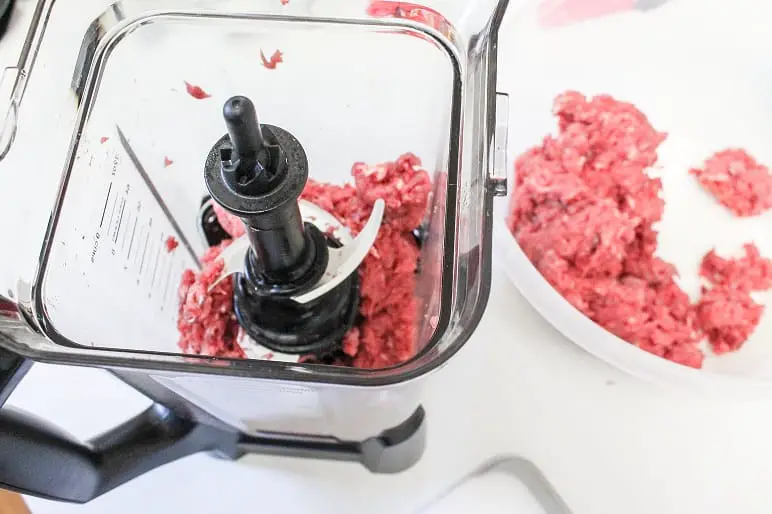 They feature a single blade assembly, and come with BPS-free and dishwasher safe parts, making them a joy to clean thoroughly after grinding meat.
---
Can You Slice Meat in a Food Processor?
For cooking up authentic Philly steaks or other types of homemade cheesesteaks, you will have to go through the daunting task of slicing meat.
But a food processor with a slicing attachment such as the Cuisinart DFP-14BCNY food processor will make the task a whole lot easier.
This food processor model by Cuisinart is in a league of its own, and can be ordered in an array of exciting colors including red and umber.
Adding to this, it is powered by an industry leading 720-watt motor, and is fitted with easy to access On/Off/Pulse buttons. The Cuisinart food processor features seven pre-programmed prep functions, and is fitted with an extra-large feed tube.
The package also includes a large 14-cup work bowl to process large amounts of meat, and dishwasher safe parts, making it easy to clean.
And to slice meat for Philly steaks or any other recipes where slice meat is a much, the included medium size slicing disc will do the trick.
Simply place your sirloin steaks in the freezer for approximately half and hour, drop the meat into the top of the food processor, and through the slicing blade.
The Cuisinart food processor is backed by a three-year warranty, and five-year warranty on the motor against any manufacturer defects.
---
Can I Grind Bones in a Food Processor?
Even though it is not recommended to grind solid items such as bones in a food processor, you can go ahead and give it a shot, as long as the bones are uncooked and soft, and no longer than your thumb