Grinding meat offers myriad different advantages including reduced chances of E. coli contamination, and the fact that home-ground meat simply tastes much fresher than butcher or store-bought meat.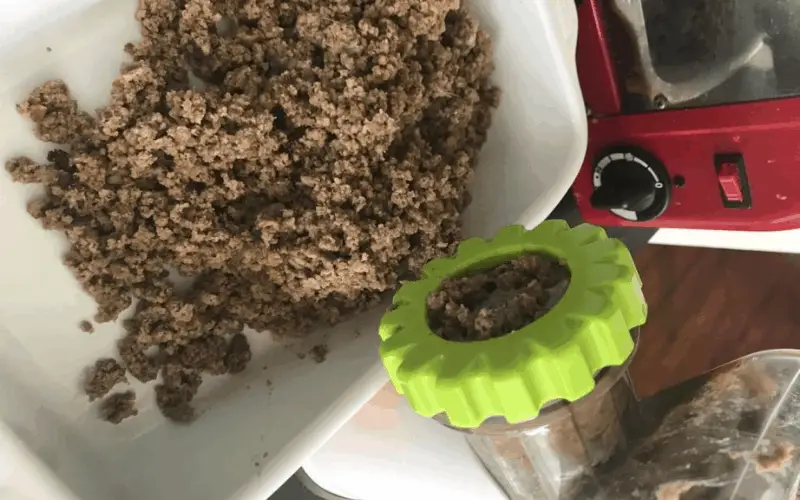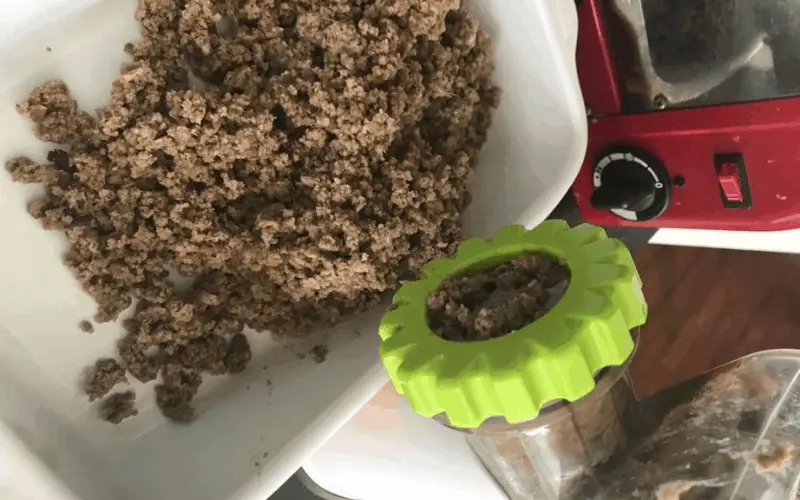 With regards to grinding meat, many meat aficionados ask if it's possible to grind meat after its cooked, and achieve the same results.
The answer is a bit tricky, but "YES" you can grind meat after it's cooked for several different recipes such as for sandwiches and corned beef hash, as long as you prepare the meat well, and use the right machine for the job.   
---
How to Prepare Cooked Meat for Grinding?
The biggest risk of grinding cooked meat is ruining the texture of the results. Cooked meat is already soft in texture, so grinding it in that state will literally make it mushy if not done right!
However, to prevent mushy results, it's best to cook the meat well, and then chill it in your freezer to preserve the texture of the results after running the cooked meat through the grinder.
When grinding the meat, you should use the coarse grinding plate, which just as the name suggests creates a coarsely ground texture for items such as chilis and stews.
---
Which Meat Types Can be Ground After Cooking?
Regardless of the meat you're looking to grind, it's important that it is fully cooked, because improperly cooked meat can harbor harmful bacteria.
Meat grinders and similar machines such as food processors and blenders can serve as a breeding ground for bacteria and germs, especially when left unclean for even a short period of time.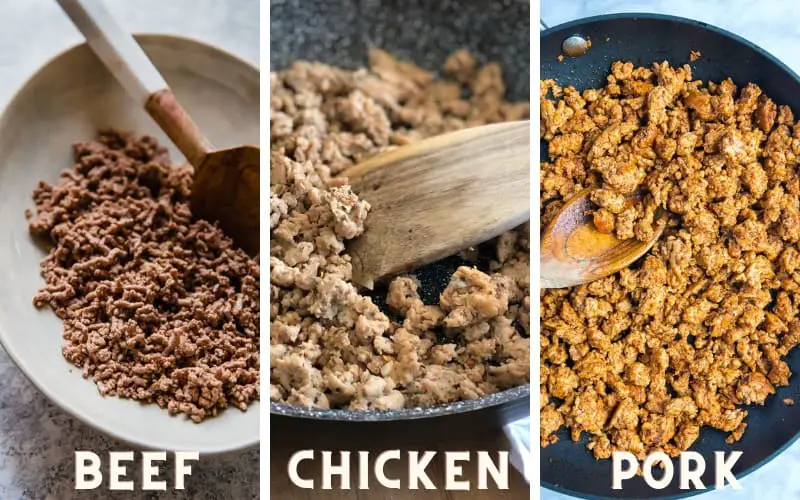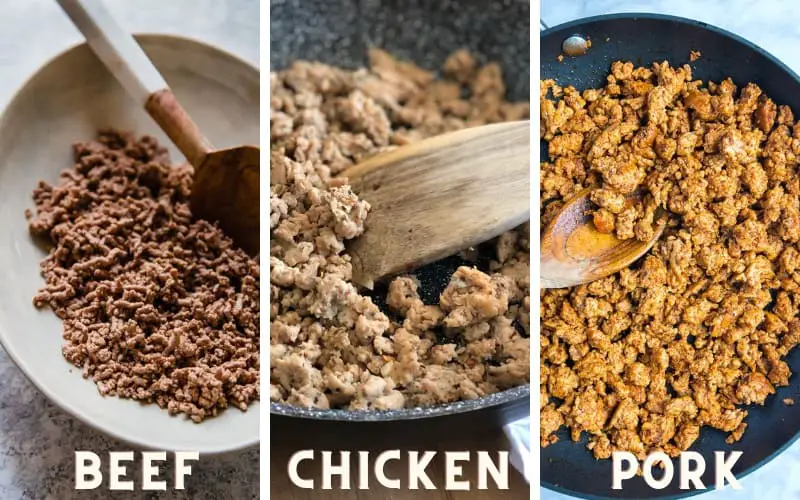 That said, there are several types of meat you can grind after cooking, most notably beef, chicken, and pork. Both chicken and turkey meat are slightly leaner than beef and pork.
You can grind both cooked chicken or even leftover Turkey from Thanksgiving in a food processor with a bit of water and egg to enhance the texture.
But take note that since the chicken and turkey is already cooked, you will lose a bit of flavor. So, you may have to spice the cooked ground meat again after it comes out of the grinder.
Texture is one of the biggest issues when grinding cooked beef and pork, so it's highly recommended that you chill or even slightly freeze the cooked meat before grinding it or else you will get mushy results.
Just like ground cooked chicken, you will lose some of the flavors when you grind cooked pork or beef. But you can top the ground cooked meat up with spices as desired after the grinding process.
---
Which Tools are Best for Grinding Cooked Meat?
Meat grinders, food processors and blenders are three tools you can use to grind cooked meat.
Even though there are notable differences between the three appliances, meat grinders, food processors and blenders are all fitted with blades to grind the meat.
Grinding cooked meat in a meat grinder may be a better option of the three, given that you can choose from several different grinding plates such as coarse and fine to get the texture you need.
In terms of food processors and blenders, both of these machines come with a pulse function, which you can use to create a coarse or finer texture.
Below you can read about the best of grinders, food processor or blenders which are considered best for grinding cooked meat.
ALTRA Electric Food Meat Grinder – Best Meat Grinder to Grind Cooked Meat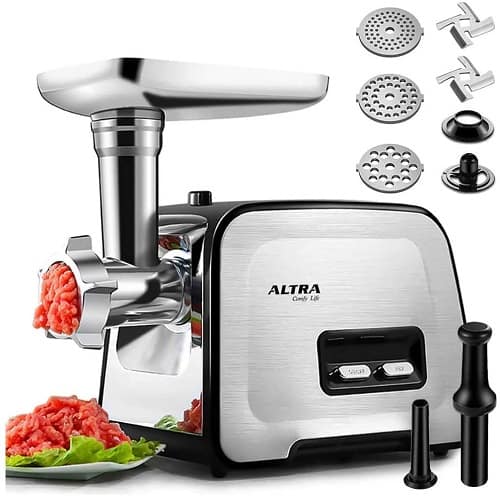 The ALTRA meat grinder is our top choice to grind cooked meat for several reasons, starting with its three included cutting plates that offer three different mesh diameters to give you the texture you need.
Further, it offers a max 2000-watts power, which allows the machine to grind up to 2 lbs of minced meat per minute.
In terms of safety, the ALTRA cooked meat grinder doesn't fall short with its food grade material construction of all the parts that come in contact with the meat.
The ALTRA meat grinder is made from three-layer reinforced stainless steel, complete with thickened aluminum alloy, and premium quality ABS.
It is easy to operate with its onsite on/off and reverse switch, which allows you to unclog the unit when meat gets stuck during the grinding process.
The ALTRA meat grinder is corrosion resistant, and comes with everything you need to grind cooked meat and much more right out of the box including sausage funnels, and even a kibbe attachment.
Pros:
Comes with 3 different cutting plates with different size diameters
Max 2000-watts power
Made from reinforced stainless steel
On/off and reverse switch
Includes several accessories such as sausage attachment and kibbe attachment
Cons:
Limited to 1 color option
Vitamix Explorian Blender – Best Blender for Grinding Cooked Meat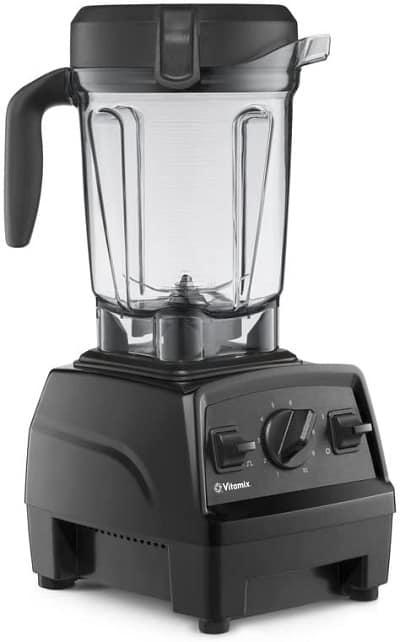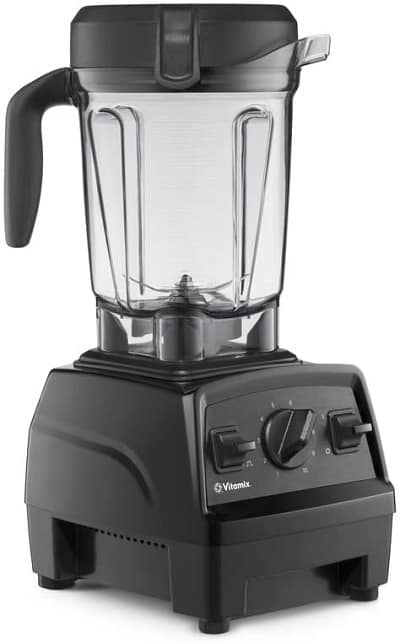 Vitamix is a leading name in the blender segment, and the Explorian is perhaps the best blender for grinding meat, because it comes with variable speed control.
With this functionality, you can choose between an impressive 10 different speeds, allowing you to refine the texture of the cooked meat.
The Vitamix Explorian blender isn't just a good choice for grinding uncooked meat, but can also be used to make the smoothest purees and heartiest soups.
It comes factory equipped with aircraft grade, hardened stainless steel blades that can collectively handle the toughest ingredients.
Adding to this, the Explorian blender by Vitamix offers self-cleaning capabilities, so you can make it spotless with just a single drop of dish soap, and within 30 – 60 seconds.
Pros:
2 colors available
10 variable speeds
Blades made from aircraft-grade stainless steel
Low profile 64-ounce container
Self-cleaning within 30-60 seconds
Cons:
Adapter not included to connect to 220-volt power outlet
MAGICCOS Electric Food Processor – Best Food Processor for Grinding Cooked Meat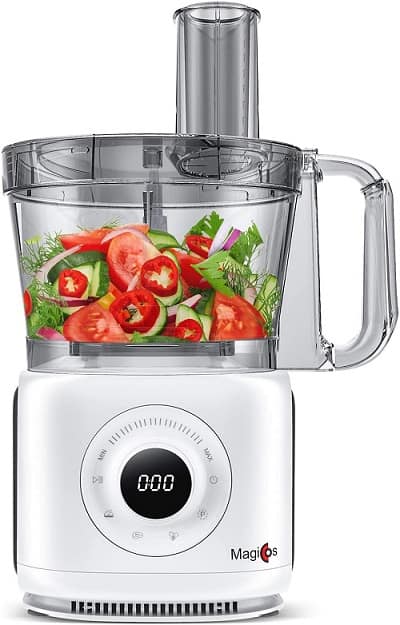 The MAGICCOS electric food processor is billed as one of the best food processors for grinding meat, because it comes with all the necessary accessories to get the job done well.
The included accessories include a dough blade, chopping blade, both of which that can be used to grind cooked meat. Other accessories included in the box are a spatula, and a reversible shredding/slicing/mashing blade disc.
Unlike other food processors, the MAGICCOS electric food processor does not come with physical buttons, but with an easy to use touch panel complete with an LCD display.
Another distinct feature that sets the MAGICCOS food processor apart from models in its segment is soft touch buttons, and seven different speeds to choose from.
But that's not all, there's also a pre-programmed setting that allows you to grind cooked meat handsfree, and without keeping your eye on the machine.
The MAGICCOS food processor is powered by a robust 1000-watt processor and comes with a large yet compact 14-cup bowl that you can use to collect the cooked ground meat.
To top things off, the MAGICCOS food processor is fitted with a double safety lock on the base and lid, and four suckers at the bottom to hold it in place during use.
Pros:
Powerful 1000-watt motor
Touch panel with LCD display
7 speeds to choose from
Pre-programmed settings
Double safety lock
Cons:
Baking potatoes won't fit in the feed shot
---
Can You Grind Cooked Steak?
It's possible to grind cooked steak or even overcooked steak in grinder, food processor or blender. You can start by adding the dicing up the steak into smaller pieces to prevent clogging the grinder head, blender or food processor blades.
You can then add some olive oil to, puree the cooked steak in the machine, and then use it as a stuffing for several different recipes starting from hand pies, dumplings to empanadas and ravioli.
You can even step things up a few notches by adding a little Sherry wine to make a tortellini filling, or anything other recipe that calls for a hearty, meaty filling.
---
Can You Mince Cooked Beef in a Food Processor?
To mince cooked beef in a food processor, you'll have to put the grating disc that came with the machine to work.
Start by putting the cooked beef through the feed tube on the lid, which will hit the grating disc first.
The grating disc will mince the meat, which will then drop into the bowl of the food processor.
But it's important to note that a food processor will mince cooked beef quickly, so do not set it to operate continuously, but should be pulsed on and off to prevent to cooked meat from becoming over-processed.
---
Can you Grind Cooked Meat in a Food Processor?
Depending on the food processor you have, you may be able to grind cooked meat in the machine. Grinding meat in a food processor will render different results than a meat grinder, because the former will produce fine not mushy results, whereas the latter will deliver mushy cooked meat if over-processed.
When grinding meat in a food processor, you should use the pulse function button to start and quickly stop the machine from grinding the cooked meat.
Next, open the lid to check if the cooked meat has reached your desired consistency, and if not, press the pulse button again just once, and repeat the process if necessary.
Remember, each time you press the pulse button, the food processor starts up at its highest speed, so you can't really keep the button pressed for more than a couple seconds.
---
Can You Grind Cooked Meat in a Blender?
Grinding cooked meat in blender such as in the Vitamix Explorian is the similar to grinding meat in a food processor.
If you have a large cut of meat such as a steak, cut it up into smaller pieces, and the put them into the blender jar.
Press the pulse button for roughly 2 seconds, check the results of the grind, and repeat the process if needed.
The cooked meat will suffer a loss of flavor when it's blended, so you'll probably have to add some spices before using the ground cooked meat in your recipe (s).
---
How do You Grind Cooked Chicken Breast?
You can grind cooked chicken breast in a meat grinder in these 3 easy steps.
Step 1:
Chill the cooked chicken breast, so that it's a but firm when it goes through the grinder's or blender's blades.
Step 2:
Chop up the cooked breast into small pieces, but not too small, because doing so may render mushy results.
Step 3:
Put the small chunks of cooked chicken breast into the top of the meat grinder pan, and start grinding with the coarse plate. If you use the fine or medium grinding plate to grind the cooked chicken breast, you'll probably be left with a paste that has no texture.
If you are having a food processor or blender then the process is a bit different but can be done in only 2 steps.
First, you will need to cut the chicken breast into smaller pieces. Next, put the small chunks into the food processor or blender, and press the pulse button once and hold it down for no more than 2 seconds.