I've been giving some serious thought lately to switching my two German Shepherds to the BARF (Biologically Appropriate Raw Food) as an effort to improve their coat and overall health.
Since I had my dogs on kibble all their lives, it was important to transition them slowly to a raw dog food diet, and one of the criteria to make this gradual switch was grinding the bones.
And after years of using a manual and an electric meat grinder, I concurred that the best meat grinder for raw dog food has to be a heavy-duty grinder.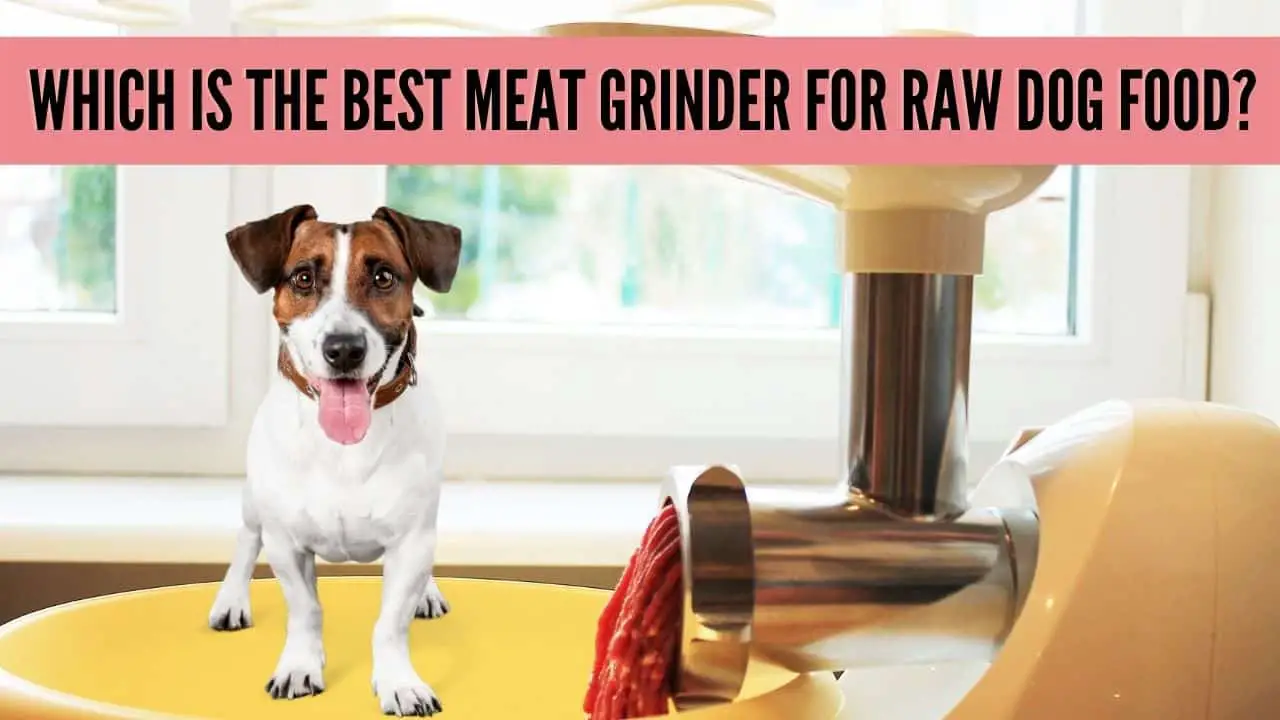 ---
Why to Grind Meat and Bones for Dog Food?
Given that kibble only contains between 5 percent to 10 percent moisture, resulting in dehydration and other issues, switching my paw-friends to a raw food diet simply made sense.
One of the biggest reasons to grind meat and bones for dog food is because some of the smallest and softest bones can be extremely sharp, and can damage your pet's teeth or block its intestines.
A raw dog food diet can consist of several other highly nutritious ingredients such as organ meats, fruit and vegetable materials, muscle meats and bones that provide the healthy fat and bone marrow.
Dog bones meals also serve as a good additive for homemade dog meals, and some are even touted and sold as a source of balanced calcium and phosphorous such as the Honest Kitchen Daily Boosts, Nature's Diet Pet Bone Broth, and Pet MD Bone Broth for Dogs.
But, the downside to these readymade dog bone meal products is that they can get expensive, especially if you're feeding your dog raw meals regularly or if you have more than one pet.
However, it's a good idea to stock up on these products in case you're not in the mood to make homemade bones meals.
Grinding meat and bones breaks them down to a pulpy, gritty consistency that's easy to digest for your furry-pal. Another key reason to grind bones for dogs is that you're in control of the bones you choose, so you can be rest assured your pet is getting the freshest and absolute top-quality raw dog food.
---
Do You Need an Electric Meat Grinder or Manual Meat Grinder for Grinding Dog Food?
You can grind dog food with both an electric and manual meat grinder, but there's pros and cons to each type of appliance.
And even though you can grind meat with a manual as well as an electric meat grinder, some manufacturers clearly state that their grinders aren't to be used to grind bones.
With manual meat grinders, you will have to put in a little bit of elbow grease to grind bones, but can be done with a flick of a switch with electric meat grinders.
But electric meat grinders are a bit more expensive than manual meat grinders, so buying a good manual meat grinder for raw dog food meals is a good option for you if you're just getting your feet wet with a barf diet.
Whether you choose to use a manual or electric meat grinder, it's a good idea to separate the bones from the meat, and chop them up into smaller pieces before running them through the grinder head.
---
Top 5 Best Meat Grinders for Raw Dog Food with Bones
1. BBDay Electric Meat Grinder Powerful
The BBDay electric meat grinder is powered by a robust 350-watt motor that offers 2000-watt peak power. It can grind roughly three pounds of bones and meat per minute, and can also be used to make sausages.
Furthermore, the BBDay meat grinder comes with three different size grinding plates—coarse, medium and fine, making it easy to get the texture you need.
The package also includes sausage funnels and a kubbe attachment, so you can make these items fresh right in the comfort of your home.
The BBDay electric meat grinder features unique grinding technology that involves extrusion of the meat and bones through three spiral circles to prevent altering the fiber content in the meat.
It is crafted from food grade plastic, with the grinder head made from durable stainless steel. The BBDay electric meat grinder features a reverse button, which when pressed unclogs any food items stuck in the grinder head.
Speaking of which, it features a lock button, which can be used to install the grinding head, and makes the appliance more stable on your countertop.
Pros:
350-watt motor
Can grind 3 lbs meat per minute
3 different size grinding plates and sausage tubes included
Reverse functionality
Made from BPA-free food grade plastic with stainless steel grinder head
Cons:
All parts aren't dishwasher safe
 2. Powerful ALTRA Electric Meat Grinder
The ALTRA electric meat grinder is equipped with a 350-watt motor that allows it to grind an impressive two pounds of meat per minute.
It comes with three different diameter cutting plates to give you the texture you need, sausage funnels and a kubbe attachment.
Adding to its long list of features is its integrated three spiral circle technology that is designed to mine the meat without losing fiber.
The ALTRA meat grinder is made from food grade, three-layer enforced stainless steel, s it will last for years to come with proper care.
Adding to this, the ALTRA meat grinder is corrosion resistant, which enhances its overall durability. It is easy to operate with an onsite on, off, reverse switch to unclog the unit, and clean.
It features an onsite storage box that can be used to store all its accessories, and can grind bones for raw dog food if separated from the meat.
Pros:
350-watt motor
Grinds 2 lbs meat per minute
Storage box
Made from 3-layer stainless steel
Corrosion resistant
Reverse function
3 grinding plates and sausage maker
Cons:
Storage box is a little small to store all accessories
3. CAM2 304 Stainless Steel Heavy Duty Manual Meat Grinder #10
The CAM is a manual meat grinder that offers stellar performance when grinding raw dog food, as long as you're willing to put in the effort.
This heavy-duty grinder is made from high grade stainless steel, and is rust resistant. It features a wide opening clamp, which secures it and keeps is sturdy on your countertop.
The CAM manual meat grinder comes with a coarse (3/8″), and fine (3/16") grinding plates, and a sausage filling tube, so you can get started right out of the box.
It is fitted with not one, but two 420 grade blades for twice the cutting action with a single appliance.
Pros:
Made from rust proof stainless steel
Wide clamp to secure it to any countertop
2 grinder plates—coarse and fine, sausage filling tube
2-420 grade stainless steel blades
Cons:
Contact with too much alkaline liquid may cause corrosion
4. Sunmile SM-G50 ETL Electric Meat Grinder
The Sunmile electric meat grinder not only arrives in an elegant white finish, but has a lot going on under its hood, starting with its 350-watt motor with 1000-watt peak power.
It can grind up to an astounding 200 pounds of meat per hour, making it a go to choice to grind large amounts of meat for raw dog food.
But that's not all, the Sunmile is a large #12 size meat grinder that is equipped with a large capacity tray and grinder head, which allows you to grind more meat each time.
The grinder head is made from polished aluminum, and is ETL certified, making it a top-quality grinder in its segment.
It features a circuit breaker to prevent overheating and burnout of the motor, and a reverse function to unclog the grinder head.
This electric meat grinder model by Sunmile offers good ventilation during use, and comes with a plethora of accessories including three dishwasher safe cutting plates, a stainless-steel cutting blade, plastic food pusher, and sausage maker.
Pros: 
Large #12 size grinder head
Grinds 200 lbs meat per hour
Circuit breaker
Dishwasher safe cutting plates
Grinder head made from polished aluminum
Cons:
Limited to 1 color option
5. Gourmia GMG525 meat grinder
The Gourmia meat electric meat grinder is fitted with a 500/1000-watt motor that allows it to grind meat and bones with ease.
It is ETL rated, making it a safe, efficient and highly quality appliance, and comes with three grinding plates for fine, medium and coarse cuts.
Adding to this, the Gourmia meat grinder features a dual safety switch, and an on/off/reverse switch to unclog stuck food items in the meat grinder head.
The parts of this grinder are easy to clean, and lock into place during operation. You also get a food pusher, kubbe attachment and sausage maker in the box.
Pros:
500/1000-watt motor
ETL rated
3 grinder plates, food pusher, kubbe attachment and sausage maker
Easy to clean parts
Cons:
A little heavier than other grinders at 7 lbs
---
What did I Analyze for Purchasing a Meat Grinder for Dog Food?
There are several key factors to consider when shopping for the best meat grinder for dog food, most notably:
Performance
The performance of manual meat grinders is dictated by the amount of muscle power you're willing to put in.
Contrarily, the performance of electric meat grinders is determined by the power of the motor.
If you're going to be grinding tough bones and other meat, you should opt for a meat grinder than comes with at least a 350-watt motor.
Durability and material
Meat grinders can be made from either plastic, metal or a mix of both materials. Metal made meat grinders tend to be the most durable, but on the downside some models may rust over time.
However, there are some metal electric meat grinders that are corrosion resistant, so they will last you a while with proper care.
Plastic meat grinders aren't bad per se, because their grinder head and other components that do the hard work are made from metal.
Parts of a plastic meat grinder are also often dishwasher safe, so you won't have to spend a lot of time in maintenance.
Accessories
Most, if not all of the best electric and manual meat grinders for dog food come with a wide range of accessories such as grinding plates—course, fine, sharp cutting blades, and even a sausage maker to make fresh sausages at home.
Depending on the type of dog food you're grinding, you will probably need at least two grinding plates, which you will have to buy separately if not included in the package.
---
How Easy is it to Clean these Meat Grinders?
Again, this depends on the meat you're grinding, where some meats are rich in fat and may leave behind tough to clean sinew in the grinder head.
As mentioned earlier, some meat grinder parts are dishwasher safe, but while it's convenient to just chuck them in the appliance, it's highly recommended that you wash each part with hand to prevent bacteria contamination,
You should also wash all parts thoroughly after each use, so that's the meat grinder is clean then next time you want to grind raw dog food.
Check for a detailed guide on meat grinder cleaning here.
---
How do You Grind Beef Bones for Dog Food?
First thing to do when grinding beef bones is separate them from the meat. Grinding beef bones already puts a lot of pressure on the grinder head, so you don't want to add to it.
Beef bones are usually much bigger in size compared to chicken or other small animals, so you should chop them up into smaller pieces before loading them on the meat grinder food tray.
Now, put the bowl of chopped up bones in your fridge or freezer to chill not freeze, so that it's easier for the meat grinder to process them.
After the bones are cold, put a small number of bones on the food tray to grind each time, and do not use your fingers to push them down.
Check the consistency of the grind, and repeat step #3 if you haven't achieved your desired texture.