Grinding meat at home offers myriad benefits, most notably greatly reducing the chances of E. coli contamination. But since most consumers have a blender and not a meat grinder at home, the common question is can you grind meat in a blender?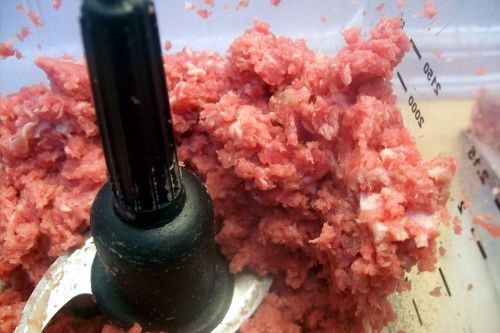 Yes, you can grind meat in a blender instead of a meat grinder, because both appliances are fitted with blades to get the job done. However, you will need the right blender to grind meat at home.
So, without further ado, here's how to grind meat at home with a blender for professional results.
---
Which Does a Better Job of Grinding Meat, A Meat Grinder or a Blender?
Short answer is that a meat grinder will do a much better job at grinding meat compared to a blender, because it offers much better performance, and gives you more control over the grinding process as compared to a blender.
If you desire the same quality ground meat as the butcher or grocery store, you will most likely not be able to mimic the exact same results with a blender. But on a brighter note, you will come close to the real deal, as long as you have a powerful blender.
Speaking of which, meat grinders also offer more power than blenders, which is one of the biggest reasons they can grind meat effectively and quickly.
Plus, meat grinders can help you make bespoke and specialty items such as bratwurst sausages, whereas blenders are limited to basic meat grinding.
---
Should You Buy a Meat Grinder for Grinding Meat if You have a Blender?
If you're looking to grind meat regularly, and would like more control of the grinding process, then buying a meat grinder is worth the investment even though you may have a blender in your kitchen arsenal.
Both a meat grinder and blender can grind meat, but it's worth noting that a meat grinder is specifically designed to grind meat, and a blender doesn't deliver the same results. And if you're looking to grind large amounts of meat at a time, a blender may not be up to the task.
---
How to Prepare Meat for Grinding in a Blender?
Preparing meat in a blender is an essential task, given that a blender grinds meat a bit differently, meaning with a different type of blades. To get started, you should first ensure that your meat is chill as possible (not frozen) right up to the grinding process.
Reason to keep meat chill is to discourage bacterial growth in the meat, because any bacteria that remains on the surface of the meat will all be present during and after the blending process.
Next, grab a sharp knife, and strip the meat of bones, fat, skin, and connective tissue, so that they don't clog the blender cutting head.
Remember, unlike meat grinders, blenders don't come with a reverse function, so you will have to free the stuck meat manually in case it gets stuck in between the blades.
Now that you're left with pretty much lean meat, use a chopping board (to avoid contamination) to cut all the pieces of meat as uniformly as possible to about an inch or so on size, so that your blender can easily break it down.
You can then start the meat blending process, or place the meat in the fridge for a couple of hours to keep it chill below 40 degrees Fahrenheit before you're ready to do so.
---
How to Grind Meat in a Blender?
Your blender may not have the settings to grind fine, medium and coarse meat, so you will have to do things a bit differently than you would with a meat grinder.
Grab your bowl of chilled chopped meat, and place a few pieces into your blender. If you haven't chopped the meat, you can use a small food processor to dice the meat into smaller pieces.
Add the lid, and depending on the blender you have, fire up the blender at the lowest speed setting, and run the blender for 20 – 30 seconds.
Remove the lid, and check the consistency of the meat. If it's not as desired, put the lid back on, and grind again at the same speed or one higher.
Run the blender again for a short period of time.
Open the blender, check the texture, and if it's reached the desired consistency, grab a long, flat spatula, and scrape the ground meat into a bowl.
---
Can You Blend Meat After It's Cooked?
You can blend meat after it's cooked such as for pureed recipes or for babies, but raw meat is easier to grind. Further, grinding meat in blender after its cooked may also affect its flavor, given that you'll also be grinding off seasoning on the meat.
---
Can you Grind Meat in a Ninja Blender?
If a Ninja Blender can pulverize ice cubes to snow in literally seconds, then it can absolutely grind meat to near perfection.
The Ninja Blender is powered by a robust 1100-watt motor, and is fitted with one or two, but a six-blade assembly, which grinds meat in no time. However, the Ninja Blender is not designed to bones.
---
Best Blenders for Grinding Meat
1. Vitamix Professional Series 750 Blender
The Vitamix Professional Series 750 blender is in a league of its own, most notably due to its automatic blending system, complete with five pre-programmed settings that deliver consistent results for meat grinding, puree recipes and much more.
Another noteworthy reason the Vitamix 750 blender is a great choice for grinding meat is its variable speed control and pulse feature, which allows you to manually fine tune the texture of the meat you're grinding.
You can achieve the consistency of the grind meat by adjusting the speed during the blending process. It is powered by a high performance motor, which offers top notch power, and long service life.
Further, it comes factory fitted with aircraft-grade hardened steel blades, which are engineered to handle the toughest meats with ease, so can expect nothing but high-quality results.
The Vitamix Professional Series 750 blender comes with a large 64-ounce container, allowing you to grind more meat at one time, making it perfect for small to medium size families.
This container boasts a patented design, which to explain briefly folds the meat back into the blades for faster, smoother grinding.
It is a joy to clean with just a single drop of dish soap, and cleans itself within 30 to 60 seconds. The blades of the Vitamix 750 blender can reach fast speeds, which results in friction heating, and easy cooling of hot ingredients in roughly six minutes.
Designed and assembled in the USA, the Vitamix Professional 750 can do much more than just grind meat such as making hot soups without a stove, frozen treats in seconds, grind nuts, coffee and much more.
Pros:
Aircraft grade steel blades
5 pre-programmed settings
64-ounce container
Self cleaning within 60 seconds
2 color options
7-year warranty
Cons:
A little pricey compared to the competition
2. Blendtec Classic 575 Blender
Blendtec is one of the leading names in the blender space, the Classic 575 is yet another hit addition to the company's massive portfolio of products.
It is easy to use with its 1-touch button system, and four pre-programmed cycles, which take away the guesswork when grinding meat.
Made in the USA by a family owned & operated company, the Blendtec Classic 575 blender comes with pulse, and five speed manual control, so you can achieve an array of textures when grinding meat, fruits, vegetables, etc.
It is appointed with a clear and crisp LCD display, which clearly indicates the blending cycle time remaining, making it easy to grind meat to perfection.
The Blendtec Classic 575 blender saves you precious time in chopping, slicing or dicing, and is equipped with an 80 percent thicker stainless steel forged blade with wings, which is 10 times stronger than other blender blades.
Take note that the blade of the Classic 575 blender isn't sharp but dull, so there's no more cuts and pokes to deal with.
When it comes to cleaning, the Blendtec 575 blender doesn't disappoint with its onsite self-cleaning system that just a spotless job just under a minute with just a little soap and water.
The Blendtec Classic 575 blender comes with a large 90-ounce BPA-free WildSide+ jar that offers a 36-ounce wet/dry blending capacity, making it a great choice for blending meat for four to six people.
It comes with a rather long 360inch power cord, and can be connected with any 120-volt power outlet. To top things off, the Blendtec Classic 575 grinder is backed by an impressive seven-year warranty against any manufacturer defects.
Pros:
1-touch button system
4 pre-programmed cycles
LCD display
Forged stainless steel blade with wings
90-ounce BPA-free WildSide+ jar/36-ounce wet/dry blending capacity
7-year manufacturer warranty
Cons:
Limited to 1 color option
3. NutriBullet
The NutriBullet Blender boasts a lightweight and compact footprint, but has a lot going for it under its hood starting with robust 1200-watt motor.
Furthermore, it offers three precision speeds to choose from along with a pulse function, all at the press of a single button. The three precision speeds — low, medium and high allow you to get the desired texture when blending meat.
It is fitted with an easy-twist extractor blade, made from stainless steel, and designed to perform cyclonic action. The blade is filed down to a tapered edge, and is dishwasher safe.
The NutriBullet blender comes with a highly durable BPA-free pitcher and cups that are made from superior and safe quality plastic.
The NutriBullet is regarded as a personal blender, and can blend a small amount of meat at one time. The function buttons on the front are clicky and easy to use, and make it easier to switch between modes.
The gearings of the pitcher and extractor blade are made from silicone, and the lid of the NutriBullet uses friction to stay closed.
The lid also features a removable center piece, which serves as a two-ounce measuring cup, but also makes it possible to add meat in the blender.
The NutriBullet blender comes with a long enough power cord to reach most electrical outlet, but on the downside doesn't have a stowaway compartment to tuck away the cables when not in use.
Pros:
Compact and lightweight footprint
BPA-free pitcher
3 precision speeds
Powerful 1200-watt motor
Easy to use function buttons
Cons:
Cannot blend large amounts of meat at one time
4. Cleanblend Commercial Blender
As featured on the Ellen Show, the Cleanblend commercial blender offers just that – high performance commercial grade blending, whether it's blending meat, chopping up fresh salsa, or pulverizing ice.
It is equipped with a best in class 1800-watt motor, and features variable speed control, so you get the right texture of meat you desire each time.
The Cleanblend commercial blender can replace up to nine different appliances in your kitchen including crushing, blending, chopping and grinding appliances, and works well for light as well as heavy duty blending tasks.
It is equipped with hardened stainless steel blades, and crafted with an eight-blade sealed ball bearing for unmatched performance. The Cleanblend commercial blender comes with a 64-ounce BPA-free jar, and doesn't do much more than whisper during use.
The Cleanblend commercial grade blender measures 18 x 15 x 13 inches and tips the scales at just 12 lbs, and can be plugged into any 120-vollt power outlet.
It is backed by a five-year warranty against any manufacturer defects, so you can rest assured it will last you for several years to come with proper care.
Pros:
1800-watt motor and 3 horsepower
Can replace up to 9 different appliances
Variable speed control
Stainless steel blades
64-ounce BPA free jar
Quiet operation
5-year manufacturer warranty
Cons: