Gone are the days when only professional cooks, butchers, and hunters used meat grinders, but today these appliances have become common sight in most home kitchens.
Grinding your own meat offers myriad benefits, most notably cost efficiency, more control, and healthy and fresh results.
When on the shopping trail for the right meat grinder, you have two options to choose from—manual meat grinders and electric meat grinders.
With electric meat grinders, the only effort you'll need to put in is loading up the food tray with the meat, and collecting the minced meat at the bottom.
But with manual meat grinders, you have to also "manually" grind the meat by turning the hand crank on the side of the grinder.
---
Top 6 Best Meat Grinders in 2021
1. LHS Store Manual Meat Grinder
The LHS Store manual meat grinder slots in at the top of this list for several reasons, starting with its heavy-duty plastic body, and super sharp stainless-steel blades.
The blades are enclosed, making this meat grinder safe to use. It can be ordered in a choice of three exciting colors including red and gray, and rests on a powerful suction base, which offers great stability on your countertop.
The LHS Store manual meat grinders boasts a larger capacity hopper, which allows you to grind more meat each time. Further, it comes with two stainless steel blades one dough/cookie shaper, and a handy pusher.
Pros:
3 colors available
Heavy duty plastic body
Powerful suction base
Larger capacity hopper
2 stainless steel blades included
Cons:
Does grind deer meat, but suction won't hold
2. Kitchen Basics 3 N 1 Manual Meat Grinder
The Kitchen Basics manual meat grinder offers a three in one design, so you can use it to grind meat, stuff sausages, and make two different types of pasta—rigatoni and spaghetti.
It comes with course and fine grinder plates, two stainless steel screens, and a sausage funnel to make three different types of sausages.
The Kitchen Basics manual meat grinder measures 7.5-inches in height and 5-inches in height, and is fitted with sharp stainless-steel blades.
The parts of the Kitchen Basics meat grinder are easy to clean, and are dishwasher safe.
Pros: 
3 in 1 design
Includes fine and coarse grinding plates, 2 stainless steel screens, sausage funnel
Sharp stainless-steel blades
Part are dishwasher safe
Cons:
Doesn't come with a food pusher
3. CucinaPro Meat Grinder
The CucinaPro manual meat grinder is made from robust quality cast iron, so it will serve you well for many years to come.
It comes with a sturdy tabletop clamp to secure it on your countertop, three different cutting discs of various sizes, and best of all a plastic sausage stuffing panel.
The CucinaPro hand meat grinder tips the scales at just one pound, making it easy to move and store away when not in use.
It is equipped with a crank, which is topped with a wooden handle for an elegant finish. If you're looking for a high-quality metal manual meat grinder, the CucinaPro is hard to beat.
Pros:
Made from solid cast iron
Comes with 3 cutting discs and sausage stuffing panel
Weighs just 1 lbs
High quality crank with wooden handle
Sturdy tabletop clamp
Cons:
Can't be used with suction cups
4. Weston #32 Manual Meat Grinder
The Weston #32 manual meat grinder can be had in three different sizes including #8 and #22. It features a large 5" x 8" hopper opening, and can be easily attached to up to one and half inch thick countertops with the included clamp.
Adding to this, the Weston manual meat grinder comes with an ergonomically designed crank handle, which allows you to turn it with less effort. It has adjustable burrs to grind both coarse and fine textures.
The Weston hand meat grinder comes with three different sized funnels including 14mm and 19mm, and a sausage stuffing kit. You also get a steel knife, and two steel plates that measure 4.5mm and 10mm.
Pros:
3 sizes available
Large 5" x 8" hopper opening
Can be attached to half inch thick countertops with included clamp
Ergonomically designed crank handle
Adjustable burrs to grind both coarse and fine textures
Cons:
Tin coating may peel off over time
5. Huanyu Manual Meat Grinder
The Huanyu manual meat grinder serves as both a grinder and sausage stuffer, and is crafted from two types of stainless steel.
It comes with an enema nozzle for sausage stuffing and is easy to assemble right out of the box. The Huanyu hand meat grinder can be attached to your countertop with its strong suction base, and is completely rust proof.
The package also includes a standard 8mm meat plate, durable 304 stainless steel auger, and 3cr13 stainless steel cross knife.
Pros:
Can be used as grinder and sausage stuffer
Made from 2 different types of stainless steel
Strong suction base
3cr13 stainless steel cross knife
Comes with 8mm meat plate and 304 stainless steel auger
Cons:
Size of stomper could be bigger
6. Victoria Manual Meat Grinder
The Victoria manual meat grinder is made from cast iron, and features a double tin plating to resist corrosion and stains. Adding to this, it is compliant with international standards, and features a self-sharpening stainless-steel knife.
Furthermore, the Victoria manual meat grinder can produce between 0.5 lbs and 1 lbs minced meat per minute, which is slightly higher that other grinders in its space.
It comes with three different size sausage stuffers, two meat grinder plates, and is backed by a one-year manufacturer warranty.
Pros:
Made from cast iron with double tin plating
Resistant to corrosion and stains
Self-sharpening stainless-steel blade
Grinds 0.5 lbs and 1 lbs minced meat per minute
Includes 3 sausage stuffers and 2 meat grinding plates
1-year manufacturer warranty
Cons:
Instructions for installation not very clear
---
When to Go for a Manual Meat Grinder Over an Electric Meat Grinder?
There are several reasons where a manual meat grinder may be a better option for you compared to an electric model.
First is the obvious—cost, because manual meat grinders are priced much lower than high quality electric meat grinders, so if you don't have a big budget, then they are a recommended option for you.
If your kitchen counter is already stacked with appliances such as a toaster, juicer, etc. or if you have a small apartment size kitchen, then it makes no sense adding a bulky electric meat grinder.
Manual meat grinders can be secured to your countertop as and when you need to use them, and are easy to put away after use.
One of the things that gives electric meat grinders an edge over manual models is their high grinding speed.
But to leverage this benefit, you need to grind a lot of meat and/or use the meat grinder often.
For grinding a small amount of meat for a couple of burgers or so, buying a manual meat grinder should work well for your needs.
---
What are the Advantages of Manual Meat Grinder?
Just because you have to put in a little elbow grease to grind with a manual meat grinder doesn't make them a bad choice. That said, here are 7 key benefits of a manual meat grinder.
1. Simple, lightweight and compact design
Manual meat grinders mount to your kitchen countertop using clamps, bolts or suction cups, so they boast a no-frills design.
Plus, with no motor or other electric components, manual meat grinders feature a fairly compact footprint, making it easy to clamp them down on any area of your kitchen counter or even on the tray of your BBQ.
2. Little or no maintenance
Since manual meat grinder aren't woven with electrical wires and the lack of a motor in their outer shell, there's less chances of things going wrong.
If the motor or any part of an electrical meat grinder malfunctions, you will have to get it looked at by a professional to get it fix, which can be expensive.
3. Cheaper
If you're looking to get your feet wet with grinding meat at home or simply don't want to splurge on an electric model just yet, a manual meat grinder is a great option, because they are much cheaper to buy than their electric counterparts.
4. No electric bill
Given that you don't have to plug in a manual meat grinder into an electrical outlet will also result in lower numbers on your electric bill.
If you're just grinding small quantities of meat, a manual meat grinder is worth a second look.
5. Hone Your Grinding Skills  
Buying a manual meat grinder is a great way to brush up your meat grinding skills before investing in an electric model.
Things you can learn are the right meats to mix for burgers and other items, the right grinding plates to use, and using a meat grinder safely.
6. Less noisy
Manual meat grinders make next to no noise during operation, which allows you to use them at any time of day.
So, if you'd like to grind meat for a couple of burgers and don't want to wake up the wife or kids in the middle of the night, a manual meat grinder is a good purchase.
7. Use as a backup option
What if you're having a BBQ burger party in a few hours, and your electric meat grinder breaks down? To avoid these types of situations, you can use your backup manual meat grinder to complete the job.
And since manual meat grinders are small devices to store, and don't cost much, you really have nothing to lose when buying one in case your electric model breaks down.
---
What are the Disadvantages of Manual Meat Grinder?
Some of the biggest benefits of a manual meat grinder are also their biggest drawbacks.
1. Requires a lot more effort to use
While the lack of a motor and other electric components makes manual meat grinders fairly compact, quiet and cheaper to use, they can be challenging to operate, especially at times when you're grinding large amounts of meat, because you will have to use a lot of arm strength, and for a longer period of time.
2. Doesn't grind quickly
The speed at which you can grind meat truly depends how fast you rotate the hand crank.
For example, it took me roughly 30 to 45 minutes to grind 2.25 lbs of meat for six juicy burgers through two different grinding plates (3/8ths-inch and 1/4-inch) with a manual meat grinder.
And took me just 15 minutes to grind the same amount of meat a week earlier with my electric model.
3. Have to install and reinstall on the counter for each use
The last thing you want it an odd meat grinder sticking out like a sore thumb over your countertop.
Even though manual meat grinders can be conveniently stored away, you may to install and uninstall them after each use depending on the anchoring mechanism, which may prove to be tiresome too, especially after you're done grinding meat.
4. No reverse function
The reverse function of electric meat grinders allows you to unclog any meat that's stuck in the grinder head with the flick of a button. If you want to remove stuck meat in a manual meat grinder, you will have to take the grinder head apart.
5. Difficult to grind bones
You can probably grind really soft bones with a manual grinder, but will have to grind more than a few times to achieve anything near your desired results.
And if bones get stuck in the grinder head, you will have to spend time taking it apart the grinder head to unclog it.
---
What to Look for While Buying a Manual Meat Grinder? (Buying Guide)
When shopping for the best manual meat grinder, you will be spoilt for choice, given the plethora of options available.
Here are a few factors to consider to ease your buying decision, and ensure you buy the right model.
Performance
In terms of performance, electric meat grinders win the gold because they grind meat faster, and without having you break a sweat.
The performance of manual meat grinders depends on fast you spin the crack, but leave little or no room for disappointment when grinding small amounts of meat.
Plastic vs. metal hand meat grinders
Manual meat grinders can be made from either plastic or metal, and there are pros and cons to each material. Plastic made meat grinders are generally crafted from ABS plastic that is BPA-free, so they tick all the boxes when it comes to food safety such as the LISA ENJOYMENT manual meat grinder.
Some plastic hand grinders can also be ordered in an assortment of colors, making it easy to buy one that fits in with your kitchen décor.
Plastic manual meat grinders however tend to be less durable, and may not offer the same grinding efficiency than metal models.
Metal hand meat grinders are generally made from stainless steel, and offer great performance, especially when grinding tough cuts of meat.
A good example is the TUNTROL manual meat grinder that's made from 304 grade stainless steel, which will not rust or crack.
Even though they're a bit heavier, they do not jam or get clogged as often as plastic models. But most metal manual meat grinders aren't rust resistant, and aren't easy to clean.
Clamping mechanism
Manual meat grinders need to be secured to the countertop using one of three anchoring mechanisms—clamps, suctions cups or bolts.
Cheap manual meat grinders generally come with suctions cups, which are easy to setup over your countertop, but on the downside are not a good fit for rough or uneven surfaces.
Clamps offer more stability for manual meat grinders than suction cups, but are a bit challenging to install. Further, the clamps provided by the manual meat grinder manufacturer may not fit all countertops, especially those that are thicker in height.
If you're looking for superior stability, bolts are the way to go! However, on the flipside, you will have to screw the bolts into the countertop, meaning the hand meat grinder will permanently sit there.
Ease of Use
If you want to grind meat with the push of a button, electric meat grinders are your go-to option. But there's something truly exciting about turning the handle and watching fresh ground meat pour out of the grinder hopper.
Manual meat grinders are easy to use, as long as you're griding chilled, small chunks of meat. You should also make sure the grinder knife is sharp, or else you risk increasing the number of passes for each batch.
Maintenance and Cleaning
Both manual and electric meat grinder have several different parts in common such as the grinder head, plates and knife.
Some parts of a hand meat grinder are dishwasher safe, so you can wash them easily with your other dishes.
But you should ideally wash all the parts by hand with warm water after each use to get rid of any bacteria that may have been left behind from the grind.
Hand meat grinders lack a motors and other electrical components, so they're fairly easy to maintain.
Price
Surprisingly, there are manual meat grinders that cost more than some electric models.
Take for example the VBENLEM hand meat grinder that is crafted from premium quality 304 stainless steel, and costs under $100 compared with the AAOBOSI Store electric meat grinder that is powered by a heavy duty motor for under $70.
One of the biggest reasons to choose the VBENLEM hand meat grinder over the AAOBOSI Store electric meat grinder is because it is easy to setup and use.
But most manual meat grinders cost less than electric models, mostly due to the lack of electric components, yet deliver the same results are much higher priced electric grinder models.
Attachments and Accessories
Meat grinder plates – these circular plates with holes dictate the texture of your grinds. Most hand grinders come with two or plates such as coarse and fine.
Sausage maker – this attachment allows you to make sausages with your meat grinder.
Ergonomic handle
Buying a hand meat grinder with an ergonomically designed handle means that you will experience less stress on your hands when grinding.
---
Can You Grind Deer Meat with a Manual Meat Grinder?
You can grind deer meat in a manual meat grinder, but remember it's going to be a lot of work. And when I say "a lot of work", I'm not just referring to the cranking, but cleaning out the silver skin—sinew that gets stuck in the meat grinder head.
If you want to grind deer meat to make a couple burgers, you might be able achieve this with a manual meat grinder.
But for grinding whole wild game, your best bet is to buy a powerful electric meat grinder such as one from Cabelas.
---
Are Manual Meat Grinders Hard to Use?
The speed at which you can churn meat with a manual meat grinder depends on how much muscle you're willing to put into the job.
Hand meat grinders are better suited to grind small amounts of meat, and in fact do work great for hamburgers, especially if the blade is really cold.
One of the other issues you may face with a manual meat grinder is securing it to your countertop. If it has a bolted anchoring mechanism, this is not something you need to worry about.
---
Can you Use a Manual Meat Grinder for Commercial Purposes?
Manual meat grinders are designed for low-volume use, so it's not a good choice for a commercial setting. For commercial meat grinding you will need Commercial meat grinders run by electric motors that can grind more than 10 lbs of meat per minute.
---
How Many Passes with a Manual Meat Grinder?
With a manual meat grinder, it is recommended that you pass the meat in small batches and several times to achieve your desired consistency. The number of passes you will have to make also depends on the quality and sharpness of the grinder blade. Generally it is advised to make at least 2 passes.
If it's dull, you will have to pass the meat more times through the head and blade. Therefore, it's a good idea to check the blade to make sure it's sharp before starting the grinding process, or else you will increase your workload.
---
What are the Parts of a Manual Meat Grinder?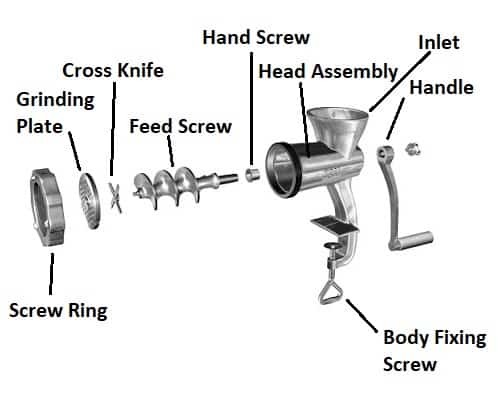 A manual meat grinder consists of many different parts that play a collective role in the grinding process.
Grinder Head Assembly
The grinder head assembly is the man component of a manual meat slicer and houses other parts such as the grinder knife, and cutting plates.
Grinding Plate
There are several different size grinder plates available, where each dictate the coarseness of the ground meat.
If you want to make burgers, you will have to grind the meat twice, once through the coarse grinding plate, and another time through a fine grinding plate.
Cross knife
A grinder blade also known as a grinder cross knife is responsible for mincing the meat you load in the food tray.
Inlet
The inlet sits on top of the meat grinder, and is where you load the meat to be ground.
Feeding Screw
The feeding screw pushes the meat from the inlet towards the grinding blades and plates slowly.
Body Fixing Screw or Base Clamp
The base of a manual meat grinder attaches to your countertop via bolts, suction cups or clamps.
Hand crank
The hand crank features a handle that you turn to rotate the feeding screw which pushes the meat to the grinding cross knife for grinding.
Screw Ring
The screw ring holds the whole assembly of screw, knife, plate and body together.